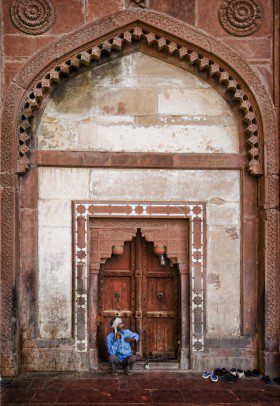 In addition to courses offered by SAI fellows, Harvard University will offer many courses with South Asia related content in the spring 2015 semester. (Please note: This is only a partial list. Please visit each school's individual registrar for a full list of courses.)
Jump to:
Department of South Asian Studies
Departments in the Faculty of Arts and Sciences
Harvard Graduate School of Education
Harvard School of Public Health
Do you know of a course that should be listed here? Email Meghan Smith, meghansmith@fas.harvard.edu.

Department of South Asian Studies:
Hindi-Urdu 127. News and Views: Accessing and Interpreting Hindi and Urdu Media – (New Course)
Amy Bard
For Undergraduates and Graduates
Tu., F., 1-2:30 pm 
This class focuses on Hindi and Urdu informational media, particularly coverage of current events, to develop knowledge of South Asian regional issues. Vocabulary building is a key aspect of the course. Assignments involve listening exercises aimed at either basic comprehension or close analysis and discussion; drafting news reports; and reading long and short form journalism. Newspaper, TV, radio, and internet news reports and debates are featured, with some exposure to the emerging field of online social media analysis. This course may count towards a citation in Hindi-Urdu.
Nepali 105b. Development of Nepali Language and Literature: Contributions of Local Languages
Michael Witzel
For Undergraduates and Graduates
Hours to be arranged
Investigates the impact of the various non-Nepali speaking groups (janajati)on Nepali literature, as well as their linguistic contributions.
Sanskrit 106b. Readings in the Upanisads
Michael Witzel and members of the Department
For Undergraduates and Graduates
Hours to be arranged
Prose texts on early Indian philosophy are read and analyzed. Special attention is paid to the unfolding philosophical terminology. The main focus will lie on the concepts of atman and brahman: essential terms that come to dominate Indian philosophy for centuries. This course will provide the foundation for a successful engagement with philosophy in India.
South Asian Studies 188. South Asian Political Ecology – (New Course)
Anand Vaidya
For Undergraduates and Graduates
W., 3-5 pm 
Despite great efforts, scientists and activists have found themselves unable to bring about political changes that might reverse environmental degradation. This degradation has been caused by humans, but humans have not able to stop the processes behind it. South Asia is exceptionally vulnerable to the effects of environmental degradation and critical to any global solutions to it. This seminar examines case studies of environmental politics in South Asia to explore fundamental questions about human agency and historical change, to understand how the environment is understood, why efforts to prevent its degradation have failed, and to explore interventions that might succeed.
South Asian Studies 189. History of Buddhism in South Asia – (New Course)
Shenghai Li
For Undergraduates and Graduates
M., 2-4 pm 
The growth of diverse Buddhist traditions of Asia and elsewhere rests on the historical foundation of the evolution of Buddhism in South Asia. This course will examine different forms of historical representation found in both contemporary academic scholarship and pre-modern historical traditions. As a group we will collectively engage with the critical issues and major developments in the study of Buddhism on the South Asian subcontinent.
South Asian Studies 193. Class and the City in Indian Cinema – (New Course)
Shankar Ramaswami
For Undergraduates and Graduates
M., 1-3 pm 
This course will examine imaginaries and understandings of class and cities in Indian cinema. How are struggles for earnings and mobility in the city – of migrants, workers, and middle classes – represented in Indian cinema? In what ways is the city viewed as a space of ethical deviations and compromises? How does class shape experiences of friendship, family, and erotic love? What visions of politics, justice, and hope arise in Indian cinema? The course will explore these questions in commercial, art, and documentary films (in Bengali, Hindi, and Marathi, with English subtitles), along with readings in history, anthropology, and cinema studies. Screenings will include films by Satyajit Ray, Guru Dutt, Raj Kapoor, Yash Chopra, Muzaffar Ali, and Anand Patwardhan.
South Asian Studies 196. Capitalism and Cosmology in Modern India
Catalog Number: 63634
Shankar Ramaswami
For Undergraduates and Graduates
W., 1-3 pm 
This course will explore the lives, politics, and cosmologies of working-class persons in modern India. The course will examine contemporary debates on globalization, development, and ecology; workers' experiences of factory work, informality, and agitations; and workers' religious practices, theologies, and cosmological visions. Core concerns of the course will include inquiries into the appropriate categories for understanding workers' lives and visions, and the possibilities for autonomous, nonviolent politics among working people in India. The course will draw upon a range of sources, including anthropology, history, religious studies, epics, and Hindi cinema. Note: Offered jointly with the Divinity School as 3529.
South Asian Studies 220r. Brahmanas: Seminar
Michael Witzel
Primarily for Graduates
Th., 1-3 pm 
Reading and discussion of the oldest Indian prose texts. Long despised and derided for alleged illogical contents they constitute instead the beginning of sustained and trenchant discussions. Their underlying method, their narrative and their ritual contents will be discussed, along with an introduction to the language and grammar of Vedic prose, as far as it is different from Classical Sanskrit.
South Asian Studies 290. Buddhism in Three Languages – (New Course)
Catalog Number: 17308
Shenghai Li
Primarily for Graduates
Tu., 1-4 pm 
This course is designed to help students develop their skills in reading Buddhist texts in Sanskrit, Tibetan, and Chinese. Parallel texts that exist in Sanskrit as well as in Tibetan and Chinese translations will be chosen. The course package will include selection from at least one Yogācāra text, while other Buddhist text traditions will also be represented in the reading materials. Note: Offered jointly with the Divinity School as 3542.
Tibetan 190. Understanding Histories of Tibet – (New Course)
Leonard W. J. van der Kuijp and members of the Department
For Undergraduates and Graduates
Tu., Th., 11:30-1 pm 
This course introduces two histories of Tibet. The first history begins from the remote past, covering the evolution of political, religious and ideological institutions on the Tibetan plateau from the 7th century until the present. The second history is that of the more recent past, when the first history was used, misused or abused in the scholarly domain and beyond. The close intermingling of these two histories – and the frequent pretense of one as the other – makes "Tibet" uniquely useful in our understanding the very nature of the humanistic inquiry that we call history.
Back to top

Other departments in the Faculty of Arts and Sciences:
Anthropology 2675. Religion, Nation, and Government in Modern South Asia
Asad A. Ahmed
Primarily for Graduates
Th., 12-2 pm 
This course attempts to understand the recent successes of religio-political movements in South Asia. This involves both a theoretical interrogation and genealogy of religion, nationalism, and secularism as well as attention to their historical elaboration.
Anthropology 1812. Cities of the Global South: Seminar – (New Course)
Federico Perez
For Undergraduates and Graduates
W., 12-2 with film screenings to be arranged 
What do the sprawling cities of the global South tell us about the contemporary urban condition? How is urban space produced and experienced in an era of increased interconnectedness, but also of great inequality and instability? How does the view from the South change our understanding of urban forms and processes, especially when so much of the "South" seems to be located in the "North"? To address these questions we will explore urban lives and spaces across cities in Africa, Asia, Latin America, and the Middle East. The course will include works in anthropology, geography, urban studies, and documentary film.
Islamic Civilizations 241r. Approaches to Studying Indo-Muslim Culture and South Asian Islam
Ali S. Asani
Primarily for Graduates
Hours to be arranged 
A seminar for graduate students focusing on current scholarship on Islamic civilization in South Asia.
Note: Open to undergraduates with a background in Islamic or South Asian studies.
MCB 64. The Cell Biology of Human Life in the World – (New Course)
Robert A. Lue
Primarily for Undergraduates
M., W., 1-2:30 pm 
This course teaches fundamental concepts in cell biology in the context of individual life histories drawn from different parts of the world. Each life case focuses on key aspects of human development, growth, aging and disease while providing a nuanced view of the interplay between the life sciences, geography and culture. For example, a comparative discussion of aging in the United States and Japan is used to explore diet, cellular metabolism and its relationship to protein damage and turnover, while the Human Immunodeficiency Virus and AIDS in South Asia is used to explore mucosal immunity and the basis for estimating relative infection risk. Each case delves into the cell biology of major biological events across the life history of the human.
*Freshman Seminar 42k. Comparative Law and Religion
Catalog Number: 9992
Ofrit Liviatan
For freshmen.
M., 1-3 pm 
Investigates the use of legal processes in addressing religion-based conflicts, a leading source of tension in modern societies. The seminar will explore theoretical approaches to accommodating religious diversity and examine existing models of religion-state relationships. Drawing on legal cases from the US, Turkey, India, Israel, Spain, Canada, and England, the seminar will also familiarize participants with contemporary debates involving religion: the wearing of Islamic headscarf, religion and education, the funding of religious institutions, etc.
History of Art and Architecture 184x. Painting of India – (New Course)
Jinah Kim
For Undergraduates and Graduates
Tu., 1-3 pm 
The course explores the history of Indian painting based on the collections of the Harvard Art Museums and the Museum of Fine Arts, Boston. We will investigate the theory of pictorial form in India and its relationship to the society at large against the historical currents by probing the development and changes in artistic styles and material culture of painting production. We will pay particular attention to the role of media, such as palm-leaf, birch bark, paper, and pigments, along with consideration of changing symbolic and material meanings of color. Regular visits (sections) to the museums and conservations labs to examine the paintings in person are to be scheduled throughout the semester.
view course iSite
Extreme Urbanism III: Planning for Conservation. Looking at Agra, India /Spring 2015
Rahul Mehrotra
Tue Thu 2:00-6:00
The South Asian city exemplifies contemporary challenges in planning, designing, and constructing the built environment with high population growth, over-stressed and poorly-managed ecosystems, splintered financial and infrastructural investment, dense bureaucracies, and layered cultural histories. Extreme Urbanism III explores possibilities for Agra, India at the intersection between critical conservation, and Urban Planning and Design.
Livelihoods and Urban Form: Mumbai in a Comparative Perspective /Spring 2015
Wed 2:30-5:30 Gund 318
Rahul Mehrotra, Martha Chen
The course will examine cases in contemporary South Asia, South Africa and Latin America as references to structure a framework for analysis in Mumbai. Through the semester students will develop an understanding of how different informal sectors operate within regulatory frameworks of planning and design to structure their own urban form and networks, and use this to construct a spatial narrative of a particular sector of the informal economy in Mumbai. Through a semester-long research assignment, students will study an activity or sector in the informal economy of Mumbai and spatialize its networks throughout the city across the various scales at which these networks exist.

Back to top

Harvard Divinity School:
HDS 3409 Ethics, Religion, and Violence in Comparative Perspective
Anne E. Monius
Mon Wed 10am-11am
Predicated on the assumption that global concerns are manifest in highly particularized cultural and religious circumstances, this course seeks to understand Hindu, Buddhist, and Christian framings of and prospective solutions to the problem of communal violence in the contemporary world. Topics examined in each tradition include: conceptions of moral subjectivity, frameworks for moral education, close readings of novels that grapple with the moral challenges (especially new forms of violence) wrought by colonization and globalization, and explicitly religious responses to such violence in the work of Mahatma Gandhi, Buddhist monastic communities in Sri Lanka and Southeast Asia, and Archbishop Desmond Tutu. Note: Course has additional hour to be arranged.
HDS 3542 Buddhism in Three Languages
Shenghai Li
Tues 1pm-4pm
This course is designed to help students develop their skills in reading Buddhist texts in Sanskrit, Tibetan, and Chinese. Parallel texts that exist in Sanskrit as well as in Tibetan and Chinese translations will be chosen. The course package will include selection from at least one Yogacara text, while other Buddhist text traditions will also be represented in the reading materials. Prerequisite: The minimum prerequisite for the course is reading knowledge of at least one of the three languages, although students who know more than one language will also profit from the study of translation equivalents and strategies.
Buddhist Ethics
Charles Hallisey
Wed 2pm-4pm. Andover Hall, Room 102.
A systematic exploration of Buddhist views of moral anthropology and the place of moral reflection in Buddhist thought and practice. The scope of the course is wide, with examples drawn from the whole Buddhist world, but the emphasis will be given to the particularity of different Buddhist visions of human flourishing. Attention will also be given to the challenges and promises of describing Buddhist ethics in a comparative perspective.
HDS 3750 The Bhagavad Gita and Its Commentators
Francis X. Clooney, SJ
Tues 2pm-4:30pm. Rockefeller Hall, Room 117.
Bhagavad Gita, a Hindu classic of devotion and theology, has received extensive classical and contemporary commentary. The seminar explores selectively the interpretations of classical commentators (such as Sankara, Ramanuja, and Madhusudana Sarasvati), and 20th century interpreters (B. G. Tilak, Mohandas Gandhi, Bede Griffiths). This course is meant for students interested in closely reading Indian/Hindu texts, with attention to textual analogues from other religions. Sanskrit useful but not required.
HDS 3776 Introduction to Buddhist Narrative and Story Literature
Charles Hallisey
Tue Thu 8:30am-10am. Andover Hall, Room 102.
An introduction to the study of narrative and story literature in the Buddhist world. A primary focus will be on the narrative and story literature found in Buddhist scriptures and commentaries, but there will also be consideration of examples of narrative and story literature that circulated independently. Examples will be drawn from across the Buddhist world.
HDS 3620 Introduction to Islamic Mysticism: The Sufi Tradition
Ali S. Asani
Wed 12pm-2pm. FAS.
Introductory survey of Sufism, focusing on its fundamental concepts, ritual practices, institutions, and its impact on the literary and socio-political life in different regions of the Islamic world. Prerequisite: an introductory course in Islam or the equivalent will be helpful but is not essential.
HDS 3847 The World's Religions in Multicultural America – Case Studies in Religious Pluralism
Diana L. Eck
Tue Thu 10am-11:30am
An exploration of the dynamic religious landscape of the US with special focus on Muslim, Hindu, Buddhist, and Sikh traditions in the most recent period of post-1965 immigration. How are faith and freedom negotiated in a more complex society? In what contexts do minority religious communities encounter long-dominant Christian and Jewish communities? How is America changing as religious communities struggle with civic, constitutional, ethical, and theological issues, especially in the post-9/11 period? Readings, films, discussion, and class projects will focus on particular cases and controversies.

Harvard Graduate School of Education:
Educational Innovation and Social Entrepreneurship in Comparative Perspective
Fernando Reimers
Friday, 9:00 a.m. – 12:00 p.m.
This course is for students who are interested in gaining a better understanding of how social entrepreneurs can generate sustainable educational innovations. Over the course of the semester, participants will develop a viable education venture, preparing them to launch their own social enterprise to improve educational opportunity. The course will be taught at the Harvard Innovation Lab (i-lab) and will involve a series of activities and experiential workshops focused on the fundamentals of creating an educational enterprise. Readings, discussions, and related activities examine the contributions of social entrepreneurs to expanding educational opportunity. Students will engage in biweekly conversations with guest mentors, all of whom are education entrepreneurs working domestically or internationally. Weekly discussion sections will include workshops to build targeted skill sets.
Back to top

Harvard Kennedy School
IGA-344M: International Perspectives on Justice for Children
Jacqueline Bhabha
Th 3:30 PM – 6:30 PM
This course seeks to help students resolve some of the crucial challenges that arise when children interact with the legal system as victims, witnesses, or alleged offenders. By studying the many country-specific, formal and informal justice systems that exist to protect, punish, and rehabilitate children, the course will also examine a number of thematic concepts related to child discrimination, especially on the bases of gender, disability, and sexual orientation.  Students will learn to rely on data from justice systems, clinical medicine, social science, and public health to inform the evidence base for discussions, and merge these sciences with legal precepts and human rights to advance actions that are in a child's best interest. By exploring case law pertaining to decision-making within and outside the formal justice system, this course will lay a foundation for further study in the discipline, and also bolster the repertoire of professionals using the law in advocacy work.
PED-209: Management, Finance, and Regulation of Public Infrastructure in Developing Countries
Henry Lee
T/TH 2:40 PM – 4:00 PM
This course will explore efforts to manage, finance, and regulate the transportation, telecommunication, water, sanitation, and energy infrastructure systems in developing countries. Issues to be discussed include public-private partnerships, the fundamentals of project finance, contract and discretionary regulation, and managing the political context in which infrastructure decisions are made. The course will rely on case material taken from infrastructure programs in developing countries, including Brazil, Mexico, Thailand, Laos, Argentina, Chile, Lesotho, Uganda, Madagascar, and India, as well assome developed countries, including the United Kingdom, Canada, and Australia

Harvard School of Public Health

ID 205 – Societal Response to Disasters and War
Jennifer Leaning
Tuesday, Thursday 4:00pm – 6:00pm
Designed for physicians, public health officers, or others who may be charged with responsibility for intervention during crisis situations. The focus will be on societal response to disasters and war as well as decision-making under stress. The course will examine U.S. and international case studies within the established research and policy frameworks for disaster response and humanitarian action.
Financing and Delivery of Health Care in Developing Countries – 31766 – GHP 245 – 1
Peter Berman
Monday, Wednesday 1:30pm – 3:20pm
This course seeks to familiarize students with the major approaches to health care financing and delivery currently prevelenat in developing countries. Approaches to financing and delivery can be studied as ideal types , but in reality they exist in countries with many variations and combinations. This course, then, also provides a cross-country comparative perspective on the range and composition of financing and delivery arrangements in different countries. To develop students abilities to critically analyze these different arrangements and their possible impact on health system performance, the course begins with a review of health systems frameworks and theories and concepts, primarily from economics, that provide a foundation for further analysis. Prerequisites: GHP244 and GHP230, or HPM206, or permission of instructor. Courses may be taken concurrently.
Note: An earlier version of this post incorrectly listed several course that are not actually being offered in the spring semester. We apologize for any confusion.
Do you know of a course that should be listed here? Email Meghan Smith, meghansmith@fas.harvard.edu.