SAI is honored to announce that KP Balaraj, Sumir Chadha, and Chandni and Mukesh Prasad have joined Harvard South Asia Institute as the newest members of its Advisory Council. We welcome Mr Balaraj, Mr Chadha, and Mr. and Mrs Prasad to this distinguished group who support SAI's efforts to advance teaching and research on global issues related to South Asia.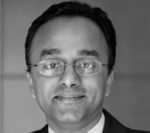 KP Balaraj, HBS MBA 1997, Bangalore, India
KP received an MBA from Harvard Business School, and a BS in Business Management from Brigham Young University Hawaii, where he graduated as valedictorian of his class.   He grew up in Chennai, and attended Don Bosco and MCC schools. KP is a former top ranked national tennis player, having represented India at the international level.  He is based in Bangalore, India. KP Balaraj is a co-founder and Managing Director of WestBridge Capital, and has over 15 years of venture capital and private equity investing experience in India and Asia.   WestBridge is a leading investor in high growth Indian companies across sectors including Financial Services, IT, Consumer Services and Healthcare.  KP was also a co-founder and Managing Director of Sequoia Capital India, where he helped lead and build one of the most successful venture capital franchises in India with a primary focus on early stage technology and consumer investments. Earlier, KP was part of Goldman Sachs where he served as a member of Goldman-backed funds and operating companies that focused on private equity in Asia.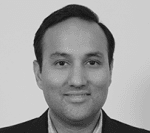 Sumir Chadha, HBS MBA 1997, Palo Alto, San Francisco, CA
Sumir Chadha is the  Co-founder and Managing Director WestBridge Delaware Advisors LLC. Sumir has over 15 years of investing experience in India spanning public companies, private equity and venture capital. Prior to that, Sumir was part of the Principal Investment Area at Goldman Sachs & Co, based in New York and Singapore, where he focused on venture capital investments in services and software companies in both the United States and India. He began his career as a management consultant at McKinsey & Co., based in New York and New Delhi. Sumir currently serves or has served on the board of many successful investments that he has been instrumental in making including Applabs, GlobalLogic, MarketRx, Pangea3, QuickHeal, Scioinspire, Shaadi, Star Health Insurance and SKS Microfinance.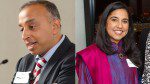 Chandni and Mukesh Prasad AB'93, New York, NY
Mukesh Prasad graduated in 1993 from Harvard College, with honors in Government, and a focus on development policy of economic development. He was elected and currently serves as First Marshal for the Class of 1993. He then received his MD from The Johns Hopkins Medical College, and completed training in Otolaryngology and Head & Neck Surgery at Columbia University.  He is currently an Associate Professor of Clinical Otolaryngology at the Weill Cornell Medical College, where he also serves on the Weill Cornell Admissions Executive Committee, and as the Chair of the Clinical Affairs Committee for the General Faculty Council. He has served on the Harvard Schools and Scholarships Committee both in Baltimore and New York, served as a Director on the Harvard Alumni Association Board of Directors (2001-2004 and 2006-2009), and as an Elected Director for the Harvard Asian American Alumni Alliance Board of Directors.
Chandni Prasad, born and raised in Bangkok, Thailand, graduated with a BA in Economics and International Relations from Boston University.  After college, she worked at the United Nations in Bangkok.  In 1996, Chandni earned her Master's degree in Economic and Political Development from the School of International and Public Affairs at Columbia University.  Chandni then joined the Synergos Institute, a non-profit organization working with community organizations, as the Program Officer for Asia.  She has earned a Master's in Applied Anthropology and completed her coursework for her PhD in the same.  She continues to devote her time to the Dalton Parents Association where she was President from 2011 to 2013, and serves on the Board of Trustees for the Dalton School.  She also serves on the board of Sakhi for South Asian Women, a New York-based non-profit dedicated to providing services for South Asian victims of domestic violence.