Storybooks can capture a child's imagination, teach moral lessons, and provide hours of entertainment. Maung Nyeu, Ed.D. candidate at the Harvard Graduate School of Education, has demonstrated that storybooks can do something else: preserve a culture.
Through his work with Our Golden Hour, which he launched in 2012, Maung has become an advocate for bringing culturally relevant storybooks to children in his native Chittagong Hill Tracts, Bangladesh, and will continue this summer with support from a SAI summer grant.
In this rural area of Bangladesh, indigenous communities are served by schools that do not supply children with educational materials in their native language, Marma, something Maung is trying to change. "If you go to a school in Chittagong Hill Tracts and ask the children which books they read, all they would show you is a textbook," he says. "Children have no other books to read besides a textbook. Moreover, the textbook pictures do not represent the culture of indigenous children, and children cannot relate to these pictures with what they see in their villages and in their communities. In CHT, students have no children's storybook  to cultivate their love of learning, and most schools do not have any library."
Since Our Golden Hour began working to improve educational opportunities for children, three bilingual children's books have been published in Marma and placed in schools. That these books use the native language is only part of Maung's innovative solution – the stories in every book are the very stories that are passed down orally through generations, thus ensuring that children learn about their own culture in their own language.
Maung aims to eventually publish 72 such books for the children of Chittagong Hill Tracts. His project is ambitious, perhaps in part due to the urgency of the problem he is working to solve. Maung explains that as generations get older, "the language and culture are on the brink of extinction." Without storybooks in their native language, the children in Chittagong Hill Tracts are losing touch with their own culture.
"These stories survive for hundreds of years because they are told and retold by many generations," Maung says of the tales, which are in danger of being lost if they are not written down.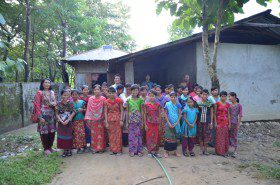 Upon first impression, Maung is calm and collected, but listen to him talk about his projects for any amount of time, and it is difficult not to share in his enthusiasm for this mission. His face lights up when sharing photos of the smiling children his organization is helping, and he readily recalls story after story of the impact the books have had on the communities.
Maung knows first-hand what these children are experiencing. As a child growing up in Chittagong Hill Tracts, he recalls eagerly anticipating each night when his grandmother read stories to him before bed. "My fondest memories from growing up were from when I discovered storybooks," he says. He travels back to the region as often as he can, often carrying recently-published books with him and delivering them personally to the children.
Since he began working with Our Golden Hour, Maung has found that this work goes far deeper than just getting books in the hands of children. Storybooks also help children learn about new cultures, bridge generational gaps, teach moral and civic lessons, and instill an appreciation for diversity. "Diversity is not just good for one community – it's an asset for all of humanity," Maung says, insisting that these lessons can be cultivated in children early in life.
Another goal of publishing storybooks is to develop a love of learning, according to Maung. Once children learn to read, it becomes a gateway to many other subjects: math, science, culture, history, and other languages. Storybooks are a tool to enable children to take learning into their own hands.
Maung and his team at Our Golden Hour have been busy developing other initiatives as well, including an arts and education program. Most schools in Bangladesh have no arts program at all – which Maung recognizes as a barrier to children receiving valuable education. He has created various coloring books, again with characters and stories from the native culture, and encourages students to create their own story and share it with others. "This way, the story of 'me' becomes the story of 'us,'" Maung explains.
Maung's dedication makes it clear that no action is too small to make a difference – what started out as a goal to translate a few stories has now become a broader mission of using education to change these children's lives.
Aside from the time he invests in Our Golden Hour, Maung is also a full-time doctoral student at Harvard, and recognizes that he may need help in achieving his ambitious goal. He has already enlisted HGSE students to help with various aspects of the organization, and is looking for others to help with social media, translating, design, and grant writing: "This work can't be done alone," he says.
Learn more about Our Golden Hour.
Video: Maung's story starts at 3:53
-Meghan Smith