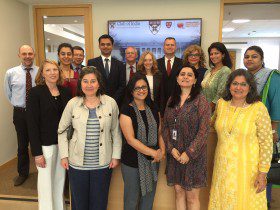 By Kathleen Molony, Director, Fellows Program, Weatherhead Center for International Affairs
The Fellows of the Weatherhead Center for International Affairs (WCFIA) concluded their year at Harvard with a one week trip to India in May 2015. As the largest research center within Harvard University's Faculty of Arts and Sciences, the Weatherhead Center annually invites outstanding senior-level practitioners of international affairs to the University.
While at Harvard, Fellows pursue a research project, among other scholarly activities. As part of their experience, the Fellows Program occasionally organizes an international study trip for the purposes of introducing the Fellows to an important and influential country. This year's choice of India was a logical one, given the presence of a Fellow from India, Shreyas Navare. Harvard's South Asia Institute and the Mumbai-based Harvard India Research Center helped plan the trip.
The official meetings in Mumbai and New Delhi included a briefing on US-India relations with Walter Douglas, head of public affairs for the US Mission India; a conversation with Mr. Vinay Mohan Kwatra, Joint Secretary (Americas) Ministry of External Affairs; and a briefing from UK High Commissioner to India and 2006-2007 WCFIA Fellow Sir James Bevan.
The Fellows also participated in several roundtable discussions including discussions at the Harvard Business School India Research Center; with scholars at The Gateway House and at the Institute for Defence Studies and Analyses; with civil servants at Lok Sabha, and with current and former diplomats at India International Centre.
The roundtable at India International Centre was organized by 2007-2008 Fellow Ambassador Sudhir Devare and also included the participation of 1998-1999 Fellow Ambassador Jayant Prasad. The Fellows also had the opportunity to tour the lower house of Parliament, Lok Sabha, and to visit Dr. Bhau Daji Lad Museum.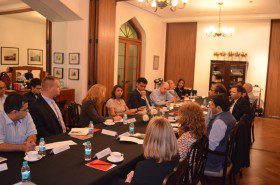 The Fellows were grateful for this opportunity to learn about India. India, they learned, is a country that is taking a gradualist approach as it emerges more onto the world stage. While it still has many challenges ahead, many of them related to the fact that it has a huge population that is growing rapidly and which has many needs that must be met – jobs, education, and so on – the general assessment of the country's future seems to be one of moderate optimism.In the words of one Mumbai-based scholar, India in 2015 is an inward country looking outward.
Below are some reflections from the Fellows about India's future:
"India is very aware of its rising prominence in regional and international affairs and will insist on being taken account of in the Asia-Pacific. It looks to itself as the most important power in the Indian Ocean and views not only the Chinese, but also the United States intentions with deep interest … I found it very interesting that a country that comes from a tradition of non-violence and non-alignment looks to increase its military power and align its interests with Western powers."
– Thomas O'Steen, US Army Colonel
"In the field of foreign relations, Mr. Modi has certainly broken with the past as far as style is concerned, having met with the President of the United States on three separate occasions and having conducted a number of other high profile meetings with the leaders of, inter alia, China, Japan and Australia. India is moving from being inward-looking to adopting a role in regional and world affairs which is more commensurate to its size and potential. More particularly, it seems to be moving from what is termed as a balancing power to being a leading power."
–Margarida Afonso, senior civil servant with the European Commission, on how India, under Prime Minister Modi in particular, sees itself as a major global player
"India has to make education a top priority in the national agenda by offering access and good quality of education at all levels, from basic primary to vocational training and higher education. India has to eliminate the barriers that exist for attracting private and highly qualified foreign universities."
–Maria Fernanda Campo, former Colombian education minister