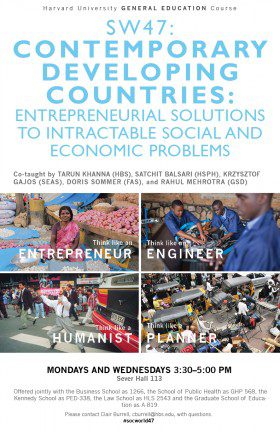 SW47: Contemporary Developing Countries: Entrepreneurial Solutions to Intractable Social and Economic Problems
Mondays and Wednesdays 3:30–5:00 pm
Sever Hall Rm 113 (Harvard Yard)
Offered jointly with the Business School as 1266, the School of Public Health as GHP 568, the Kennedy School as PED-338, the Law School as HLS 2543 and the Graduate School of Education as A-819.
Co-taught by:
Tarun Khanna, Jorge Paulo Lemann Professor, Harvard Business School; Director, Harvard South Asia Institute
Satchit Balsari, Assistant Professor, Weill Cornell Medical College; Director of the Weill Cornell Medical College Global Emergency Medicine Program; Fellow Harvard FXB Center for Health and Human Rights
Krzysztof Gajos, Associate Professor, Harvard School of Engineering and Applied Sciences 
Doris Sommer, Ira Jewell Williams, Jr. Professor of Romance Languages and Literature; Director of Graduate Studies in Spanish, Harvard Faculty of Arts and Sciences
Rahul Mehrotra, Professor of Urban Design and Planning, Harvard Graduate School of Design
Course Overview
This course will provide a framework (and multiple lenses) through which to think about the salient economic and social problems of the five billion people of the developing world, and to work in a team setting toward identifying entrepreneurial solutions to such problems. Case study discussions will cover challenges and solutions in fields as diverse as health, education, technology, urban planning, and arts and the humanities. The modules themselves will be team-taught by faculty from engineering, the arts, urban design, healthcare and business. The course will embrace a bias toward action by enabling students to understand the potential of individual agency in addressing these problems. All students will participate in the development of a business plan or grant proposal to tackle their chosen problem in a specific developing country/region, emphasizing the importance of contextualizing the entrepreneurial intervention. The student-team will ideally be comprised of students with diverse backgrounds from across the University.
The course is divided into five modules –  an introduction covering key concepts in social entrepreneurship, followed by three thematic modules each led by a leader in their field, and then a concluding module which applies lessons learnt throughout the semester to specific problem contexts. Each module is approximately 2-3 weeks of the course.
Module 1: Introductory Module
The introductory module will explore several of the most salient challenges facing emerging market economies (including corruption, and political and economic institutional voids). It will also discuss in detail candidate solutions to these problems including unique biometric ids, microfinance, etc.
Module 2: Thinking like an Engineer
The second module will guide students through the design process from the perspective of an engineer (Professor Gajos). Professor Gajos will engage students in the methods of entrepreneurial needs assessment – how does an engineer, designer or an entrepreneur identify a need when individuals and communities might not even be aware of their problem themselves? The module will also review methods for enhancing creativity and rapid proto-typing, and the difference between creating a "product" vs. an "experience" for beneficiaries.
Listen:
Module 3: Thinking like a Humanist
Led by Professor Doris Sommer, the third module will empower students to think creatively about how arts and culture can be used to change cultural norms, promote social cohesion and ultimately improve economic development. The module will challenge the traditional conception of a "hierarchy of needs" – and discuss the role of pleasure and aesthetics, and how they relate to economic and social development.
Watch:
Module 4: Thinking like a Planner
Emerging economy countries, particularly those in South Asia must precariously balance economic development, while simultaneously preserving the cultural heritage that makes each country, city and community unique. The urbanism module, led by Professor Mehrotra, will establish a lens for thinking about responsible entrepreneurship from the perspective of an urban planner/architect. Key themes to be discussed are: static vs. kinetic cities, cultural preservation in the context of urban development, and 'deep democracy', 'incrementalism' and participatory urban planning. We will use case studies on low-income housing, and water & sanitation systems, as well as the development of the Arts District in downtown Mumbai and the public-private partnership for the restoration of the Taj Mahal in order to highlight several key themes in development and urbanism.
Module 5: Applications to different problems and contexts
The final module, co-led by Professor Khanna and Dr. Balsari will apply the various lenses discussed throughout the course to unique problem contexts, with a particular focus on health and education challenges in developing countries.