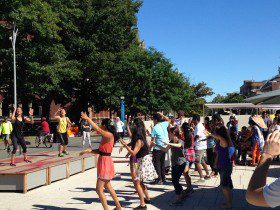 The Fall Mela 2015, a one of its kind community initiative planned by the Harvard India Student group, was held at Harvard's Science Center Plaza on September 20, and was cosponsored by SA. The event, attended by over 300 students, helped spread awareness about Association for India Development (AID), a volunteer movement for improving the standard of living of the underprivileged in India with initiatives in diverse spheres like education, women's empowerment, and health.
Students visited various stalls through the plaza, which made for a lively afternoon: showcasing the essence of Indian art forms like henna (hand painting), art of living (pranayam and yoga), and a photo booth with Taj Mahal in the backdrop.
The event featured captivating performances by the trainers of BollyX, a Bollywood dance fitness club, which was showstopper. Sharanya Chandran, a classical dancer from India's Natya Vriksha Academy performed a beautiful Bharatanatyam routine. The Harvard World Music Ensemble members sang a Sanskrit composition accompanied by the tabla, which enthralled the crowd.
Photos: