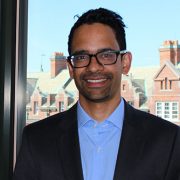 This article was originally published by the Harvard Asia Center.
For Sunil Amrith, joining his academic research interest with his own personal history interest has led him to the teaching podium at Harvard.
"One of the key threads in all of my work is that I am very interested in the links between South Asia and Southeast Asia," says the Mehra Family Professor of South Asian Studies and Professor of History, who joined Harvard University at the start of 2015 and has begun teaching this fall. He grew up in Singapore, has family in India, and received his undergraduate and graduate education from the University of Cambridge. For the past nine years, he has taught at the University of London.
The global travel and experiences all contribute to Amrith's understanding of the colonial backgrounds of some South Asian and Southeast Asian regions and the connectedness of the areas.His most recent book, Crossing the Bay of Bengal: The Furies of Nature and the Fortunes of Migrants, focuses on the connection between the two regions. "I think one of the things that sparked that," Amrith says, "was the idea that even now, South and Southeast Asia are really studied and taught and treated as completely distinct regions, and there's not a lot of dialogue between South Asian history, for example…and Southeast Asian history. And yet, my intuitive experience in that part of the world has always left me with the impression that they are so closely connected."
That's not to say that he overlooks real changes taking place within the regions, such as political changes and new borders being drawn. His role as a historian, as Amrith sees it, is to research where the divisions come from, how they are explained, and what connections continue beneath those divisions.
In addition to an interest in the history of public health and history of migration, Amrith currently spends his research focus on environmental history. He is drawn, for example, to the shared dilemmas of coastal communities, which he cites as often poor and marginalized, in the face of environmental change, which is "inherently transnational." Another major interest is the importance of fast-growing, coastal "mega-cities" and the particular environmental threats they face, as well as the social conflicts that arise around water supplies and water use. This study, as he says, would be limited if he were to look only at one region.
As for his work at Harvard this fall, Professor Amrith is teaching a graduate course on Environmental History of South Asia (SAS 230), as well as The Economic History of India (SAS 130). He said he hopes to offer a general education course on Southeast Asia in the future, in addition to leading an international summer program for students visiting Southeast Asia.
"One of the things that I'm really excited about here at Harvard is just the sheer number of colleagues who work on Asia – I think both in terms of colleagues in different disciplines working on Asia, and in terms of colleagues working on different parts of Asia," Amrith says. "The scope for interdisciplinary conversation is huge."
Professor Amrith will lead the Online Book Group: Sea of Poppies on November 5.