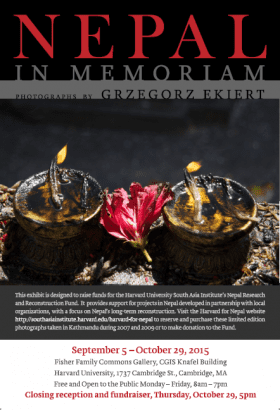 Ongoing exhibit through October 29, 2015 in the CGIS Knafel Concourse, 1737 Cambridge Street, Cambridge, MA
"There is no greater sorrow than to recall in misery the time when we were happy." – Dante Alighieri
Photographs by Grzegorz Ekiert, Professor of Government, Director of the Minda de Gunzburg Center for European Studies and Senior Scholar at the Harvard Academy for International and Area Studies
Crowned by eight of the world's highest mountains, Nepal is a very special place. Its capital, Kathmandu, is a living museum that is home to ancient, yet still very vital cultures. Today's city encompasses three historic towns of the Kathmandu Valley – Kathmandu, Lalitpur and Bhaktapur. Their palaces and temples, built by many generations of Newari craftsmen, are unique treasures of world architecture and art. The city's three Durbar Squares and its sacred places of worship, the Hindu temple of Pashupati and the Buddhist stupas of Swayambhu and Bauddhanath, are all UNESCO World Heritage Sites. Each day there begins and ends with prayer as it has been for centuries.
The recent devastating earthquake killed thousands of Nepalese. Tens of thousands more were injured and made homeless. Many of the city's magnificent buildings and places of worship were destroyed or seriously damaged. Nepal needs our generosity and assistance to help its people to rebuild their lives and restore the country's historical heritage.
This exhibit is designed to raise funds for SAI's Nepal Research and Reconstruction Fund, which provides support for projects in Nepal developed in partnership with local organizations, with a focus on Nepal's long-term reconstruction.
Sponsored by the Harvard University Asia Center, the South Asia Institute, the Minda de Gunzburg Center for European Studies, the Weatherhead Center for International Affairs, the Fairbank Center for Chinese Studies, the Reischauer Institute of Japanese Studies, the Davis Center for Russian and Eurasian Studies, and the Korea Institute
To purchase photos:
To purchase photos, please email Nora Maginn, maginn@fas.harvard.edu.
Prices:
Small framed photos (12x18in): $120
Large framed photos (24x36in): $500
Please note: After the reception, photos can be shipped unframed, at the buyer's expense (Small unframed photos: $60; Large unframed photos: $200). They are printed on museum-quality paper by Digital Silver Imaging.
Photo gallery (Photos 88 through 95 are large prints, the rest are small prints):