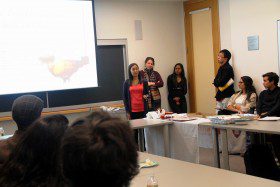 The South Asia Institute hosted its annual Grant Opportunities Open House on October 6, 2015. The event provided an opportunity for undergraduate and graduate students to explore the possibilities of working with organizations and pursuing their research interests in South Asia. Students were able to interact with the SAI staff and representatives from potential internship sites and munch on some delicious Samosas and Paneer Tikka!
The program began with quick introductions of the attendees followed by a presentation by Nora Maginn, the Senior Program Manager at SAI detailing the types of grants, the application process and introducing the new Seed or Change competition. This was followed by a brief presentation by Emil Kuruvilla, the Development and Communications Officer from the American India Foundation, who spoke about the internship opportunities at AIF. Diana Nguyen, the Program Coordinator at SAI, spoke about what constitutes a good proposal and how to draft a budget for South Asia.
Past grant recipients also spoke about their time in South Asia. Michael Haggerty spoke about his Housing and Vernacular Architecture project in Dhaka, Bangladesh, Diane Jung spoke about her internship with Jana Care and her work on the Mobile technology program over the summer in various cities across India, and Jacqueline Ma, a senior at the College spoke about her work in Medical relief in Sri Lanka.
The event highlighted the diverse opportunities that SAI provides students to study, research and explore the South Asia region.
Click here to learn more about SAI student grants.
-Soujanya Ganig, SAI Student Coordinator