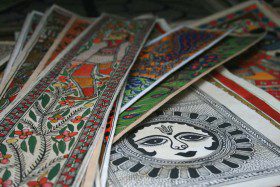 On December 3rd, Harvard University South Asia Institute (SAI) and Tata Trusts launched the first in a twelve part series of webinars on Social Entrepreneurship and Livelihoods in the Handicrafts and Handloom spaces, part of a broader project on Livelihood Creation in India. Led by Mukti Khaire, Associate Professor at the Harvard Business School and Visiting Associate Professor at the Brown University, this webinar provided a conceptual and analytical framework to think through two concepts that are traditionally opposed – handcrafted aesthetic goods and markets.
Despite the success of crafts-based businesses such as FabIndia and Anokhi, the Indian handlooms and handicrafts sector faces a crisis. However, India loses on average 10% of its artisans every year because their livelihoods are no longer sustainable. Handcrafted items are losing their relevance in contemporary markets as they are unable to compete with machine-made products, suffer from a fragmented value chain and weak infrastructure, and are unattractive livelihoods sources for younger generations. If these trends continue, India as a nation stands to lose much more than simply a range of beautiful products. The sector is the second largest source of livelihood after agriculture; is a fundamental vehicle of Indian heritage, culture and identity; and represents wealth of knowledge and skills that have been acquired over centuries.
The current scenario in the Indian handicraft and handlooms sector is defined by patchy access to handcrafted products for customers, and an equally patchy access to markets for artisans.
Underlying this are two main paradoxes:
The first is an increasing distance between consumers and creators, where existing historic-socio-cultural descriptors are not adequately leveraged to foster a strong bond between the two. In the rest of the world, the power of storytelling as a marketing tool has been capitalized upon and translated quantitatively into pricing and consequently margins. For instance, coffee shops have succeeded in engaging customers beyond their cup of coffee, connecting them through stories to the producers and regions from where the liquid in their cups originates. In doing so, they have cultivated differentiated and discerning palates that in turn represent market expansion.
The second paradox is represented by the fine balance needed between staying true to original craft heritage and being appealing to a modern consumer. For example, a lot of the fine weaving is geared towards the production of saris. However, fewer women wear saris on a daily basis. Adapting sari-weaving techniques, sizes of patterns, etc. into different apparel such as scarves or stoles can create new market opportunities.
However if both these paradoxes exist, it is because of a differentiated perception between the nature of value in markets (economic and objective) and in handcrafted goods (aesthetic and subjective).
The fulcrum of addressing India's handicraft and handloom crisis is bridging the gap between two concepts that are traditionally opposed – the cultural/aesthetic and markets. Culturally specific aesthetic goods belong to the realm of the artistic where the act of expression and symbolic value are greater than material value and cannot be measured. Markets are governed by the logic of economic value, exchange, and transactions, all of which can be measured and quantified. Market goods offer objective comparability to the consumer. Conversely, aesthetic goods are subjective where meaning, rather than utility drives value. Translating cultural value into market value therefore requires intermediation.
In order to bridge the gap between these two paradigms and thereby create greater value to craftspeople dependent on handcrafted goods, Professor Khaire proposed an ecosystem approach involving different entities and stakeholders, driven by through collaboration. The key characteristics of such an ecosystem would include:
Identity creation for crafts through clear knowledge and documentation that can create an understanding of craft forms and their meanings. This can further be communicated to customers to educate them on what they should be looking for.
Design as a discursive process that confers economic values through utility and aesthetic. This includes adapting traditional motifs, patterns, and skills to the modern lifestyle without taking away from the specificities of the craft.
Innovation cycles that create desire amongst consumers repeatedly and at regular intervals.
Standards of quality, which are unified and coordinated across individual efforts.
For further information on these concepts we suggest reading:
Khaire M, Entrepreneurship by Design: The Construction of Meanings and Markets for Craft Goods
Khaire M, Kothandaraman P, FabIndia Overseas Pvt. Ltd
Khaire M, McGinn K, SEWA Trade Facilitation Center: Changing the Spool
Postrel V, The Substance of Style
Summary of the webinar:
Full webinar: