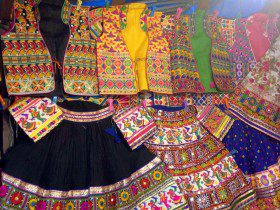 SAI's Livelihood Creation project is underway on the ground in India. The research project, supported by the Tata Trusts, aims to build knowledge and capacity around three key areas: rural livelihood creation (emphasis on the handicrafts and handloom sectors); educational, social and economic empowerment of women; and science and technology-based interventions for poverty alleviation.
By Gayatri Divecha, Project Consultant and Shashank Shah, Project Director
Mumbai, the financial capital of India, in many ways represents a mega market – a place where entrepreneurial dreams turn into a reality, a city where numerous versions of almost every imaginable product can be bought at a range of price points – almost. In comparison to the country's capital, Delhi, Mumbai has a surprisingly small array of handicraft and handloom retail platforms to choose from: outlets of high-end brands such as Anokhi, Kilol and FabIndia, government run khadi and cottage industry emporiums, and the occasional Bombay Store. The vibrant handicraft and handloom bazaars and haats of Delhi, Jaipur and Kutch are conspicuously missing.
As part of its field visits last month, the SAI Team met with Paramparik Karigar, a group of volunteers who have been tirelessly promoting handicrafts and handlooms in Mumbai since the 1980s. The need for more enterprises in the space is clear. Paramparik Karigar was formed by a group of artisans who felt vulnerable due to a lack of access to markets. The organization is structured as an association of artisans, with 85 members. It is supported by a group of volunteers who enable access to markets by organizing 1-2 exhibitions in Mumbai every year. The motivation is to remove middlemen and provide artisans direct access to consumers. Each year the exhibitions are sold out and artisans voluntarily donate 10 percent of their sales back to the organization. Paramparik Karigar has succeeded in ensuring their members' crafts not only survive, but thrive. Five of the artisan members are Padmashri award winners. The volunteers highlighted the dire need in a city like Mumbai, for similar ventures. They not only see a large potential market, but large gaps in this market that can be filled with customer awareness, the right types of merchandizing, and innovation in products.
Contemporary Arts and Crafts (CAC), one of the first handicraft retail outlets founded in Mumbai in 1962, understands that ensuring the handicrafts industry future depends on inspiring younger generations to consume handicrafts and handlooms. The outlets aim to make crafts more relevant and appealing to younger generations. Their team spends weeks traveling to remote areas to source products. As a brick and mortar retail establishment in a city with some of the highest real estate premiums globally, scale and sustainability is constrained by the ability of the supply side (artisans and artisan-focused organizations) to deliver professionally. While capacity building inputs on elements such as design has enabled a greater range of products for retailers to choose from, the most urgent needs include inputs on timely deliveries, packaging, and high quality finishing.  If these are addressed, CAC is convinced that not only will their business continue to grow, but so will that of other entrants to the space.
From Mumbai, the SAI Team moved to Pune, on the other side of the Sahyaadri Mountains. We visited Maati Crafts and Studio Coppre (based in Pune), a relatively newer organization working with artisans and retailing handloom and handicrafts items in Mumbai and Pune respectively. For both organizations, it was the appalling lack of handcrafted items in urban markets and the realization that without greater attention accorded to them, they stand to be fragments of history in the near future.
Maati Crafts operates a retail outlet in Powai, and sells online through their website. They source a multitude of handmade textiles from Kutchi Ajrakh to Rajasthani Applique to make contemporary clothing for the modern woman. In a remarkably short span of time, the founders have managed to create a business well on its way towards profitability. While they are convinced that there are markets for handmade products, they are also worried about what will happen in the absence of more entrepreneurial ventures like theirs. They also recognize the need for specific support to younger organizations on management, human resources, and growth.
Studio Coppre, based in Pune, has demonstrated a similar journey of success in a relatively short span of time. Investing significant amount of time in designing and prototyping home products made by copper and brass artisans, the organization has contemporized traditional copperware such as tumblers, water jugs and thalis. With a domestic market and one overseas, the organization stresses the need for inputs on marketing and merchandizing, which they believe will enable ventures like theirs to be scaled further.
The experiences of these seasoned organizations and newer ones demonstrate that urban centers like Mumbai and Pune represent an endless potential for entrepreneurial ventures to succeed. However, without the right types of inputs, and priming future consumers, the full potential of the gap in the market might not be realized.