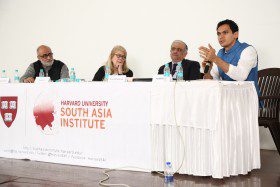 What happens when tens of millions of people form a temporary city on the banks of a holy river? In 2013, a team from Harvard set out to answer this question, and found that there is much more than meets the eye at the Kumbh Mela.
On Monday, January 18, the Harvard South Asia Institute (SAI) launched the book and exhibition Kumbh Mela: Mapping the Ephemeral Megacity in Mumbai at the Chhatrapati Shivaji Maharaj Vastu Sangrahalaya in partnership with the Asia Society India Centre and the Harvard Club of Mumbai. The event drew a crowd of more than 200 people, including Harvard alumni, community members, government officials, students, and members of the public.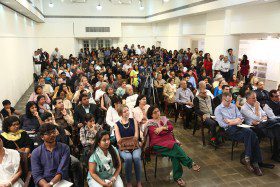 The Kumbh Mela: Mapping the Ephemeral Megacity book and exhibition consolidate research findings of the world's largest religious festival, and serve as an example of interdisciplinary research conducted at Harvard. The exhibition and book have previously been launched in New Delhi with Shri Akhilesh Yadav, Honorable Chief Minister of Uttar Pradesh, at Harvard University with President Drew Faust, and at the Asia Society in New York City.
The event featured first-hand insights from Harvard scholars and Kumbh administrators who were on the ground during the festival in 2013, which drew over 50 million pilgrims to Allahabad over the course of a few weeks. A Harvard team of 50 faculty, students, and researchers studied the festival, which was not only a remarkable religious experience, but also a valuable exercise in urban planning, public health, government administration, security, and commerce.
Sabyasachi Mukherjee, Director of Chhatrapati Shivaji Maharaj Vastu Sangrahalaya, welcomed the audience and panelists to the museum and praised the collaborative nature of the project. Vikram Gandhi, SAI Advisory Council Member and Founder of Asha Impact, explained that SAI's unique mission of bringing disciplines together made the study possible. He recounted some of his most memorable experiences visiting the festival, from taking a dip in the holy river, to observing the religious discipline of the sadhus.
Rahul Mehrotra, Professor of Urban Design and Planning at the Harvard Graduate School of Design, who moderated the panel discussion, explained that the project was a "fascinating" experience from an urban planning perspective, as a temporary megacity with an expiration date is not only constructed, but also disassembled.
The festival gathers together millions of people from various castes, classes, regions, and religions of India in one place, so it was an "astounding" experience to study the religious aspects of the Kumbh, according to Diana Eck, Professor of Comparative Religion and Indian Studies, and member of the Faculty of Divinity at Harvard Divinity School. She explained that pilgrims come to the festival from all over India primarily to bathe in and worship the Ganges River, which becomes the worshippers' "temple."
The Kumbh is often portrayed in media and literature as a "spectacle" by photographers, so the panelists relished the opportunity to look at the festival from an academic perspective. Eck explained that her team was interested in studying some of the more fascinating aspects that are not usually seen. For example, her students studied the environmental impact: What happens to the 120 million marigolds that are used for religious purposes?
From the government's perspective, Devesh Chaturvedi, Divisional Commissioner at the 2013 Kumbh, explained that careful planning and meticulous research led to a successful Kumbh. Governments usually provide, power, roads, clean water, security, sanitation services, healthcare, and food. But what about at a temporary city that only lasts 55 days?
Chaturvedi explained that one of the keys to success was developing plans that took local cultures and customs into account. For example, knowing that many pilgrims carry bundles on their head meant that when walking and traversing bridges, they would not be able to look down. This bit of cultural knowledge informed the construction of safer pontoon bridges.
The government worked with religious institutions, non-profit organizations, and partners from the informal sector to provide services on a huge scale: 960 kilometers of power lines to support 25,000 street lights; 18 pontoon bridges to hold 500,000 people per hour; 20,000 police personnel, to ensure safety of pilgrims and prevent terrorism; 690 kilometers of water lines for drinking water; 34,000 toilets with bio-digester technology; 7,000 sanitation workers who were deployed round the clock, among others.
The festival also provided a valuable lesson for public health. Satchit Balsari, Chief at Weill Cornell Global Emergency Medicine Division, Faculty at the FXB Center for Health and Human Rights at the Harvard T.H. Chan School of Public Health, and his team took advantage of technological advances to understand the spread of disease at the Kumbh, which he referred to as a "crucible of predictable chaos."
Balsari and his team piloted their disease surveillance system on iPads at the 2013 festival, and have since deployed the tool at the 2015 festival over the summer in Nashik. Using an app with a simple interface, each physician was able to record an ID number, age, gender, and ailment for each patient they saw. With only one hour of training for each doctor, the team collected 40,000 patient records on the busiest bathing days – an average of 4,000 data sets per doctor.
Using all of this "extraordinarily rich" data, the team set up an interactive dashboard, available on smart phones, to see the distribution of patients organized by age, location, gender, disease, and disease frequency – all in real time. Balsari and his team believe this type of digital disease surveillance has significant potential for public health at future events, from natural disasters to refugee resettlements.
The panelists agreed that the festival served a crucial pedagogical tool, as it brought together disciplines that do not always work together. "All of the boundaries collapsed, and people began to speak to each other," said Mehrotra.
Read more: Harvard receives government grant to bring the 'Kumbh Mela' story to India's Hindi populace.
Visit our Facebook page to see more photos from the event.