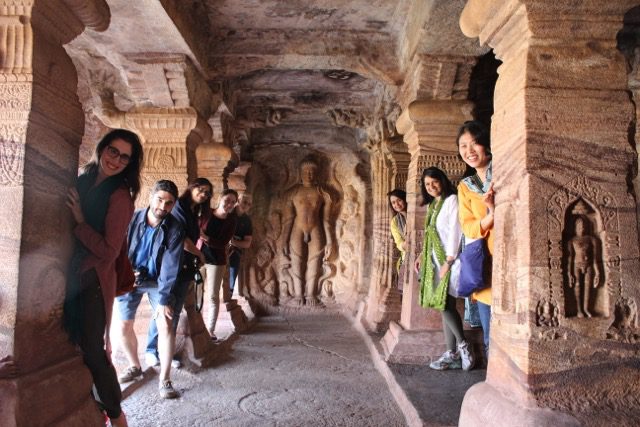 In certain disciplines, studying from a book can only get you so far.
Art historians like Eugene Wang, Abby Aldrich Rockefeller Professor of Asian Art at Harvard University, know this to be true. Wang's research focuses on Chinese art, more specifically Buddhist art, so he always knew that India was a place he needed to experience. Having studied the Ajanta Caves from afar through books, virtual reality, and photographs, he knew he had to make the trip.
Wang reached out to Jinah Kim, Assistant Professor of History of Art and Architecture at Harvard, who organized an excursion for her students during the winter session, and Wang tagged along. This past January, they visited the Buddhist Ajanta Caves, and the Ellora Caves in the Maharashtra state of India, both considered some of the best examples of ancient Indian art.
Kim knew the trip would be an incredibly rewarding experience for her students, many of whom were visiting India for the first time after studying the region's fascinating art history in her courses. "For art history as a discipline, it really matters to see things in person," says Kim.
Wang says that upon first entering the Jain Caves in Ellora, it was as if he was entering another world.
"The most striking thing for me was to see the capacity and the sheer scale of these caves," Wang says. "They are lined with many rows of meditating statues so neatly – it's magical. You imagine this in some Hollywood films or studio production – it is truly surreal.  The lighting adds to the mystery and atmosphere."
Kim noted that these incredible man-made sites adeptly use the natural landscape and light to create the otherworldly atmosphere. "These are multi-sensory spaces. Jain caves are a transformative space, with layouts that will encourage certain ritual movements," Kim says. "In the Jain context this is often understood to be the heavenly realm."
Wang has studied the Ajanta Caves very carefully in his own academic work, and says the in-person experience has brought about new dimensions in his research. "While you are there you are applying your analytical mind." Wang says. "I was approaching it with a cerebral and intellectual mindset. It was both emotionally overwhelming and intellectually satisfying."
Now, Wang and Kim are even more sure that they want bring this type of immersive experience to as many people at Harvard as possible – even if that means virtually.  Words and photographs do not do the sites justice, so although the incredible spaces are difficult to replicate, Kim and Wang hope to someday use digital technology to bring the caves to the Harvard community in a simulated exhibit.
These sites are a part of India that are not typically in the tourist books, and Wang is hopeful that creating a simulated environment here on campus could inspire future scholars. "There is no way the experience here could come close to the real thing," Wang says. "But it will at least get you half way towards that kind of experience, and will make you want to go there."
More photos: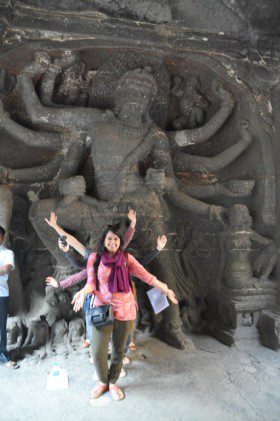 -Meghan Smith