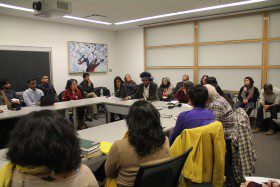 By Soujanya Ganig, Ed. M Candidate, Harvard Graduate School of Education; SAI Student Coordinator
"The value of a man was reduced to his immediate identity and nearest possibility. To a vote. To a number. To a thing. Never was a man treated as a mind. As a glorious thing made up of stardust."
These were some of the last words of Rohith Vemula, a "lover of stars, science, and nature," who was an Indian PhD student at the Hyderabad Central University at the time of his death. His suicide on January 17, 2016 sparked protests and outrage from across India and gained widespread media attention as an alleged case of discrimination against Dalits and backward classes in India.
On Wednesday, February 3, the Harvard University South Asia Institute organized a discussion on the issues surrounding Rohith's death to express solidarity with student and faculty protesters at Hyderabad University. The discussants were Abha Sur, Professor, Women's and Gender Studies, MIT, Banu Subramanian, Professor, Women, Gender, Sexuality Studies, UMass Amherst, and Suraj Yengde, Associate, Department of African and African American Studies, Harvard University. The discussion was chaired by Ajantha Subramanian, Professor of Anthropology and South Asian Studies at Harvard University.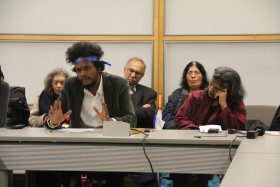 Some of the main themes of discussion included: the caste dimensions to the growing inequalities in India, the current chilling political climate, why caste is such an intractable issue, and the aching tragedy of living outside the margins. The intense discussion covered how there have been mass protests and demonstrations in India, and across the world, and how Rohith's death bears witness to the workings of caste in higher education institutions in India.
One topic discussed at length was the issue of lack of autonomy of institutions, given the current union government's willingness to throw its weight behind Hindu nationalist groups to interfere with internal workings of universities.  One of the discussants mentioned how intolerance, and the "tentacles" of Hindu nationalism in India, is growing today and how the BJP-led NDA government is stifling all opposition. Part of the discussion focused on what actions institutions like Harvard can take to address the deep-rooted issue of caste and its politics in India.
"It's time to raise our voices," said one panelist, citing the need for a widespread conversation among the Indian diaspora about caste issues and the role of higher education institutions.
The seminar was followed by a free-flowing and lively discussion with the audience.
If you are interested in getting involved at Harvard in issues surrounding caste discrimination, please contact Paul Malachi, paul.malachi@gmail.com.