By Gayatri Divecha, Project Consultant and Dr. Shashank Shah, Project Director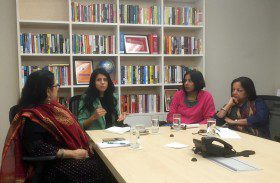 On January 7th, Harvard University South Asia Institute and Tata Trusts hosted the second of a multi-part series of webinars on Rural Livelihoods Creation in the Indian Handicrafts and Handloom sectors. Led by Prof. Mukti Khaire of Harvard Business School, this webinar provided practical insights and strategies from the experiences of a large retail venture, a non-profit model and an online portal. The panel members included:
Saveen Sharma, FabIndia
Shilpa Sharma, Jaypore.com
Kirti Poonia, Okhai
The panelists shared their unique perspectives on merchandizing handcrafted products. Interspersed with questions from a live audience of over 180 people from across India, other south Asian countries, and some from the Harvard campus, the webinar was highly interactive. Through this conversation emerged interesting strategies used by each of these organizations, and innovative ways in which they met challenges and uniquely served diverse customers.
For an online platform like Jaypore.com that typically curates collections as opposed to investing in an inventory, each product is typically sourced in a quantity of 40-50 pieces across sizes. This means that products are often sold out, and a lack of products that work online becomes a challenge. Moreover, no two handcrafted products are alike, therefore each one needs to be styled and photographed. In India specifically, where garment sizes are not standardized, managing patterns becomes a challenge. To overcome this, their collections typically focus on less-structured clothing, where sizes are not as constraining.
For a large retail venture like FabIndia, which has 205 stores across India, as well as an online presence, it becomes important to merchandize products based on a very clear understanding of which customer segment is more likely to use different sales channels. On one hand, a segment of people do want to physically see and feel the product so stores help in catering to that market. On the other hand, there is a customer segment that is much more likely to shop online and more standardized product types are better suited to this market. While FabIndia has been quite conservative in not spending a whole lot on marketing to these different segments, the company has evolved with markets and moved with the times and catered to what customers want. The core of the business has been providing livelihoods to artisans. In merchandizing terms, evolving to changing tastes and catering to different markets has not meant losing customers because the DNA of the company has been retained, for example by connecting the artisans to markets. New customers appreciate seeing well-styled products. The biggest success factor has been the willingness within the company to learn from mistakes and take on customer feedback.
Compared to Jaypore and FabIndia that have many organizations and artisans they can source from, for a smaller organization like Okhai, online merchandizing is thought of in terms of what to make. However, Okhai overcame this challenge by implanting some simple and efficient process. First, they identify who their customer is. Second, they choose to make products that are high margin and high demand. This drives greater value for their sales. The third consideration in merchandizing is evaluating products on a utility vs. beauty matrix and choosing products that are both high utility and high value. Lastly, evaluating every part of their value chain (weavers, block printers, embroiders, etc.) in terms of the amount of profit that gets distributed back to each part ensure that the value chain itself is a successful one.
In terms of marketing challenges and solutions, the panel shared different experiences from online and physical experiences. The online space is ridden with challenges related to the high cost of customer acquisition and targeting. For non-profits some of this challenge is alleviated by the growing ecosystem of support provided by agencies, advertising firms, and grants from technology companies like Facebook and Google. However, for business ventures, online marketing and social media marketing costs money that smaller ventures might not be able to afford since they have smaller marketing budgets. However, analytics is a very good source of information on customers and their shopping patterns. Handicraft and handloom ventures can even consider reaching out to customers for surveys to gather insights on what customers want to wear and purchase. Similarly, sales data can help drawing these inferences.
With brick and mortar retailing, one of the biggest marketing challenges is looking for distribution channels. For most products, there is an existing distribution channel where there is a stockiest, distributor and retailer, which is not the case for handcrafted products. Often one needs to contact individual boutiques which are mostly fashion-led and do not tend to market handicraft products. Alternatively, multi-brand retailers will likely rebrand products. Securing consistent channels throughout the year is also a challenge.
The panel stressed the importance of communicating the right message about how is the product different. Okhai photographs every product with the artisan who made it so the message to the customer is a clear one – that they are buying directly from the artisan and no other agency. They also conduct contents for customers to enable them to understand crafts forms better and often have artisans physically present and creating in stores so customers are exposed to what goes into each product. Jaypore.com realized that the younger customer base today does not really care too much about traditional, heritage and heirloom products. They are buying a look and often fast fashion trends. This involves making these products relevant to new customer by finding interesting ways and means of accessorizing. The possibilities are endless when contemporizing the traditional Indian textiles with a twist. Similarly, for FabIndia, styling is a very prominent aspect to sell a look to a particular target audience.
Finally, the panel felt that due to the global paradigm where a sense of individual taste and style is an increasingly important part of constructing identity, the handicrafts and handlooms industry stands to benefit. Playing on the concept of "wearing your style; wearing your attitude" has immense potential to not only contemporize crafts but also bolster marketing and merchandizing efforts.
The whole webinar can be viewed here: