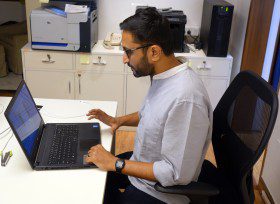 This webinar was part of the SAI/Tata Trusts program on Livelihood Creation.
By Kundan Madireddy, Project Manager and Dr. Shashank Shah, Project Director
On March 29th, Harvard University South Asia Institute and Tata Trusts hosted the fourth of a multi-part series of webinars. This was a special webinar on social media that was relevant for organizations from across different social sectors.
Led by Ritesh Mehta, Head of Economic Growth Initiatives, India and South Asia at Facebook, this webinar provided an overview of the importance of social media, different techniques, and Facebook best practices.
Any organization, whether a profit or a non-profit, has a product to sell. For example, in the case of an organization that makes copper-ware, there is a physical product that must be sold. In the case of an organization that wishes to stop acid attacks, the products are stories of people or survivors – stories that have to be told with impact. Telling stories and sharing the message of the organization must take a product approach to reach the intended audience with the desired impact.
Facebook has become very important for organizations today as the world changes. Within a period of ten years, India and the world in general have seen tremendous growth in the use of smart phones. The mobile revolution has put a lot of power in the hands of people and communities.
Facebook has a major role to play to ensure that organizations are able to reach out to their audience and tap the power of mobile connectivity. In this context, Facebook is not just the native Facebook application we generally use, but the whole suite of products that Facebook offers including the native Facebook application, WhatsApp, Facebook Groups, Facebook Messenger, and Instagram. Facebook's reach is so huge that more than one billion people use it every single day and more than 100 million hours of videos are watched every day. In India, 69 million people (almost 6 percent of the Indian population) use Facebook every day. Out of that, 64 million people use their mobiles to access it. Facebook's statistics reveal that users are spread all across India and are not limited to metro areas alone.
The case of 'Pelli Poola Jada', explains how a small business that makes flower decorations for brides used a Facebook page as a primary selling and marketing tool. Facebook helped them reach out to many people in a matter of months, which would have taken many years using other marketing channels. The case demonstrates that Facebook is an extremely powerful social media marketing tool.
Creating a Facebook page is relatively easy and hassle-free; Facebook also takes care of the display of a page across many devices. So one does not have to worry about whether the page will look good on a laptop, a tablet or also a mobile phone.
However, the most critical component of using Facebook innovatively as a promotion tool is content. Content is the "king." An organization has to carefully plan engaging posts. Different types of content include page posts, photo posts and video posts. Video usage on Facebook is growing much faster than the use of text and photos. Video posts are quite engaging and the trick is to hook the viewer in the first 15 seconds of the video to ensure that the whole videos is watched.
Because Facebook users regularly check their news feed 14 times a day, there are many opportunities for social enterprises to stand out with creative content. A compelling post should have just one clear message. For example, a single post should not be used for both creating awareness about a product and also driving sales at the same time. Further, social enterprises should keep the audience in mind. There is no such thing as a generic post. A post which is meant for a younger audience may not be relevant for an elderly audience. Another tool is to use native languages to make posts relevant for people in different geographies. Facebook provides the opportunity to use 13 Indian languages to create local content.
Thematic focus is important during content creation. Narrating the story of an employee is an example of an effective post. Another could be profiling regular customers who come to the business or volunteers who regularly contribute to the cause. In such cases it becomes important to tag the relevant people in the posts as that would have a multiplier effect in terms of reach and awareness.
Paid Facebook ads are another way to reach targeted audiences. Campaigns can focus on different preferences and target audience using categories like geography, age, profession, interests, behavior, and gender. Targeted campaigns are useful when organizations want to reach out to a specific set of people. Facebook ads are not very expensive and start at as low as one hundred rupees.
Facebook also offers powerful analytics through the tab 'Insights' that allow organizations to measure the success of posts and ads. Different metrics are available to analyze posts that are engaging. This is a unique feature on Facebook, as traditional marketing channels do not provide access to such data. Organizations can also compare pages with those of similar non-profits and learn from best practices in the social sector.
All of this can be overwhelming to a newcomer on Facebook. The good news is that 'Facebook Blueprint' provides self-learning modules for beginners and focussed users of this platform. Organizations and social entrepreneurs can benefit from this free service and learn different skills through these modules.
To learn more on this topic, watch the complete webinar below: