By Kundan Madireddy, Project Manager, and Dr. Shashank Shah, Project Director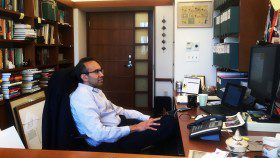 On April 29th, the Harvard University South Asia Institute (SAI) and Tata Trusts hosted the fifth webinar of a multi-part series. This session was on 'Social Enterprises in India' and was relevant for organizations across different social sectors.
Led by Professor Tarun Khanna, Director, Harvard University South Asia Institute, and Jorge Paulo Lemann Professor, Harvard Business School, this webinar provided an overview of some important principles and practices that social enterprises should consider if they wish to scale up and achieve impact successfully.
Numerous social organizations have made a difference to society in diverse fields. Some of the prominent examples from those in India or active in India that Professor Khanna noted during the webinar include Narayana Health, Khan Academy, BRAC, Amul, Pratham, Parliamentary Research Services (PRS), and Aspiring Minds.
Narayana Health (NH) is a multi-city, tertiary healthcare facility that has a very strong sense of moral commitment to under-treated people for health. It aims at providing subsidised cardiac interventions to those at the base of the pyramid, which cost almost one-tenth of the expense in other private hospitals in the developing world, and nearly one-fiftieth of that in countries like USA. Headquartered in Bengaluru, it was founded by Dr. Devi Shetty in the year 2000. The NH Group has 1,500 full-time doctors and 15,000 employees. An average of 150 surgeries are performed every day and an average of around 80,000 outpatients are seen every month.
Khan Academy is an online educational company offering free tutorial courses across subjects. Headquartered at Mountain View in California, it was founded by Salman Khan in September 2006. Khan Academy produces micro-lectures in the form of YouTube videos available for free to anyone around the world. The main language of the website is English, and the content is also available in 65 other languages.
Headquartered in Bangladesh, BRAC is currently the world's largest NGO (in terms of the number of employees – 115,000). Established by Sir Fazle Hasan Abed in 1972 after the independence of Bangladesh, BRAC is present in all 64 districts of Bangladesh and in 15 other countries in Asia, Africa, and the Americas. Its activities in the areas of economic development, education, public health, disaster relief and women's empowerment are beneficial to 125 million people.
Amul is the brand promoted by the Gujarat Co-operative Milk Marketing Federation. Formed in 1946 at Anand in Gujarat, it is currently owned by 3.6 million milk producers of Gujarat. It is credited with spurring India's White revolution that made the country the largest milk producer in the world. Dr. Kurien who was at the helm of Amul for three decades is widely credited with its success.
Pratham is an NGO dedicated to primary school learning in India. It was founded by Madhav Chavan in Mumbai in 1994. It has expanded to 21 states of India, and has supporting chapters in USA, UK, UAE and Germany.
Parliamentary Research Services (PRS) provides free services to Members of the Indian Parliament, with an aim to improve the functioning of democracy. It was founded in 2005 in New Delhi as an independent research initiative. The work of PRS was initiated with a grant from Ford Foundation, and subsequently by Google.org. Subsequently, a number of Indian institutions and individuals continue to support its research activities.
Aspiring Minds is a social enterprise that's dedicated to democratization of talent. It is an employability evaluation and certification company that was co-founded by Himanshu and Varun Aggarwal in 2007 at Gurgaon. It caters to India, the Middle East, China, and Phillipines.
Some of the important principles recommended by Professor Khanna that social enterprises could follow for scale and impact include:
Identify your strategy: As time passes and as enterprises grow, the only way to achieve great scale is to have incredible clarity of purpose. Not only should an enterprise need to know what to do, but also what not to do. Teams that run organizations should spend a lot of time trying to build clarity of their purpose and objectives.
Paint on a canvas, one brushstroke at a time: Organizations should have a sense of the big social problem they are trying to solve, like a large canvas. But to be incredibly practical, problems should be solved one tiny piece at a time, take on a particular piece, and then move on to the next one. This is similar to painting on a large canvas, one brushstroke at a time. A partnering mind-set is required to help build an ecosystem for scaling up successfully.
Measure: Measurement of data is vital as it helps an organization measure and track its progress. Organizations need to be data-driven to be more effective and efficient. Measurement of both hard and soft measures should be considered in the process. Hard measures, like average costs and average number of customers, are relatively easy to track. Soft measures are more difficult but they are important. For example, Narayana Health tracks a measure like compassion. Measuring soft aspects is vital to create an ethos of service.
Pay it forward: This principle is inspired by a movie also called Pay It Forward. The idea is simple and it says when someone does you a favor, don't pay it back – pay it forward. It is a philosophy and a way of living which will eventually make a social enterprise successful. The more we start believing in paying it forward, the larger the influence on the ecosystem we operate in.
Evolve and stretch: Organizations that wish to be vibrant need to always keep experimenting and stretching themselves. Organizations that respond the most to the changing environment and circumstances are the ones that are ahead of the curve.
To learn on this topic, watch the complete webinar below: