During the 2015-2016 academic year, SAI hosted 4 artists from South Asia for a week each, where they visited course, interacted with students, displayed their work, and gave a public seminar. Below are updates from what they have been involved in since their time at Harvard.
Apply for the upcoming year's program (Deadline Aug. 15, 2016).
Milan Rai, Spring 2016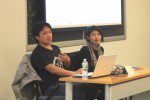 "As the recipient of 2016 (South Asia Institute) Harvard, visiting artist award I had the opportunity to explore the academically rich environment and connect with wonderful people and create new friendships.
The new connections that I fostered beyond the art circle with scholars and people from other backgrounds made me more positive about our vision of a better world. If people from various backgrounds armed with information, imagination, and their dreams come together, we can change our world. And I think this is where art became a bridge.
Before visiting Harvard, I was regularly submitting art proposals to open calls and applying for grants. Some ambitious projects need the support of larger art foundation, platforms in order to be realized. My Harvard experience was truly fascinating and helped me enhance my career prospects in various ways. I have been able to apply the knowledge that I gained from the class visits session into my independent study.  After returning back from Harvard, I am continuing my applications for artist's opportunities with much determination.
In conclusion, the valuable time spent at Harvard has provided a springboard from which I will launch toward new directions with excitement and reflective awareness.
I express my gratitude to have received this award and further explore my passion."
Ranjit Kandalgaonkar, Fall 2015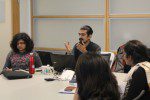 "Since my week at Harvard last year, I have been mostly busy with research work on two projects.
I am collaborating with a legal academic, Dr. Brenna Bhandar,  based in SOAS, London and an architect, Vinita Gatne, based in Mumbai on a project on mapping autonomous philanthropic practices of communities on issues of public health, hygiene, and pandemic disease control in Mumbai in the 19th century. We won seed funding from the Wellcome Trust to study the archives at the British Library and the Wellcome Library. We concluded this research period (Jan-June)with a day long conference in May conducted in collaboration with the Centre for Research Architecture (CRA) at Goldsmiths College where relevant academics and students presented work based on similar themes.
The other project involves my research work on ship-breaking at the yards in Alang. I have been invited by the curatorial collective freethought to showcase a part of this work at the Bergen Assembly, an art & research Triennale on Sept1st 2016 at Bergen, Norway.
Other than that, it will be back to Mumbai and to my studio/work as usual. The Harvard Visiting artist Program is shaping up very well, I might add, and I look forward to promoting and spreading the word to the artist community. It is a much needed platform."
Basir Mahmood, Fall 2015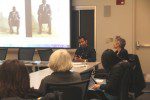 "I considered my visit to Harvard an outstanding opportunity which provided me with a chance to position myself as constant teller, and to explain my work to a critically charged audience. The time I spent at Harvard explaining, observing and understanding gave me important perspective on understanding the larger context that surrounds my practice, and translated me beginning to grow increasingly conscious of the same as I continued to work. I, now, work with an eye on contexts of my work, and try to incorporate its considerations into my practice.
My visit to Harvard was soon followed by other exhibition and travel experiences to present my work. Most recently I have been shortlisted for the Abraaj Prize, the most prestigious prize in the MENA region. In the present year I have participated in the following selected exhibitions to mention; "Time of others" at Gallery of Modern Art (QAGOMA) Queensland, Australia; Singapore Art Museum (SAM), Singapore; National Museum of Art (NMAO), Osaka, Japan; Museum of Contemporary Art (MOT) Tokyo, Japan; and Yinchuan Inaugural Biennale 2016 hosted by Museum of Contemporary Art, Yinchuan, China. In the following year, I will be participating in Contour Biennale 2017, Mechelen, Belgium.  
Currently, I am working at the Rijksakademie van beeldende kunsten in Amsterdam. Recently, I have received funding from Sharjah Art Foundation to produce a work in Pakistan titled, 'All voices are mine.'"