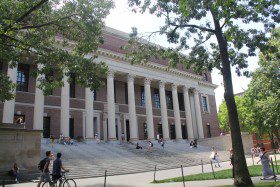 In the middle of Harvard's campus, deep below the impressive facade of Widener Library, is a treasure trove for scholars of South Asia – and a team of librarians working to make it accessible to scholars all over the world and usher in a new era of South Asian studies at Harvard.
Michael Grossman, Librarian for Georgian, Armenian and South Asian Languages, has been working meticulously with his team at Widener's Middle Eastern Division to purchase, then fully catalog, process, and shelve 22,000-plus volumes that the library has acquired from Pakistan over the last 10 years. The unprecedented project was undertaken with the help of the late Professor Shahab Ahmed, Professor of Islamic Studies at Harvard, who connected the library with an "an energetic, insightful" book dealer based in Lahore, Pakistan.
"Most works arriving under the nearly decade-long effort are ones not easily obtained by peer institutions," explained Grossman. "Many are rare, at risk, and effectively unavailable to scholars and researchers, even in the books' areas of origin; quite a few are presumed indeed unique in the West."
Before this collection grew, Widener had relied mostly on the Library of Congress' PL 480 program, which allowed for educational institutions to acquire copies of South Asia-related books, journals, government documents, maps, recordings, and other materials. This led to a "homogeneity" among many institutional collections.
The 22,000-plus volumes have radically changed the face of Harvard's South Asia Collection, which now includes rare materials covering history, literature, medicine, art, architecture, biography, religion, and more. The collection represents a wide array of South Asian languages: Urdu, Pushto, Sindhi, Panjabi (shahmukhi), and Siraiki, and Kashmiri.
Librarians do not like the word 'backlog' but that is probably the most accurate way to describe what has happened to the collection. Due to the influx of so many valuable materials, the library's staff simply can't keep up. They are doing everything they can to keep the books accessible to scholars. Dozens and dozens of boxes are even sitting in the library's hallways, bursting with books that are patiently waiting their turn to be fully cataloged and processed.
The budding collection is part of an active response to Harvard President Drew Faust's desire for the university to engage more with South Asia. Widener now has a dedicated Librarian for South and Southeast Asia, and within the last 10 years, the South Asia Institute and the Department of South Asian Studies have expanded.
"The part of the world we are talking about is a crossroads by its very nature," Grossman said.
Despite the growing interest in the region at Harvard, many libraries nationally struggle to build up distinctive collections such as the one at Widener.  Richard Lesage, Librarian for South and South-East Asia at Widener, explained that this project will ultimately feed into the South Asia Material Project Open Archives (SAMP OA) which is a collaborative digitization project managed by the Center for Research Libraries in Chicago.
"During the last decade, collections for South Asian studies have not benefited from expanded digital resources in the same proportion as library collections for other world regions," Lesage said. "Widener's Pakistan acquisitions initiative needs to be seen in this larger national effort to reverse the paucity of open access digital resources for South Asia."
The project is also a reminder that in an age of ever-increasing digitization, books should also be seen as physical objects. Many of the materials, some hundreds of years old, are fragile, so Grossman's team works closely with the library's preservation office. If you were to stumble upon this part of Widener accidentally, you would be right to think you took a wrong turn. The expansive lab is filled with tools and equipment that look like they belong in Harvard's science buildings. At each station, preservation workers huddle over books with the same intensity with which a doctor examines a patient.
Allyson Donahoe, the Preservation Review Librarian in Widener's Collections Care department, says that many of the materials Grossman works with are "rock stars" in terms of their rarity. Others can come with quirky bindings or notes in the margin from the original owner. The preservation team does everything from repairing a tear in a page to completely rebinding a book.
Regardless of the condition, the team goes through a triage process with each book and does everything they can to make it accessible to the Harvard community. "It's very rewarding to know that we are going to fix something and it's immediately going to be used by a scholar," Donahoe said.
Through preservation, the library hopes to make many of the materials available for interlibrary loan. However, due to the fragile and delicate nature of the materials, digitization is a high priority, and many are available in digitized form in HOLLIS. Over time, the library hopes that the materials will be available to anyone with an Internet connection.
Donahoe says that she has already been pleasantly surprised by the number of requests for books from the collection, an indication that these materials are in high demand in the growing field of South Asian studies.
"It's very unusual for a new collection like this to be so heavily used." Donahoe said. "When it is fully cataloged, the sky is the limit."
-Meghan Smith, Communications and Outreach Coordinator, South Asia Institute