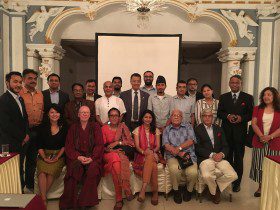 On July 29, Meena Hewett, Executive Director of SAI, visited the monthly meeting of the Harvard Alumni Group in Nepal to learn more how SAI can engage more with the country. She began by sharing the mission of SAI, saying that SAI has been working with Harvard students and faculty to increase awareness on Nepal-related issues at Harvard and strengthen the Harvard alumni community in Nepal. Harvard is interested in catalyzing positive change in Nepal through SAI programs such as capacity building workshops, internship programs for Harvard students, and visiting fellowships for Nepali scholars.
Alumni who attended the meeting shared several topics that would be important to explore in future scholarship, including: women's issues, child labor, public administration design, rural health, small and medium enterprise promotion, climate change, entrepreneurship and leadership education. One critical issue that surfaced several times was  the socio-political transition that Nepal is undergoing as the country implements a new constitution.
Click here to learn more about the Harvard Alumni Group in Nepal.