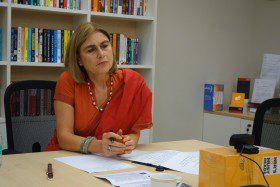 By Anisha Gopi, Project Manager
On July 28th 2016, the Harvard University South Asia Institute (SAI) and Tata Trusts hosted the third webinar of a multi-part series on Women's Empowerment. The webinar, titled 'Working with Boys and Men to Prevent Gender Based Violence,' consisted of a panel of eminent speakers. The first was Ms. Rujuta Teredesai – Heron, a journalist and Co-founder of Equal Community Foundation in India, an organization that works with engaging boys and men to prevent violence and discrimination against women. The second speaker was Dr. Gary Barker, the President and CEO of Promundo, a global organisation that promotes gender justice and prevents violence by engaging men and boys in partnership with women and girls. He is also a member of the UN Secretary General's Men's Leaders Network and has been honored with an Ashoka Fellowship from the Open Society Institute, and the Vital Voices Solidarity Award. The webinar was moderated by Professor Jacqueline Bhabha, Professor of the Practice of Health and Human Rights at the Harvard Chan School of Public Health, and Director of Harvard FXB Center for Health and Human Rights. The webinar focused on successful interventions by ECF and Promundo and lessons learned while working with boys and men.
Equal Community Foundation
While discussing the driving factor for setting up ECF, Rujuta opined that, traditionally, many women's empowerment initiatives target women, assisting them and equipping them with tools to address gender-based violence (GBV) and discrimination. However, they do not focus on the problem itself, which is often men's attitudes and behaviors towards women. She felt that it is crucial to engage men, not only as a part of the problem, but also as a part of the solution.
A major component of ECF's work is a community-based behavior change program that has worked with 4,000 boys between the ages of 13 and 17 years from 20 low-income communities in Pune. The 45 week program is called Action for Equality and is conducted by trained male facilitators who provide the boys with knowledge, skills, peer support, and leadership tools to address gender based violence and discrimination.
Another component of their work is called Project Raise, where they partner with existing organizations working with women to embed in their existing work the approach of working with boys. In the past year, their 12 partners have worked with 1,800 boys in 38 villages in West Bengal.
Both projects are supported by strong monitoring and evaluation frameworks and have been extremely successful. They have found that 76 percent of participants demonstrated deep understanding of issues and participated in initiatives to prevent GBV. While speaking to the mothers of the boys, 70 percent of the mothers reported change in their boys' behaviour.
She then outlined the lessons learned from their work and how it was crucial to use a human rights approach and treat the problem of GBV and discrimination as a deprivation of rights as opposed to a woman's problem alone. While working with boys, she felt it was important to treat boys and men as genuine allies and not perpetrators, and cater to their needs and address the challenges they face. She also felt that organisations must work with the community to create an enabling environment for the boys to continue their work. While discussing organisational goals, she pointed out the necessity of having realistic expectations from the program as behavior change is gradual and non-linear, and to ensure high impact organizations must take the time to invest in their teams.
Promundo
Gary Barker discussed Promundo's work and highlighted the findings of the International Men and Gender Equality Survey (IMAGES) that Promundo has conducted with partners in more than 30 countries. The survey has upwards of 40,000 interviews of both men and women on men's use of violence on women.  These surveys have consistently found certain factors that increase violence. For example, men who witness violence against their mothers growing up are two and a half times more likely to use violence as adult men against a female partner. Similarly, boys involved in fights in school and at the community-level are four times more likely to use violence against a partner. Therefore, the proximity to violence in their early care environment plays a central role in the use of violence as an adult. Promundo, therefore, tries to break the cycle with their interventions.
Their flagship initiative, Program H, works with young men to question norms about what it means to be men and apply it to different areas of their lives. The program raises awareness and consciousness about how gender and masculinity is foisted upon us while growing up and how we can collectively take action to question it. They then combine it with a participatory component where the boys design campaigns for community-based activism that they lead. This has consistently shown changes in attitudes of the participants.
Promundo also works with men as fathers and caregivers. The initiative, called Project P, engages men in the birth of the child and discusses couple violence and violence against children. They work with the health sector as an ally and make contact with the men when the women come for pre-natal check ups.
Promundo believes that the rupture of care giving environments is the biggest violence that happens in the life of boys and men, and they try to reconstruct these environments. They also understand the need for psycho-social support and encourage community therapy approaches. Their program 'Living Peace' tries to break norms of violence by bringing men who the community looks up to and do not use violence to discuss the issues of violence with men who are known to be violent.
While discussing lessons learned, Gary felt that work with men needs to be situated within a power analysis. Organizations need to understand men's contradictory experiences with power and work with both men and women. He also emphasized the importance of working towards systems approaches and scaling projects accordingly. For example, Promundo has created online teacher training to increase the reach of their school curriculum and to get the education sector to embed the training into their practices and polices.
Question & Answer Session
The panel then answered questions from the moderator and participants on issues such as:
How they mobilize young boys to attend their programs,
How they train their community partners and facilitators,
The role of the government and statutory bodies,
How they dovetail norm change and working with psychological trauma the individuals go through,
The methodology and tools for boys in the 7 to 10 age group,
The role education plays in preventing violence and
How they work with other movements that focus on issues such as race, colour, sexuality, etc.
Information about ECF's the Action for Equality program, its curriculum and reports can be found here, here and here. For the following and evaluation tools please contact info@ecf.org.in
Participants Enrolment Form
Participants Attendance Sheet
Gender Attitude Survey
Participants Evaluation Questionnaire
Session Observation Tool
Master data sheet for analysis information
Outcome assessment (for interviewing female family members of participants)
Action log (in pilot stage)
Mentor Observation tool (in pilot stage)