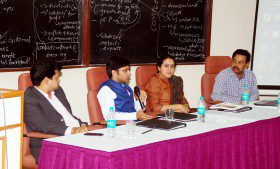 This is part of a series about the SAI/Tata Trusts workshop on Creating Livelihoods for the Indian Craft Sector
By Gayatri Divecha, Project Consultant and Dr. Shashank Shah, Project Director
This informative panel discussion on brought together perspectives from four different stakeholders – an impact investment fund, a grant making foundation, a certification organization and a think tank represented by Shishir Dash, Tata Trusts; Apurva Bubna, Aavishkaar; Madhura Dutta, All India Artisans and Craftsworkers Welfare Association; and Aditya Ramji, Council on Energy, Environment and Water. The focus was on providing practical insights on how craft organizations can unlock funds, government schemes and certifications.
Here we share the four key takeaways:
Given the allocation towards crafts is only 0.05 percent of the national budget, grant making organizations play an important role in supporting crafts enterprises. Typically, they consider a range of criteria when evaluating crafts organizations. The most important ones include:
Measurable and proven impact;
Cost effectiveness (which does not equate to low cost products);
Finite exit route,
Sustainability, and
Adoption of best practices
For impact investment funds, or venture capital funds, investment decisions are driven by the ability to sell their stake for a return within a finite time frame. Key considerations include:
The possibility of a multiplier on investment, and
The ability of the enterprise to create something unique that its competitors do not have
From a policy and public scheme perspective, there are only five to six schemes which crafts-based organizations can benefit from. Whilst leveraging funds from these sources, terminology is a critical aspect. Crafts enterprises need to ensure that they are using the right vocabulary to describe their intended scope and impact, so as to align their work with the core objectives and vision of these schemes. In the year 2015, the National Skills Development Corporation under the Govt. of India has recognized the crafts sector and through its start-up mission organizes forums where entrepreneurs can understand how to best leverage available government resources.
There are multiple global and Indian certifications that crafts-based organizations can avail of. These add value to their marketing efforts and in turn lead to greater sales and revenues. Globally, handicrafts have the largest share in Geographic Indicators. Crafts-based enterprises stand to benefit by making use of these.