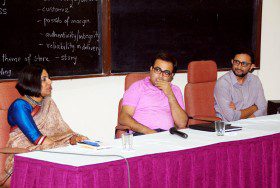 This is part of a series about the SAI/Tata Trusts workshop on Creating Livelihoods for the Indian Craft Sector.
By Gayatri Divecha, Project Consultant and Dr. Shashank Shah, Project Director
Nearly all of the 400 organizations that applied for the Tata Trust-Harvard SAI Crafts Workshop indicated that social media and e-Commerce are two areas in which they struggle. In order to build capacities on how to best leverage the digital space, we invited Ritesh Mehta Head of Economic Initiatives – India and South Asia, Facebook, and Nitin Pamnani, co-founder, Tokri to address the workshop participants. They both provided significant inputs that can help crafts-based organizations navigate online platforms.
Why to Post
Today, people are spending much more time with digital and mobile media. In fact, these are the two fastest growing mediums in the history of communications. In India alone, 67 million (6.7 crore) people daily use Facebook through their mobile phones. In the age of digital Darwinism it is easy to sell and market products all over the world without any upfront investment of money. There are a few simple ways in which this can be done.
How to Post and When to Post
People experience posts as part of their native experience alongside other content. So it is important to make these stand out.
Posts don't have to be a time-consuming daily activity. They can be worked on in advance and scheduled.

Simple text and page posts should be used to provide simple updates
Photos are the most effective posts
Videos need to be short. The average hook time is 15 seconds. So it is important that videos are no longer than two minutes, with one minute being the ideal length.
What to Post
On average, people check their newsfeed as many as 14 times a day! It is therefore important to generate good content which follows a few basic principles:
Knowing your business goal: Understanding if the aim of your post is to bring people to a store (a teaser), generate leads and sales or create awareness.
Telling the story of a product's journey is as important as showcasing the product itself.
Knowing your audience and what they would like to see.
Picking a theme like an employee telling a story, post about customers, unusual items, products being used, gathering feedback.
Learning from the Audience: Page insights help in measuring how your audience is engaging with your content and can help you craft your social media strategy.
Maximizing Online Sales Channels: Learnings From The iTokri Journey
iTokri started as an inventory-based model and not a consignment-based one, with a camera and website. The organization had to think through and address each of the following aspects in their process of setting up an e-commerce portal for crafts.
Front end: a domain name, a server or a website provider
Logistics:

Who is the customer and where are they located?
Which providers can we tie up with to deliver to our customers?

Payments: It is important to provide the customer with as many options as possible – credit card, debit card, net banking, cash on delivery, etc.
Photography: Develop guidelines that work for you to best showcase your products. This is essential for handicrafts since every product is unique.
Contact: Providing a designated person and number that customers can call.
Planning an Online Strategy
Given the promise that online sales holds in terms of scale and volume, most organizations are bullish on starting their own online sales portals. However, it is important to note that the online space is created for mass produced items, and each of its components are structured with these type of products in mind. There is an extremely steep learning curve for any organization that wants to sell its products online.
So, instead of jumping the gun and attempting to start a portal without a well-planned backend support system, consistent availability of same products, and the ability to provide to scale, the recommended first step would be to try out the online experience in a relatively low risk way like creating a Facebook page. Through this first-hand experience, the market can be tested, and even the organization's inherent capacity to live up to market requirements.
This can be eventually built upon step by step by selling through other online platforms. And finally, when all the pre-requisites are completed, a robust backend is in place, and a substantial understanding of the target market has been gained, the organization may venture into creating their own online platform.