This is the first in a series in which we will profile organizations in India who received a grant through the SAI/Tata Trusts project on Livelihood Creation.
The video above is a brief onsite interview in New Delhi between Dr. Shashank Shah, Project Director, Harvard SAI, and Arjun Gupta on the impact of the Livelihood Creation Project, workshop, grant and mentorship on Smart Joules and its mission of energy efficiency for India.
Smart Joules
Energy efficiency is the cleanest, quickest and cheapest way to bring more than 300 million Indians out of energy poverty. By eliminating waste in their own operations, building owners can save money, simplify operations, improve comfort and free up resources for the less fortunate. Smart Joules makes this process seamless and profitable from day one.
ORGANIZATION DETAILS
Organization Name: Smart Joules Private Limited
Registered As: Private Limited Company
Year Founded: 2015
Locations: New Delhi, India
Email: arjunpgupta@smartjoules.in
Contact Number: +919811103484
Website: http://www.smartjoules.co.in/
LEADERSHIP
Arjun P. Gupta, Co-Founder and CEO
Ujjal Majumdar, Co-Founder and COO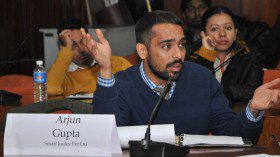 VISION, MISSION AND BROAD OBJECTIVES
Vision
To keep large consumers continuously optimized for energy consumption in light of a constantly changing technology, weather, occupancy and cost environment.
Mission
To enable reliable and affordable electricity access for the energy poor in India by providing cutting-edge efficiency technologies and innovative services to eradicate wastage of energy in commercial complexes.
Broad Objectives
Smart Joules currently eliminates energy wastage in large hospitals, and is soon planning to expand to data centres, office buildings and hotels. They have designed the first building management system that is 'Made in India', using cutting-edge technology from various disciplines. The main objective of their technology is to allow every building to enjoy the benefits of automation to keep them optimized in real time without reliance on humans.
ACTIVITIES AND MODEL OF EXECUTION
Smart Joules identifies areas at customer's site(s) where energy can be saved using retrofits or replacement of products. Their offerings typically comprise of lighting (LEDs and controls based on occupancy and natural light available), air conditioning (high efficiency chillers, variable load controls, evaporative cooling, radiant cooling, etc), hot water (waste heat recovery exchangers), steam (high efficiency boilers and condensate recovery), pumping (variable speed controls) and others that can together reduce overall energy consumption by 20% or more.
The new equipment and retrofits are connected with DeJoule, a home-grown building management optimization technology, which consists of Internet of Things (IoT) hardware, cloud-based software and real-time data analytics. This technology is durable and makes a sizable difference to energy savings.
Smart Joules has a unique business model, JoulePAYS (Pay-As-You-Save) that provides guaranteed and fully financed energy savings in return for a fixed percentage of the energy savings that they deliver over a five-year term. This model incurs no risks or initial costs to the customers and after the five-year period, ownership of all equipment installed by Smart Joules is transferred to the customer at no additional cost. Smart Joules provides actual reduction in energy consumption which is validated through comparison of energy bills to the baseline year.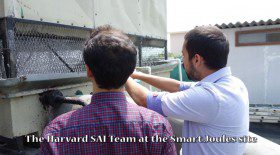 TECHNOLOGY
DeJoule: A home-grown building energy optimization system consisting of JouleBox (IoT controller), JouleTrack (cloud computing platform) and JouleMind (data analytics engine)
Distinctive feature: DeJoule is the only energy optimization technology that is 100% Made in India and tailored to specific cost and operational considerations prevalent in developing countries.

Different services that can be provided using this technology:

Real time monitoring and disaggregation of energy consumption and critical environmental parameters
Energy data visualization for an enhanced understanding of building systems
Virtual control of energy consuming equipment such as chillers, pumps, cooling towers, AHUs, etc. from any device with a WiFi connection
Automatic and dynamic generation of control commands in response to changes in weather, occupancy and other conditions.
FUNDING
Smart Joules focuses on generating profitability and delivering valuable products and services to its customers. The company has chosen to go after non-dilutive grant funding and organic growth driven by actual company profits over raising equity investment.
Overall, Smart Joules' founding team has invested approximately INR 1.1 crore (37%) as equity and interest free loans into the company. Additionally, the company has attracted INR 1.2 crore (40%) in grant funding from multiple reputed national and international organizations; and INR 7 million (23%) as project debt from Tata Cleantech Capital.
CHALLENGES
Their main challenge has been building skilled manpower within the organization to make progress at the intended pace. As a result, they have continued outsourcing the technology development's efforts to competent consultants. They are still light on the technology side along all three dimensions of hardware, software and data analytics.
INNOVATION
In the energy efficiency sector, there are companies that offer energy auditing, building management systems or energy analytics. These disconnected pieces fail to individually provide actual energy savings to large consumers and as a result, a tremendous amount of energy waste remains embedded in the built environment. Smart Joules has the unique distinction of being the only company that provides a combination of all three services and more, with 100% financing and guaranteed reduction in energy consumption. Some additional distinguishing factors of the JoulePAYS offering are:
It uses actual energy bills as a benchmark to compare energy savings rather than formulae. The M&V protocol prevents any confusion and disagreements regarding bills.
The range of technologies utilized under the JoulePAYS agreement is much wider than market standards.
The model takes into account operational savings that are typically missed by Energy Service Company (ESCO) contracts that use International Performance Measurement Verification Protocol or others.
Each JoulePAYS customer can monitor his/her commercial building's energy consumption in real time from anywhere over Wi-Fi.
Smart Joules maintains all equipment that it provides for the entire duration of the contract.
CUSTOMER SEGMENTS
Smart Joules has found a big demand for the JoulePAYS model in commercial buildings, and has decided to focus on this segment for the immediate future. Their average client has a contract demand of 500kW, annually spends more than INR 2 crore on energy, and has a built up area of more than 70,000 sq. ft. The target customer segments thus include:
Hospitals (100 beds+)
Hotels (100 rooms+)
Large office buildings
Airports
IT Parks
Data Centres
Malls
Call Centres
Cold Storage Units
Smart Joules' preliminary analysis of target buildings among the top 30 Hotel Chains, Hospital Chains, IT Parks & Data Centres and Cold Storage units gives the company a potential target market of 1,100+ facilities for JoulePAYS. A preliminary analysis of the top 10 real estate developers shows 800 additional new buildings as potential customers for stand-alone deployments of DeJoule. Overall, the target market offers more than INR 1,000 crore of annual revenue. Smart Joules is focused on the Indian market for the next five years and is currently in discussions with large chains such as Max Healthcare (which has 14 hospitals), Fortis Hospitals (50 hospitals), Tata Teleservices (10+ office buildings), Apollo Hospitals (50 hospitals) and others.
PARTNERSHIPS
Smart Joules partners and collaborates with various organizations:
Grade 3 ESCO, Bureau of Energy Efficiency, Ministry of Power, Government of India
Member, Association for an Energy Efficient Economy (AEEE)
Member, Indian Green Building Council (IGBC)
Member, Indian Society of Heating, Refrigerating and Air Conditioning Engineers (ISHRAE)
Member, Clean Energy Access Network
Collaborator, cBalance Solutions Pvt. Ltd.
ACCOMPLISHMENTS AND IMPACT
Smart Joules has saved approximately 10 Lakh kWh in the past 13 months which is equivalent to the energy consumption of 550 average Indian households.
Based on a study of the JoulePAYS proposal and actual results for their first customer, CII honoured Smart Joules with a National Award for Excellence in Energy Management in August, 2016.
AWARDS AND RECOGNITION
Smart Joules
National Award for Excellence in Energy Management from CII, 2016.
Top 500 Science and Technology Startups Globally, Hello Tomorrow, 2016.
Arjun Gupta, Co-Founder and CEO
100 Leading Social Entrepreneurs in India, Action for India; 2016.
Young Entrepreneur of the Year, Business World; 2016.
Young Social Entrepreneur with Mission, The Economic Times; 2016.
Economic Times Young Leader, The Economic Times, 2014.
14 Climate Leaders to Watch, The Huffington Post; 2015.
Echoing Green Climate Fellowship, 2015.
Climate Strategies Accelerator Fellow; The David and Lucile Packard Foundation, Good Energies Foundation and Oak Foundation; 2016.
"Energy efficiency is the low hanging fruit that keeps growing back in different forms and the smartest Joule will always be the one not consumed"