SAI is pleased to announce our Visiting Artists for the fall semester, who will be in Cambridge from November 29 – December 9. During their time at Harvard, the artists will display their work on campus, meet with students, attend courses, and give a public seminar.
Their work is currently on display in the CGIS Knafel Cafe, 1737 Cambridge Street, and the SAI office, 4th floor of CGIS South, 1730 Cambridge Street.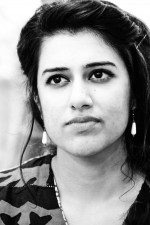 Komal Shahid Khan
Khan is a Visual Artist, based in Islamabad, Pakistan. She graduated from the University of Punjab, Lahore, Pakistan in 2012 and then did her Master in Fine Arts from Fatima Jinnah Women University Rawalpindi, Pakistan with specialization in Miniature Painting. On completing the degree in 2014, she scored Distinction and was awarded Gold Medal for my Thesis Show in 2014. Since graduating, she started her career with Group Shows in art galleries in Islamabad/Rawalpindi and then moved on to Lahore and Karachi as well. She is presently teaching at the National College of Arts Rawalpindi, Pakistan, as a Lecturer. October, 2016 marks her First Solo Exhibition entitled as "Imagined Immortals" in Karachi, Pakistan.
Khan will give an Artist Talk on Thursday, December 8 at 12PM.
Born in 1987, Kolkota, India and Sengupta holds a B.V.A. 2011 (Painting), from the University of Calcutta, Kolkata, India and a M.F.A. 2013 (Painting) with distinction (Gold Medal), from the Maharaja Sayajirao University, Baroda, India. Since then she has been practicing her art and showing it together with Gallery Maskara, Mumbai, India. In her work, she uses traditional pictorial representation to push formal and aesthetic conventions producing new meaning by using wit and irony to explore gender identity and complexities in contemporary life. She did mher first solo, Flavour Chart, in 2013 at Gallery Maskara, curated by Abhay Maskara and her works are part of several other exhibitions like, Baroda Girls at France by Shifting Frames(2016), Time at Gallery Maskra (2015), Art Brussels(2014), April, in Brussels Expo (Heysel), Belgium, India Art Fair, New Delhi,India, (2014), Traditions/Transformation, at Gallery Geukens & De Vil, Antwerp, Belgium(2014), 'Khoj Peers share Programme' organized by Khoj International, New Delhi(2013), MUMBAI WEEKEND SHOW, at 'TAJ MUMBAI',(2012), EN-GENDER, ORGANISED BY 'STUDIO 21'Kolkata, 2011.
Sengupta will give an Artist Talk on Monday, December 5 at 12PM.