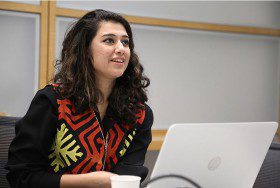 From Nov. 29 – Dec. 9, the South Asia Institute hosted artist Komal Shahid Khan at Harvard through the Visiting Artist Program.
Khan is a Visual Artist, based in Islamabad, Pakistan. She graduated from the University of Punjab, Lahore, Pakistan in 2012 and then did her Master in Fine Arts from Fatima Jinnah Women University Rawalpindi, Pakistan with specialization in Miniature Painting. On completing the degree in 2014, she scored Distinction and was awarded Gold Medal for my Thesis Show in 2014. Since graduating, she started her career with Group Shows in art galleries in Islamabad/Rawalpindi and then moved on to Lahore and Karachi as well. She is presently teaching at the National College of Arts Rawalpindi, Pakistan, as a Lecturer. October, 2016 marks her First Solo Exhibition entitled as "Imagined Immortals" in Karachi, Pakistan.
Below, is a description of Khan's work in her own words.
Art, in itself, is the process of creation, and for me it is like a journey that sets off the moment my pencil or brush lands on the paper or canvases…..a journey with no bounds…a journey so self-explanation.
As a miniaturist, my focus has been on the fusion of traditional with contemporary style. Each symbol, element and detail amplifies my interest in exploring and experimenting with various mediums and surfaces. On Wasli (layered paper) I experiment on wooden surfaces and the traditional handmade papers known as 'Mukaahar' (tea-washed paper) with gold and powdered primary color pigments. My miniatures extend from traditional to conceptual and eventually experimental.
My conceptual works reflect my realization of the insufficient or complete absence of peoples' unified resistance against exploitation and manipulation, continually propagating lack of self-consciousness.
My Degree Show-2014, highlighted the 'Life Riddle', through a series of miniature paintings, which revolves around true-life puppeteers in a world of puppet shows, setting up a powerful society, we call home.
There lies something provocative in trying to derive, define and incorporate a sense of individuality with the society that engulfs us, a society where an individual might see political, economic, socio-cultural pressures instead of his own reflection in the mirror. Therefore, my work highly relies and portrays a combination of traditions, and contemporary style along with the societal dogmas and stigmas. I have found a way to comprehensively and profoundly express myself through the language of art, a language indeed, with an infinite vocabulary.
I characterize my present work as the 'lyric', in my new series of work in 2016, being elusive, suggestive and subtle, as comprehensible in due time, and as moving but not immediate in its impact. The inspiration comes from my obsession, observing a drop of paint dispersing in water, rings of smoke, highs and lows of tides and the rhapsodic or cascading intensity of engagement with vision.
I believe this sensitivity is what I keep defining through my work and its meaning is in the process of constant extension.
Komal's works: Imagined Immortals, Coffined Moon, Aura, Riddle, Mirror Mirror