This is part a series in which we will profile organizations in India who received a Social Innovation grant through the SAI/Tata Trusts project on Livelihood Creation.
ORGANIZATION DETAILS
LEADERSHIP
Sarika Kulkarni, Founder Trustee
VISION, MISSION AND BROAD OBJECTIVES
Vision
Nation Building through Entrepreneurship
Mission
Changing Life through appropriate training and skilling
Broad Objectives
To provide sustainable livelihood skills to underprivileged tribes
To support micro-enterprise creation through appropriate training and handholding
To create awareness about tribal culture and tribal art and craft
To provide appropriate design support to help tribal people create niche and contemporary products
To provide market linkages and last mile connectivity to the products made by the tribal artisans
CRAFT IN FOCUS
Name of the craft: Warli Art, Patchwork Art.
Key distinctive feature: Geometrical shapes used to depict stories from tribal life
Different products that can be made: This craft can be hand painted on any product – from household products such as trays and coasters, to garments such as sarees and kurtis.
Time taken to make a product of the craft: It takes anywhere from 2 – 3 hours to up to 3 days to finish the painting depending on size, as the paintings are very intricate.
ACTIVITIES AND MODEL OF EXECUTION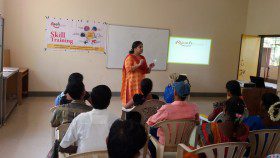 Raah Foundation works in the tribal belt of Palghar District of Maharashtra. Although barely 145 kilometers from Mumbai, this tribal belt is sans any form of development. Tribal people indulge in subsistence one crop farming. Malnourishment and maternal mortality rates are very high. Water scarcity is rampant and post-January women have to spend hours searching and fetching water. In spite of these challenges, the tribal people have very rich culture and art and craft.
'Warli', the intrinsic art form practiced in this tribal belt, is a very unique pattern of geometrical shapes which tell a story from their lives. While the art form has become extremely popular with the main gate of the Kalina Campus of the University of Mumbai featuring the Warli art form, the artists have remained poor owing to mass screen printing of this unique art form. It was not only imperative to revive and rejuvenate Warli but also to put it back into the hands of the artists who own it.
Raah Foundation works with several artists in the Palghar District of Maharashtra, and supports them with niche training to make products that are contemporary, and which can be sold in the Mumbai market. Warli art is a male-dominated art form. However, it was important to provide livelihood skills to women as well. Raah Foundation started working on livelihoods for women initially and soon realised that shortage of water was a big impediment to livelihood creation. Unless water crisis was resolved, women would not be able to spend time on income generation activities. Hence, Raah Foundation decided to follow a multi-pronged approach on addressing all impediments to livelihood creation. The basic objective was making the tribal people self-sufficient to not only break the vicious circle of poverty, but also start leading a healthy and happy life without having to migrate to urban areas.
CHALLENGES AND SOLUTIONS
The number of Warli artisans is dwindling by the day as opportunities for a full-time artist are limited. This is a big challenge for scaling up operations. To resolve this issue, a Warli art studio which is a dedicated facility for artisans was set-up. This was to be used not only for making products but also to train new artisans in the nuances of making the product. This studio has been set-up with support of the grant received from the Harvard University South Asia Institute and the Tata Trusts.
IMPACT ON BENEFICIARIES
Raah Foundation has so far worked with over 2,000 tribal men and women in its livelihood programs. Over 250 artisans have been gainfully employed either directly or indirectly by Raah Foundation.
Besides economic empowerment, Raah Foundation also works on improving access to necessities such as water in these tribal areas. To enable the artisan to spend maximum time on income generation activities it was important that water and health ceases to be an impediment. Raah Foundation thus works on taking a holistic view and works on an integrated development program with livelihoods at the core.
With the help of corporate sponsorships, three check-dams have been built and over 12 new ones are being planned. These have a positive impact on agriculture and enable tribal farmers to pursue full time farming. Availability of water has also made full time farming possible. These initiatives have successfully brought back over 200 hectares of land into full time farming. More than 2,000 farmers from the Palghar District have stopped migrating in search of opportunities due to Raah Foundation's interventions and are pursuing full time farming. The Foundation closely works with farmers on crop identification as also on teaching them modern methods of farming.
For these ventures, Raah Foundation has several supporters – friends, family and CSR arms of large companies such as Deloitte, IIFL and Suyash Advisors. Raah Foundation has also successfully raised money using the crowd sourcing platform Ketto.
"Raah Foundation believes that when change is created without charity, it is sustainable; and when it is a bottom up approach – it is scalable. The Foundation facilitates and empowers tribal people to define and create change which they think is appropriate and which they think will be permanent while protecting and promoting their intrinsic art, craft and cultural heritage."
Sarika Kulkarni, Founder Trustee, Raah Foundation
ORGANIZATION VIDEO
https://www.youtube.com/watch?v=mPpQEHFa-oQ&feature=youtu.be