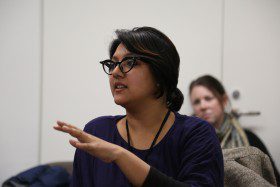 From Nov. 29 – Dec. 9, the South Asia Institute hosted artists Meenakshi Sengupta at Harvard through the Visiting Artist Program.
Born in 1987, Kolkota, India, Meenakshi holds a B.V.A. 2011 (Painting), from the University of Calcutta, Kolkata, India and a M.F.A. 2013 (Painting) with distinction (Gold Medal), from the Maharaja Sayajirao University, Baroda, India.
Since graduating, she has been practicng her art and showing it together with Gallery Maskara, Mumbai, India. In her work, she uses traditional pictorial representation to push formal and aesthetic conventions producing new meaning by using wit and irony to explore gender identity and complexities in contemporary life.
Below, is a description of Sengupta's work in her own words.
As a young woman taking my first step into motherhood, I often find myself struggling in a world that sends conflicting messages about what a woman is or should be; patriarchy any­where continues to reinforce misguided views about women. Still excluded from discussions about war or national security, women are mostly confined to issues regarding health and fam­ily life. Why is it so difficult to see a woman as more than the sum total of her family obligations? Isn't it possible to recognize her right to decide her own priorities?
Born in a developing country amidst social and political insta­bility, I was introduced to a variety of local myths and beliefs concerning the image of the ideal woman, which always incor­porates the maternal and the divine; and needless to say, both the 'Mother' and the 'Goddess' always appear 'fertile'. As an artist, I have always been interested in visual representations of women and the gazes that are instrumental in inscribing such images in popular imagination.
My projects Jai Ma Shashthi (2013), C-Nari (2012), Mother India (2011), Krishna Paksha (2011), and Jhulan (2012) are grounded in this idea. Appropriating a variety of familiar motifs and themes from both Indian and Western pictorial tradition, I recontextualize them in light of contemporary issues. My deliberate juxtapositions of 'high' art icons with those of mass culture hinge on wit and irony. My purpose is to redefine the roles of the appropriated images as cultural signifiers. To articulate my ideas, I take advantage of a range of mediums: gouache, digital prints, video, serigraphy, and per­formance. The fundamentally hybrid character of my work subverts the populist tradition/modernity and Indian/Western dichotomy. It undermines the perception of art as a mirror of a state of cultural purity, underscoring instead its discursive character shaped by history and culture. I want to illumi­nate the positions of women in light of religious, historical, social, political, and local myths, both old and new.
Under patriarchy, the trajectory of an average woman's life involves four phases: daughterhood, wife­hood, motherhood, and grandmotherhood. Even her family name says nothing about her, since her name changes after marriage. What is more, soon after she enters the family of her in-laws, her role changes as well, from that of a 'receiver' to that of a 'giver'– a giver of life. The work that I intend to present at Harvard is derived from this struggle of a woman as a marginalized social entity meant solely for sacrifice.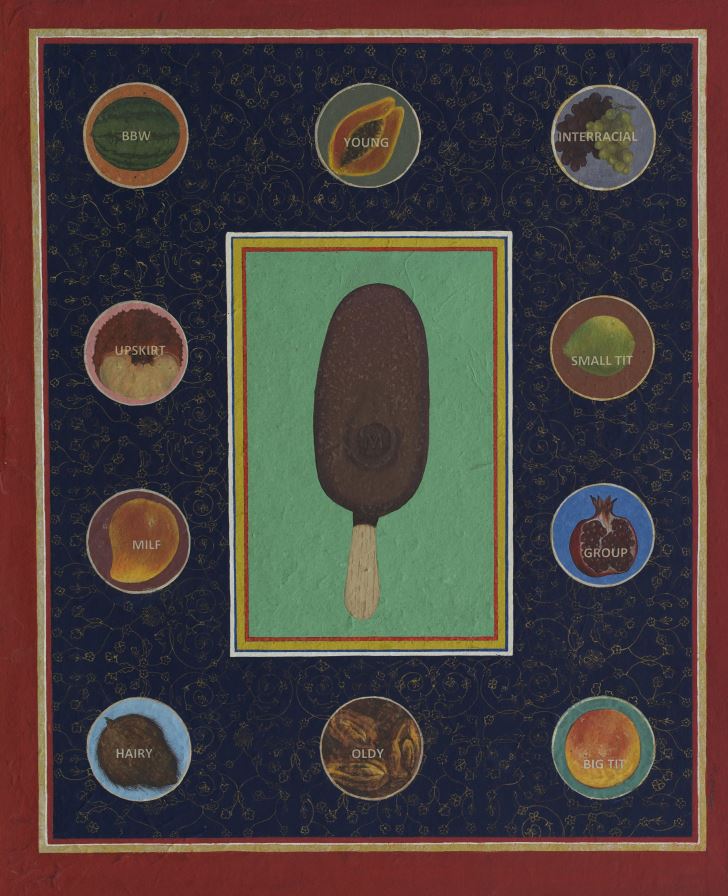 Flavour Chart, 2013
Opaque watercolor and serigraphy on wasli paper
18 x 15 inches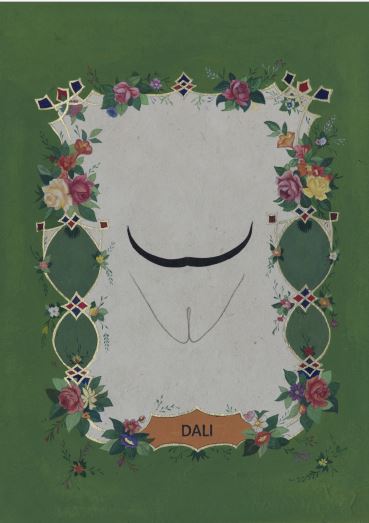 Dali, 2013
Opaque watercolor and velvet on wasli paper
12 x 8.75 inches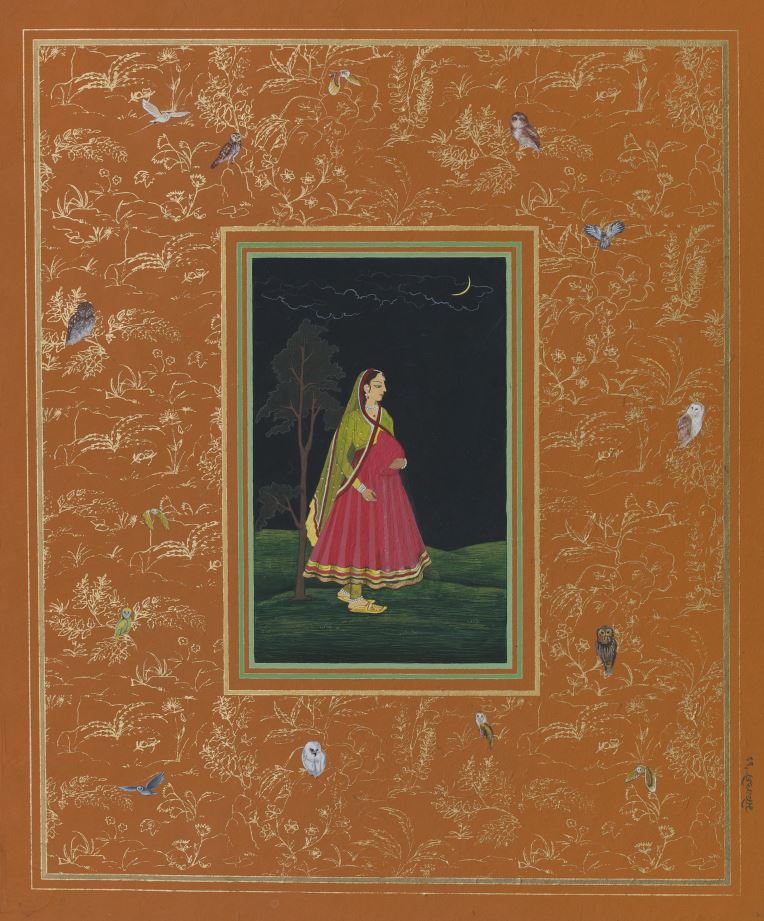 Krishna Paksha, 2012
Opaque watercolour & serigraphy on wasli paper
20 x 16 inches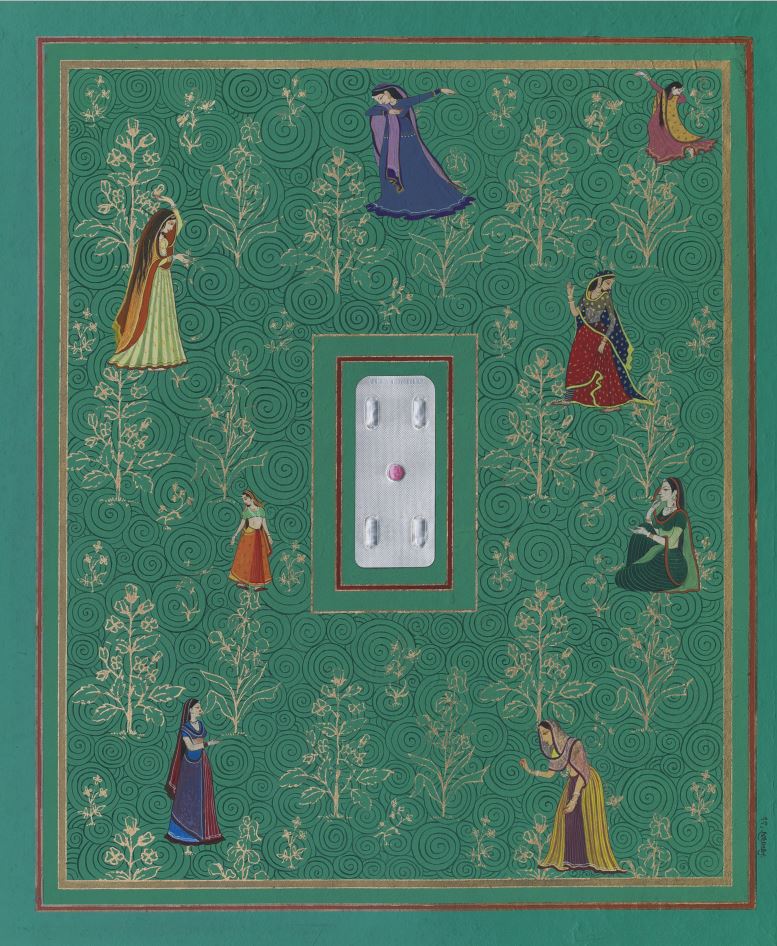 Goli, 2012
Opaque watercolor, serigraphy & original medicine strip on wasli paper
20 x 16 inches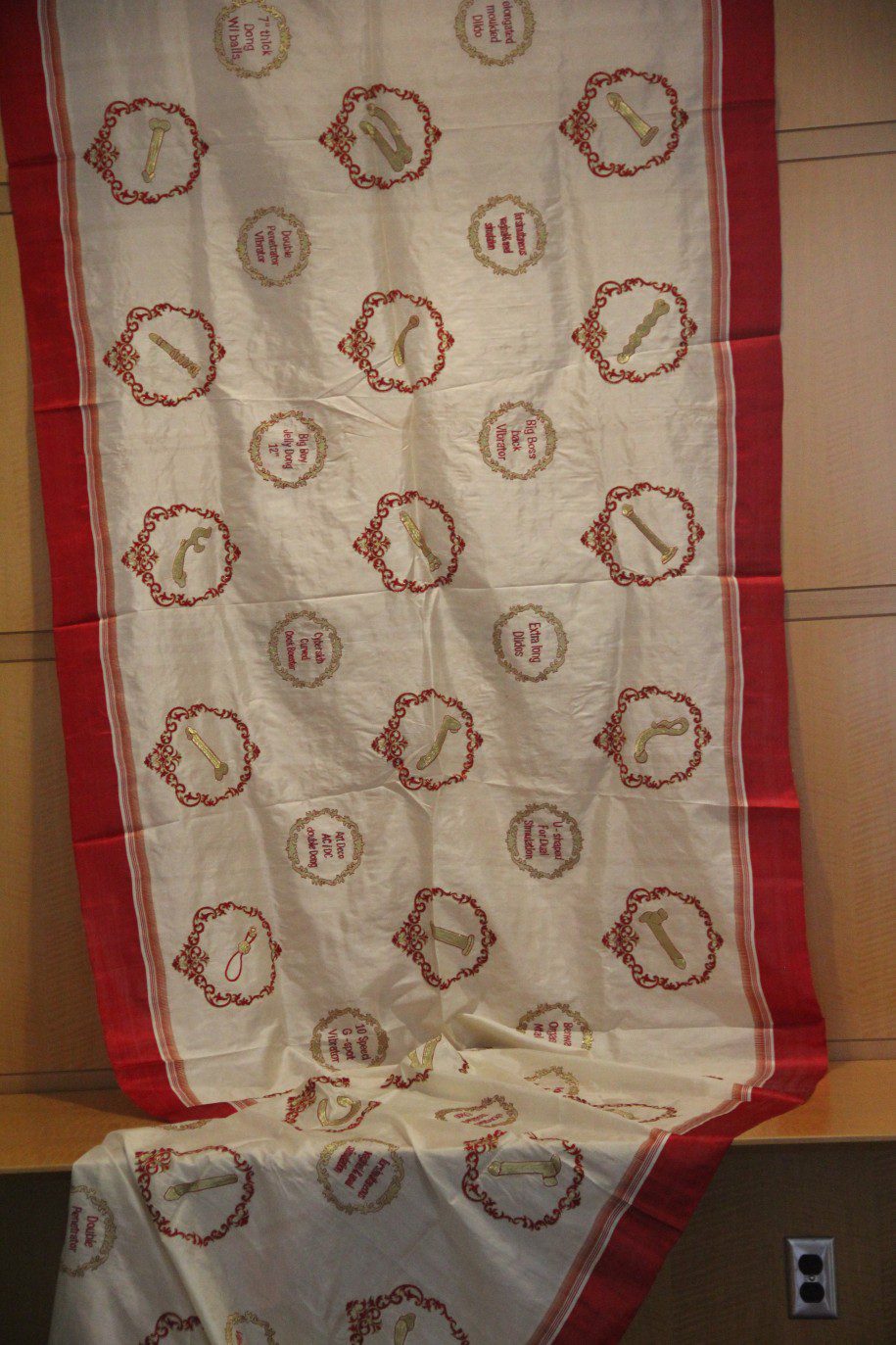 The Golden Dildoes/Desire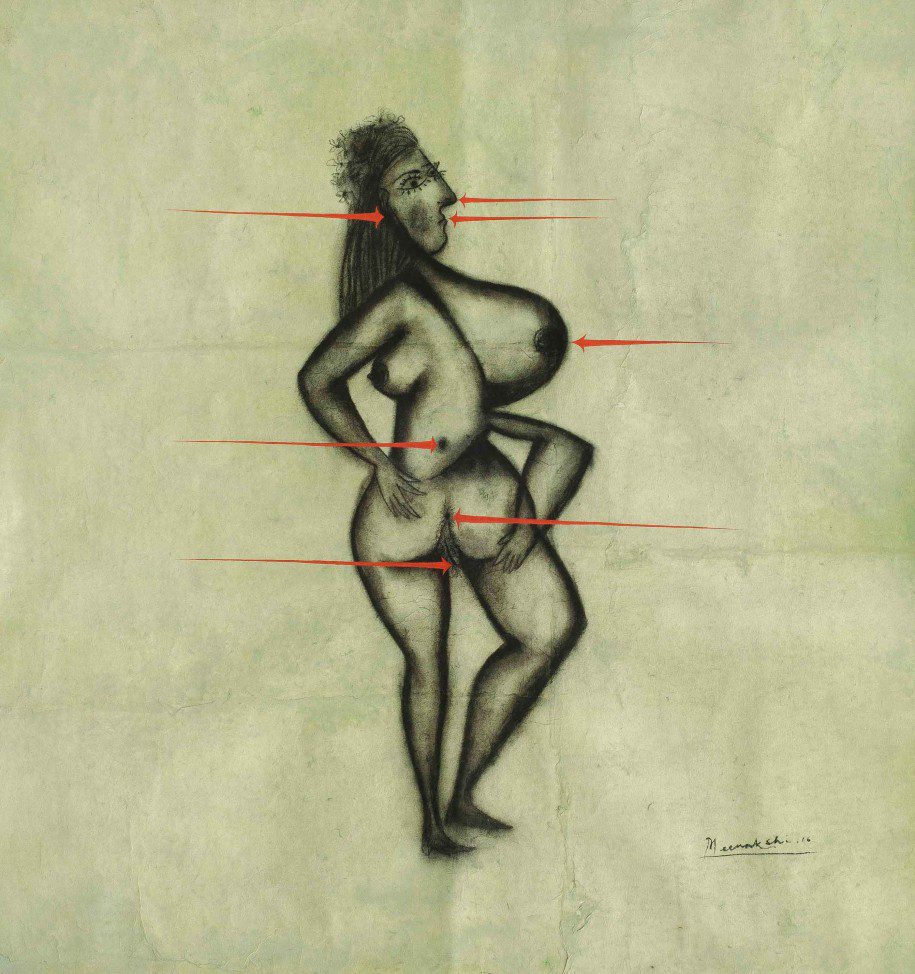 All Holes, 5ft/4ft
Charcoal and water colour on canvas (rice paper pasted)