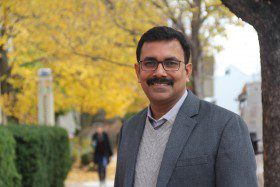 SAI is pleased to welcome Sanjay Kumar to the team as our India Country Director. Dr. Kumar will lead all of SAI's activities in India and will be based at our office in Delhi.
Since 1999, Kumar has served as the Director of SEWA Bharat, a National level Federation of SEWA organizations that serves 1.7 million poor self-employed women workers in the informal economy in India. Kumar holds a PhD and M. Phil from Jawaharlal Nehru University, a Masters from University of Delhi, and a Masters in Public Administration and Public Policy from the Harvard Kennedy School.
SAI recently spoke to Kumar in Cambridge about his background and vision for SAI's presence in India.
SAI: Why did you originally get involved with SEWA? What have you learned about India's informal economy?
Sanjay Kumar: When I was a student, I wanted to go into government service, but when I was given this chance to start  at SEWA, I realized that this is the kind of public service I want to do in my life. Not many people in our country were opting to work with NGOs at that point. I joined, and what inspired me the most was the hard work of the poor women. Even though they were very marginalized, socially and economically, they had this spirit of doing well in their life, especially for their future generations.
These women were street vendors, they were selling vegetables and fruits on the streets, and they were being harassed by the police and the municipal authorities. In our country, 93 to 95 percent of people are working in informal economy, which means that there is no social security being given by the society or the employers. There is no formal employer-employee relationship. So their income and job is not protected. After seeing these atrocities and understanding their vulnerabilities, I felt a very big connection with them. I was given twin tasks: one was to establish SEWA in Delhi, and grow the organization within Delhi; And the other was to expand the SEWA Movement in other Indian states.
SAI: You came to the Harvard Kennedy School for the Mid-Career Master in Public Administration program as a Mason Fellow in 2014. How did that impact your work?
SK: I come from a small town in India in Bihar, and I did not have the privilege to go to a good secondary and higher-secondary school. That is why I moved to New Delhi for my higher education. And after I moved to Delhi, I understood the value of education. I always had a dream: when I started working with SEWA, I had gone to the Netherlands, for a 3-months Diploma course, and that is when I actually realized the potential of western education. That is when I thought that I would try to come abroad again for some advanced education.
So while I was there [at Harvard], I was exposed to the highest level of learning; It was my best education year in my life. The whole environment, and also the cohort, it was a wonderful class, having people from 85 countries, that was amazing! So I got to know about different cultures, people coming from different continents, and also got to know about their issues, problems, concerns and their society, so it was a great exchange. I felt during my year that Harvard was a universe of education and knowledge in itself.
SAI: What do you see as your role in directing SAI's India activities?
SK: I look forward to expanding the SAI presence at such a level that it can work as a platform for people who are solving problems, working to find solutions, such as researchers and academics. How can we also involve policy makers into that platform? Bringing different actors together in India is something I am looking forward to.
SAI: What value does SAI bring by having an office in Delhi?
SK: I think, in the globalized world, there is no doubt that knowledge is also globalized now, and people are looking for collaborations and partnerships. Harvard has a huge reputation, and also has an image of working closely to solve problems in the world.
By having a physical office in India, we will be able to establish partnerships, and it will also give a lot of confidence to different actors in the country that the organization is serious about helping promote knowledge exchange. India is the world's largest democracy, and a fast growing economy, so the Indian context is very important for academic research and analysis, and to understand what's going on all over the world.
-Meghan Smith