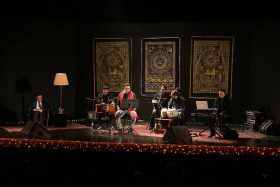 This was published in Pakistan Today.
The Lahore Biennale Foundation (LBF) in collaboration with the LUMS School of Education (LUMS SOE) and Harvard South Asia Institute (Harvard SAI) organized an exclusive music and poetry evening on Jan. 17. Renowned musician Ali Sethi and Harvard Divinity School Professor Mr Ali Asani put together a special set which they performed to an enthralled audience at the Ali Institute of Education.
Entitled 'Misaq-e-ishq' (The Covenant of Love) this recital poetry evening highlighted the work of regional masters and Sufi visionaries including Amir Khusroe, Bulleh Shah, Abdul Latif Bhatti and many others. Mr Ali Asani, Professor of Indo-Muslim and Islamic Religion & Cultures at Harvard University, recited from the works and biographies of the aforementioned poets showcasing recurring motifs of "birha" (separation) and "wasl" (union with the beloved).
Throughout the evening, Professor Asani's readings and recitations were interspersed with musical performances of the poems from classically-trained vocalist and Coke Studio sensation Ali Sethi and his six-member band.
Expressing his love for poetry, Ali Sethi commented, "I first met Professor Ali Asani in 2002. This was a post-9/11 country, a time of alienation and radicalization, and Professor Asani's emphasis was on humanism and empathy. I can now see that my early exposure to the study of Sufism in Professor Asani's courses led me into the study of classical music after I graduated and returned to Pakistan. 'Misaq-e-Ishq' is a synthesis of those ideas and experiences: an exploration through poetry and music, of the dialogue between humanity and divinity."
Videos from the event below: