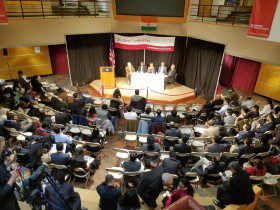 The annual Harvard India Conference, which SAI co-sponsors, was held at the Harvard Kennedy School and Harvard Business School on February 11 & 12.
The following article was written by DiyaTV.
CAMBRIDGE, Mass. (Diya TV) — Two days, 90 speakers and over a thousand attendees at one of the largest student-led conferences about India in the U.S. For the last 15 years, every February, eminent personalities of India from political, entertainment, business and science milieus descend on the Harvard campus to share their stories, visions, challenges and missions to infect the young Indian diaspora in the US with an idea of a better India in the global context.
India Conference 2017 was aptly themed, 'India – The Global Growth Engine.' A United Nations report forecasted India to be growing at 7.7% in 2017 besides a global recession (just 2.2% in 2016). However, most speakers cautioned the audience from undue fervor as the country continues to reel in poverty—23.6% of the total population lives under $1.25 per day on purchasing power parity. Multitude of the panels like those discussing agriculture, entrepreneurship, urbanization and women's rights, kept the focus firmly on the challenges with a smattering of success stories.
The euphoria of being Indian was then rested on the celebrity presence, especially well known Indian journalist Rajat Sharma, actor and activist R. Madhavan and politico and Telugu Pawan Kalyan. People from across the subcontinent travelled to listen to their idols. "Please excuse me, but I am going to scream when Pawan Sir arrives," said a young man to the lady sitting beside him—he belonged to the same Indian state as Mr. Kalyan. Out of nowhere a fortress of security personnel ranging from Harvard University police, private security and bodyguards appeared to control the crowd frenzy.
Each speaker seeked to inspire the audience with their stories of converting life's challenges to success. They implored the youth to participate in the growth story of India in every way they could.
Keynote addresses were delivered by politicians and diplomats. In the fully packed Burden Hall auditorium at Harvard Business School, politician and author, Dr. Shashi Tharoor, delivered an almost alphanumerical speech, quoting numbers from past and present and setting context for India in the 'post-globalization world.' As a paradox to all those socio-economic parameters he also stated, "Anything I say about India, the opposite is also is true. And these opposites coexist quite cheerfully."
No growth story is complete without the discussion of women's emancipation—a truism that is acutely felt in India after several high profile sexual assault cases have put pressure on the government by a rapidly modernizing society. The conference panels reflected the urgency of such issues via topics like 'Leadership Challenges For Women In a VUCA World' and 'Interventions To Address Gender Based Violence In India.' A particularly evocative moment was when Ravi Karkara, Senior Advisor to Deputy Executive Director, UN Women, had all men in the room stand up to take the 'HeForShe' pledge at a workshop. Kalki Subramaniam, an Indian transgender activist, artist and author spoke between several clapping interventions and a standing ovation at the 'Inspire Series.'
Dr. Gururaj Deshpande, entrepreneur and philanthropist delivered the final keynote. He said, "There are three kinds of people in the world: first, who are oblivious to problems, second, who see a problem and complain, third, who find a problem and get excited about it. We need more of the third kind."
After a full weekend conference there may be many such problem solvers thinking about their next big idea for India and the globe.