Congratulations to the following Harvard College students, who were chosen by SAI as winners for the Office of International Education's Annual International Photo Contest. Each year, undergraduates submit photos from their summer travels around the world, whether from study programs, grants, or internships, and SAI selects winners for photos from South Asia. The winners were announced at a reception on February 10.
Bharath Venkatesh, Harvard College '17: 'Gazing Atop a Fortress'
"I took the photo from the top of Sigiriya, an ancient rock fortress complex and UNESCO World Heritage Site in Sri Lanka. Rather than being directly related to my research (which pertains to economic growth, class identity, and coffee shop businesses across South Asia), this location was one I briefly visited as a tourist towards the very end of my summer in August while traveling between different cities in Sri Lanka. After having climbed the fortress with a friend in the mid-afternoon heat, we (along with a stray dog that had decided to give us some company) took a short break to just gaze out into the distance, and I decided to take the photo because I was struck by the beauty of the scene in front of us."
Marisa Houlahan, Harvard College '17: 'Shipbreaking'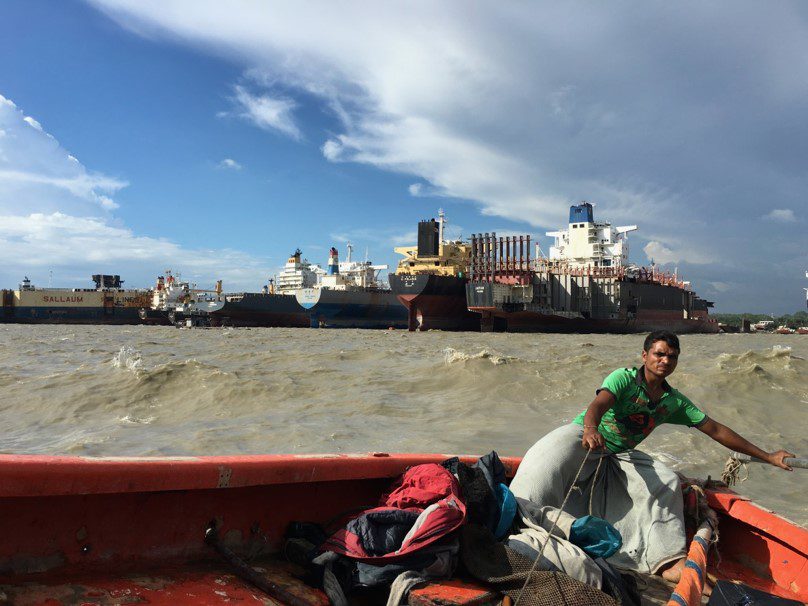 "In July 2016, I shadowed a journalist who had come to Chittagong to photograph for an upcoming exhibition in Scandinavia about the shipbreaking industry. The shipbreaking yards lining the coast near Chittagong are notoriously difficult for foreigners to enter because of controversy surrounding working conditions and environmental damage, so the journalist decided to photograph from the sea. In the foreground, a local fisherman drives a boat that was once a life raft on a cargo ship, but which has since been appropriated for fishing. Behind him, container ships, bulk carriers, and oil tankers in varying states of disassembly are run aground, waiting to be broken down and recycled."
Read more about Marisa's research.