On January 7, SAI, in partnership with the Institute of Bioinformatics and Applied Biotechnology (IBAB), hosted a Knowledge Exchange Platform on neuroscience for students in Bangalore to interact with different players in the science ecosystem.
The students were part of the Boston Bangalore Biosciences Beginning (B4) Young Scientist Development Course on neuroscience, a 2-week immersion course run by SAI and IBAB to to introduce Indian students to the excitement of brain science.
Panelists at the workshop represented Science and Technology departments of government, the information technology sector, as well as medical devices industry. They included Raghav Singh, R&D, IBM cognitive computing, Anirban Bhaduri, Tata Chemicals, Radhika Madhavan, Lead Scientist, GE Global Research, Shivakumar, Fellow and chief architect for health care-IT businesses, Philips Healthcare, Jagadish Mittur, KBITS, ITBT department, Government of Karnataka, and Aditya Murthy, CNS, IISc.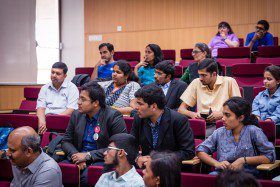 Venki Murthy, Professor of Molecular & Cellular Biology at Harvard, moderated the panel discussion, which focused on the study of neuroscience, the climate of neuroscience in India, career opportunities that exist in the field, and challenges facing the industry.
"I think it was a great experience to have the corporate perspective on research in neuroscience," said one participant. "I gained a lot of valuable insights and actually found myself reconsidering some beliefs I had about research in industries."
Several Harvard University affiliates participated in the event, including Mark Elliott, Vice Provost for International Affairs, Harvard University, Ben Zoll, Senior Director, International Advancement at Harvard University, and Elizabeth Osborn, Associate Director of Institutional Partnerships, Office for External Relations, Harvard T.H. Chan School of Public Health.
Visit our Facebook page for more photos.
Boston Bangalore Biosciences Beginning (B4)