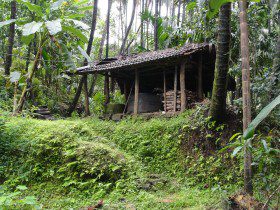 The following report was written by Aaron David Mendonca, Master candidate in Design Studies, Energy & Environments, Harvard Graduate School of Design. Mendonca is the founder of the Craftsmen, the runner up in SAI's 2016 Seed for Change Competition. The Craftsmen is small forest enterprise facilitator that creates new value chains, provides year-round employment, and trains communities in sustainable harvesting practices.
Mendonca received a summer grant from SAI to conduct further research on forest practice in India. The following is a report based on his summer.
The deadline to apply for this year's Seed for Change Competition is February 15.
Organizations In The Field
Meetings and engagements were held with various entities ranging from Forest Communities, Village Economic Development Committees,  Producer Companies, Cooperatives, Self-help Groups, Chief Conservative Officers, Divisional Forest Officers, the Forest Research Institute Dheradun, Tourism Bodies, Research Organisations, Forest Product Enterprises, Investors and Support Institutions.
Communication is underway with following three organizations for the formation of Project Proposals, Memorandums of Association and Understanding :
Ashoka Trust for Research in Ecology and Environment (ATREE) is a research institution in the areas of biodiversity conservation and sustainable development. Their focus is on applied science through research, education and action that influence policy and practice on conservation of nature, management of natural resources, and sustainable development.
Khetify is a young startup working on urban farming and wholesome produce.
Jungle Lodges and Resorts (JLR) is a Government owned establishment that operates 16 resorts in Karnataka. Their operations are nestled in enviable wilderness properties and offers prerogatives such as jungle access for safaris, water access, treks, birdwatching and elephant camps.
Sites
The majority of the 3 months was spent in forest fringes, interspersed with visits to urban concentrations, information centers and and urban-forest interface sites. Based on the latest project tangent, the target forest fringe sites can be focused into two clusters :
Eastern Himalayas

Singalila National Park
Senchel Wildlife Sanctuary

Western Ghats

The Biligiri Ranga Temple Tiger Reserve
Cauvery Wildlife Sanctuary
Malai Mahadeswara Wildlife Sanctuary
JLRs, Multiple Sites in Karnataka
Key Activities Being Pursued
The three activities delineated below are far from independent; they spur and incentivise one another while creating a fabric of open and naturally evolving interventions.
Value Addition and Marketing of NTFPs
Planning is underway to compliment ATREE's value addition initiatives at the Eastern Himalayas and Western Ghat sites through design input and market facilitation. The NTFPs include – Honey, Tea, Ghee, Mushrooms, Medicinal Plants, Fresh Polyhouse Produce, Gooseberry, Soapnut, Coffee, Spices. Communities face certain difficulties in the superficial design and business end in competition with industrious organisations. The aim is to relieve communities of some of the observed pressures through partnership with Khetify, who will distribute these goods to urban markets. The branding would tell the story of the local producers (the producer company in the event of them being incorporated as producers or the village in the event of a non entity) and the quality of the goods. This activity would work to not take away from the community sense of ownership, but to give them a large stock guaranteed buyer while they attempt to establish their own local market presence. A percentage of the profits of this marked up extended distribution would go back to the community in the form of an insurance or development fund.
Incorporation of Livelihoods into Resort Operations
Visits and studies of JLR properties were conducted to suggest a more authentic experience through improvements in the aesthetic, energy and environmental aspects of their sites as well as the incorporation of community livelihoods into their operations.  We are in the process of facilitating a demand and supply match between the value addition communities and JLR resorts in the form of restaurant/kitchen supplies as well as retail stalls to bring the products in contact with NRI and foreign tourists.
Establishment of Tourism & Residential Research Centers
There are several avenues through which a design approach would compliment research initiatives to help inform the nature of transformation in rural regions that lack a strong design voice. Examples : Design & Planning, MNREGA Projects, Community Infrastructure Projects, Architectural Innovations, Energy Strategies, Policy Formulation, Technology Transfer. These various aspects of Forest Practice would benefit from a collaborative, immersive environment of researchers, students and practitioners. We are conceiving of Tourism cum Residential Research Centers as a means to offer a greater presence of Universities and Sustainable Industries at forest sites. The first site under consideration is Sepi Village, Singalila; preliminary promising meetings were held with the DFOs office, the village economic development committee and ATREE regarding the same.
Academic Angle
Over the last 50 years, the hunt for first principles in the field of ecology has established strong linkages between biology and physics. The second law of thermodynamics describes constraints that are necessary for but not sufficient cause for the emergence and existence of structures. Yet, a thermodynamic basis for complex systems attributes direction to processes and renders patterns visible in many living and life-like systems. An expanded thermodynamic view of life considers emergence to occur through feedback originating in dissipating gradients.  Self organisation, as a response to externally applied gradients, behaves to dissipate that which moves a system away from equilibrium. Far-from-equilibrium systems degrade energy to maintain organizations, increasing in complexity through positive feedback. Thus, local entropy reduction is bounded and fueled by global entropy production. Inextricably connected by the limits of physical existence, particular structures constantly disturb and design other structures through energy transformations required for their own existence.
This summer research project has acted as an entry point into the field study of emergent systems.  The project now continues into Fall 2016 and Spring 2017 via the Masters in Design Studies Open Projects Format. The approach this semester will be to hone a philosophy towards designing with, while dwelling within, a fundamentally interconnected ocean of things. And, to study the energy hierarchies, feedback mechanisms and nature of transformation across the material boundaries of complex emergent systems.