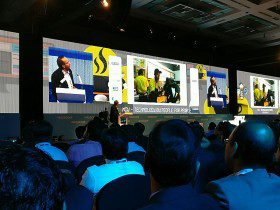 Read an interview with participants of this conference:
HBS Working Knowledge: Reputation is Vital to Survival in Turbulent Markets
Reputation and resilience are key ingredients that determine whether companies will survive tumultuous markets, according to a new paper byGeoffrey Jones, Tarun Khanna, Cheng Gao, and Tiona Zuzul.
By Rachael Comunale
The Harvard Business School Creating Emerging Markets project (CEM), in collaboration with the HBS India Research Center (IRC), hosted a two-day conference titled, "Creating Emerging Markets: Lessons from History" on February 13-14 in Mumbai. The event showcased the CEM archive, which includes more than 100 video interviews with business leaders in emerging markets conducted largely by senior HBS faculty, and it also marked the 10th anniversary of the IRC. Guest speakers included distinguished business leaders Rahul Bajaj, Ritu Kumar, Jerry Rao, Zia Mody, Anu Aga, and Yusuf Hamied. The event also attracted prominent scholars, including Gita Piramal, Mahesh Vyas, Chinmay Tumbe, and Shekhar Shah, and leading corporate archivists, including Vrunda Pathare, Rajib Lochan Sahoo, and Usha Iyer. Over 120 guests attended.
Lessons from History
The two-day conference in Mumbai sought to address – through two different forums – the question: what is the value of history in business? Day One of the conference explored the value of history for today's practitioners and policy makers through the lens of four major issues currently facing businesses in South Asia and other emerging markets: spurring innovation, managing family business, navigating business-government relations, and promoting responsible business practices. Each discussion began with a series of short clips from the CEM archive that addressed the specific theme in more detail. For example, during the innovation panel, guests watched a short video of Yusuf Hamied discussing the necessity of incremental innovation in the pharmaceuticals industry in the 2000s.
Lively discussion then ensued, moderated by HBS Professors Tarun Khanna, Srikant Datar, and Geoffrey Jones. In the words Anjali Raina, Executive Director of the HBS IRC, "history came alive." Each of the four panels saw the audience – practitioners, policy makers, and scholars – engage in frank and meaningful dialogue with guest speakers on tough issues. What are the continuing obstacles to innovation in South Asia? How can businesses best navigate government bureaucracy in India? What is the responsibility of business leaders to advocate for social justice and civil rights? These were among the questions tackled with the future in mind, but with lessons from the past ever-present.
Building a Community of Scholars
The second day of the event was a forum designed specifically for academics and archivists. Prof. Jones kicked off the session with a discussion of business history at HBS and the popularity of his history elective courses for MBA students, Creating Modern Capitalism and Entrepreneurship and Global Capitalism. Chinmay Tumbe from the Indian Institute of Management – Ahmedabad (IIMA) followed with an overview of Indian business history as a field, and proceeded to address the question, how can business history be further integrated into management education in India? He discussed some of the biggest challenges he has faced launching a history elective course at IIMA, including navigating departmental resistance, developing innovative pedagogy, and working to imbue historical problems with contemporary significance. However like Prof. Jones, he expressed an optimism about the future of business history in management schools. His course, HitchHikers Guide to Business and Economies across Five Centuries, now attracts nearly a third of each graduating class. Student interest, at both the MBA and PhD level, he explained, will play a big role in driving the introduction of business history.
Godrej Chief Archivist Vrunda Pathare led the second half of the event, discussing the role archivists play in the preservation and documentation of business history. The institutionalization of information in the business setting, she explained, is not common. Some of the biggest obstacles to establishing corporate archives include: substantial cost with indefinable pay-off, issues of confidentiality, convincing business leaders, who tend to be future-facing, of the value and relevance of history. There are also new challenges associated with the digitization of media and the curation of exclusively digital sources. Despite such challenges, however, Pathare has experienced at first-hand the value of collecting and maintaining a major corporate archive. The Godrej family established its archive at the centenary of the company, in 1997, seeking to chronicle not just the growth, products, and values of the company, but the broader business ecosystem in which it operated. This repository has since helped bolster the credibility of the company, and Pathare noted that the marketing teams at Godrej have become invested in using and publicizing archival materials.
Godrej Group is one of a small but influential group of businesses, including the Tata Group, which have established a corporate archive, and interest in the field is growing. The Lessons from History conference revealed great enthusiasm among archivists and educators in India to restart and revamp business history after nearly three decades of inertia, and the event also highlighted the fact that academics and archivists must work together to build this scholarly community. HBS hopes to play a role in facilitating the creation of such a virtual community using the momentum generated by this inaugural event.
The CEM team at HBS is led by Professors Geoffrey Jones (Isidor Straus Professor of Business History and Faculty Chair of the School's Business History Initiative) and Tarun Khanna (Jorge Paulo Lemann Professor and Director of Harvard's South Asia Institute).
Learn more about the Creating Emerging Markets Project, and be sure to check out a short video showcasing CEM material on the issue of corporate social responsibility.