SAI is pleased to announce our Visiting Artists for the Spring semester, who will be at Harvard from March 20 – 31. During their time at Harvard, the artists will display their work on campus, meet with students, attend courses, and give a public seminar.
Check back on our site for details about the seminars.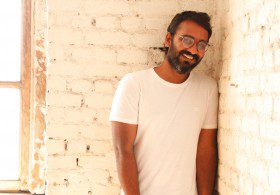 Madhu Das is a multi-disciplinary Visual Artist based in Mumbai, India; his artistic practice is primarily concerned with the projection of identity onto the social and natural world: in a way that the two are woven together in the Indian space (both mythic space and actual); Exploring both conceptual and material sensibilities through range of media including drawing and painting, photography, performance, video, site-specific interventions, collaborative community projects and interactive/performative installations.
In his work, human body often establish an improvisational relationship with object and sculptural elements in the space. The work has involved the spaces in both a narrative sense and as a site of memory to re-narrate historical events as a way of plotting connections between the particular and the universal. Subjectively, he adapt aspects of material culture as well as methods from anthropology, allegorical fiction as conceptual tool, which later extends to the space of the viewer, from the point of a storyteller, exploring exciting linguistic devices and imagery with a sense of irony and paradox.
Das received his Masters of Arts (Painting) from S N School of Fine Arts and Communication, Central University of Hyderabad, India in 2013. Bachelor of Fine Arts (Painting) from College of Fine Art, Karnataka Chitrakala Parishat, Bangalore, India 2009. He was awarded the Inlaks Fine Arts Award, Inlaks Shivdasani Foundation, India (2015) and Shortlisted for Emerging Indian Visual Artists by Delfina Foundation, UK (2014).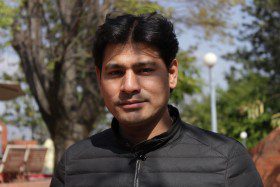 Rabindra Shrestha is a Nepalese visual artist. Installation, detail pen and ink drawing, painting, traditional painting (Paubha), illustration, cartoon, and ceramic art are the different mediums of his visuals expressions. Most of his art is directly conceptual based. The collaborative line art project, Earthquake line and Finger prints with red line are some of his series in the Nepali contemporary art scene. Many people refer to him as a "Line Artist". Shrestha's works has been exhibited throughout the National Fine Art exhibition (nine times), Kochi-Muzirise Biennale 2014 (India), and Asian Art Biennale (Bangladesh). He secured the National Special Award (NAFA) from National Academy of Fine Arts three times, and was a winner of the US embassy Art Competition (Nepal).