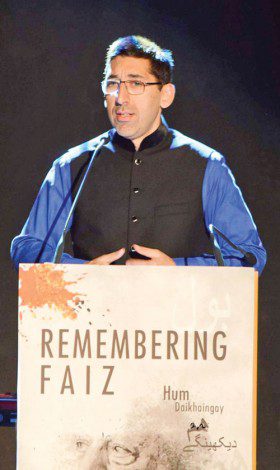 This article was originally published The News International about a SAI co-sponsored event held in Dubai on Feb. 23.
By Babar Hashm
February is the birth month of arguably the best Urdu poet of all time – Faiz Ahmed Faiz. He touched millions of hearts around the world by exhibiting masterful ingenuity in his writings and by providing provocative  revolutionary messages that will continue to heal distressed souls for all times to come.
Faiz spent his life as a human rights activist, as a journalist and as a flag bearer of arts and culture. To celebrate the birth of the visionary poet, Poetic Strokes which is a unique platform committed to fostering art in all its forms, in collaboration with Harvard University's South Asian Institute, arranged a beautiful evening titled 'Remembering Faiz' for the 'muhib-bei-zaban' (lovers of the language) as the host Alok sahib and Faraz Ali described it.
The presentation included Faiz's grandson and renowned actor, producer and screen writer, Adeel Hashmi, who has perfected the art of reciting poetry – an art his grandfather was not particularly known for. Once someone asked Faiz why he didn't learn to read out his poems in better style to which he candidly responded: "Ab sub kuch hum hi karein" (should I do everything myself).
Adeel was joined on stage by a young pianist called Asad Anis who has been described "as a protégé in the world of western classical music". The fusion of the poetry recital and classical piano created a truly enchanting experience. The poems resonated with the audience while playing with their emotions.
Adeel read some of Faiz's most famous works such as his poem 'Kuch Ishq Kiya Kuch Kaam Kiya' and also narrated some letters Faiz wrote to Alys when he was in prison – giving hope and comfort to his family and also serving as inspiration to all those who have fought against injustice and continue to do so today.
The mood of the evening lightened when humorous anecdotes from the poet's life took centre stage. For instance, Adeel narrated in Mushtaq Ahmed Yousafi's words how Faiz left Yousafi sahib hanging in the air when a beautiful lady asked for his time instead.
Understanding the context of Faiz's poems often brings new appreciation for his words. The famous 'Zindann ki Shaam' was written while he was imprisoned. In a letter to Alys, he once wrote: "Shayad aisi shairee bohat din tuk koi aur na kurr sukay. Tum kaho gi hum itra rahay hain, aray bhaee kabhi kabhi yeh bhi kurnay diya karo' (no one will be able to produce such poetry in a very long time, you might say that I am showing off – but sometimes you should allow me to do this)."
Apart from the glorious poetry recital, the evening also included musical renditions of some of Faiz's most famous poems, performed by the talented Indian classical singer-songwriter and composer Sonam Karla. Joined by her orchestra which included sarangi and the flute, Karla stepped into big shoes as she delivered some original compositions and presented her interpretation of some of Faiz sahib's most famous works, previously brought to life by a number of legends.
Among the renditions Karla presented onstage were iconic anthems like 'Bol Ke Lab Azad Hain', 'Humke Thehre Ajnabi', 'Gulon Mein Rang' and 'Dasht-e-Tanhai'. What was special about Karla's interpretation of these classics was her courage to change the arrangements. And despite doing so, she still found a way to captivate listeners.
This evening was part of the Poetic Strokes initiative, 'Sounds of the Soil', founded by Ayesha Imtiaz, which is a series of creative collaborations of artistic events. One hopes that such efforts that add to the conversation about culture continue to take place in the future.