This is part of a series in which we will profile organizations in India who received a Social Innovation grant through the SAI/Tata Trusts project on Livelihood Creation.
ORGANIZATION DETAILS 
Organisation Name: Craftizen Foundation
Registered As: Section 8 Company
Year Founded: 2014
Location: Bangalore, Karnataka
Contact Number: +91-9618106333
Website: http://www.craftizen.org/
LEADERSHIP
Mayura Balasubramanian, Founder and CEO
VISION, MISSION AND BROAD OBJECTIVES 
Vision
To preserve and evolve Indian craft skills so they remain an integral part of our cultural fabric.
Mission
To provide business acumen support to craft groups to enable sustainable livelihoods for Indian artisans.
Broad Objectives
Enabling structured, long-term development support to craft groups
Building capacity and capability of craft-based organizations to help them scale
Reviving patronage of crafts through large scale, sustained interventions
Providing market-driven strategies to craft groups
Facilitating design development to enhance functionality of craft products
CRAFT IN FOCUS (Design Innovation Lab)
Name of the craft: Leather Craft of Andhra Pradesh, traditionally known as Tolu Bommalata (Shadow Puppets).
Key distinctive feature: Luminosity of the leather.
Different products that can be made in this crafts form: Traditionally, leather puppets, wall panels and paintings depicting mythology scenes. Popular items at present are lampshades of various designs and decorative items for home use such as clocks and wall hangings.
Time taken to make a product of the craft: Artisans buy the goat skin and prepare the leather themselves. It is a meticulous process of soaking the raw leather in hot water and lime, followed by vigorous scraping, cleaning and drying to get the required translucent sheets. To prepare the leather takes 2-3 days. Designs are then etched on the leather with pencil. Subsequently, the outlines are marked with black ink. Perforations are made with various chisels on the designs, which further enhances the beauty and luminosity of the leather. Bright colours are used to fill up the designs. To create an elaborate wall panel, it can take up to one month depending on the complexity and detailing. Smaller pieces such as small lampshades or puppets can be made in a day.
ACTIVITIES AND MODEL OF EXECUTION 
Craftizen Foundation is a social venture and a not-for-profit, which functions as the business acumen partner for the Indian handicrafts sector. The focus is on enabling sustainable livelihoods for Indian artisans by building capacity of craft groups with market-ready skills and know-how.
Its programs include:
The Patron Program: This is a structured Corporate Social Responsibility (CSR) initiative that enable craft-based livelihoods for marginalized groups. Corporate funding is channelized to crafts groups and artisans. Craftizen is currently implementing projects in Bengaluru, Kolkata, Delhi and Varanasi impacting 600 beneficiaries including people with disabilities and women rescued from a life of trafficking.
Kalashala: A finishing school for artisans and craft groups to equip them to be market-ready. Craftizen's biggest challenge was developing a curriculum for artisans, most of whom have not even completed primary school. An interactive, game based approach to learning was adopted, through which artisans are taught business skills, production planning, quality and delivery, sales and marketing, story-telling and design thinking, which is customised to their craft and context. Each concept is first learnt by doing an activity, then by experience sharing and finally with the help of guidelines and pointers that are reinforced with visual material to reinforce learning. This initiative is supported with a social innovation grant from Harvard University's South Asia Institute and Tata Trusts.
Design Innovation Lab: Traditionally, handicraft designs evolved through the interaction of artisans and customers. With rapid urbanisation, there is an increasing socio-cultural disconnect between them. Crafts produced today often do not have relevance and functionality for the current-day consumer. Through the Design lnnovation Lab, Craftizen aims to bring together artisans and designers to collaborate on market-driven design development. Further, the focus is on benefiting handicrafts that have not evolved adequately with changing trends and market preferences. To pilot the design lab Craftizen chose the Anantapur leather craft from Andhra Pradesh, traditionally known as Tolu Bommalata (Shadow Puppets). This initiative is supported with a social innovation grant from Harvard University's South Asia Institute and Tata Trusts.
Customized Handcrafted Merchandise: Craftizen provides design and marketing support to crafts persons by focusing on design development that enhances the functional utility of craft products. Products are made for customized orders from corporates and individual buyers. Availability of working capital as well as fair pricing to artisans is ensured.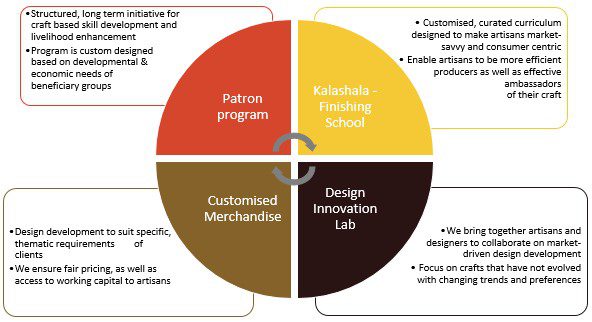 INNOVATION AND UNIQUE PROCESSES
Craftizen's collaborative model is unique. It partners with several not-for-profits and social enterprises that are working in the crafts sector to collectively maximise reach and impact. The organization brings a market-centric approach to the crafts sector through research, trend analysis, strategic planning and inputs. This ensures long-term sustainability. It's presence across the entire value chain helps in tackling multiple challenges and results in long-term solutions as well.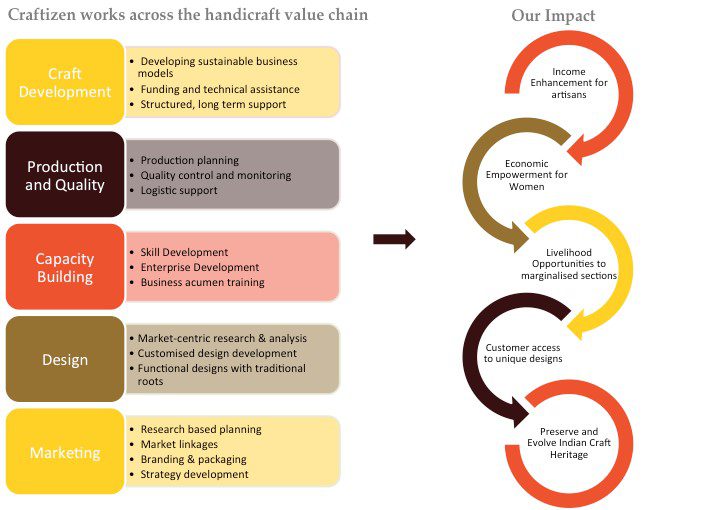 PARTNERSHIPS
Partnership with several NGOs / craft-based organizations to implement CSR funded projects. Some of the CSR funded projects include Women's Interlink Foundation in Kolkata, Kriti Social Initiatives and Centre for Social Services in Hyderabad, Seva in Action, NIMHANS and Vidyaranya in Bangalore.
Various artisan groups for design and marketing. Some of the groups include Varanasi wooden toys, Cherial craft group in Telangana, Tollu bommalu in Andhra Pradesh, Applique work in Orissa and Bastar tribal crafts of wrought iron and dhokra.
Large corporate donors like Accenture India and Deloitte India who support and fund livelihood initiatives.
Diverse set of corporate, academic and institutional clients like India School of Business (ISB), Titan Company Limited, Quest Alliance amongst many others for custom merchandise.
Government institutions who have been donors, patrons and clients. They include National Bank for Agriculture and Rural Development (NABARD) and Hindustan Petroleum Corporation Limited (HPCL) amongst many others.
IMPACT ON BENEFICIARIES 
Till date Craftizen has impacted over 1000 beneficiaries from marginalized groups through CSR funded and craft-based livelihood programs. It has also worked with close to 200 traditional artisans and 42 non-profits and crafts groups to provide ongoing design and marketing support through orders and events. The organization has also developed close to 58 new Crafts designs and raised grants of over INR 14 million.
"We play the role of craft architects, building bridges that connect the crafts sector to newer possibilities."
Mayura Balasubramanian, Founder & CEO
MEDIA COVERAGE