Biases between South Asian countries are at the center of what South Asia Engagement Forum (SAEF) hope to address through their cross-regional and cross-sector platform.
LMSAI spoke to co-chairs, Ameya Kilara (MPA '18) and Muhammad Khudadad Chattha (MPA-ID '18) about the personal experiences, which shaped their passion for cross-border dialogue.
What is the structure and purpose of South Asia Engagement Forum (SAEF)?
Muhammad Khudadad:
We have expanded the forum to engage the whole South Asian community. SAEF invites students, alumni or academics who are interested in issues related to South Asia to lead discussions on some of the key issues that are particular to the South Asian region such as climate change, economy, terrorism and security.
Our inaugural seminar on November 17, 2017, began with personal stories about why organization members are interested in a cross-regional forum. Secondly, we had a panel on media. We had a journalist from India and a journalist from Pakistan discuss how media is shaping public opinion and at times, polarizing the views in both countries and exacerbating the conflict.
Ameya:
We have structured SAEF around three objectives. The first is to connect South Asian students and academic scholars across borders. The second is to engage in discussions on policy issues in South Asia. The third is for our members to go back and influence their respective organizations, governments, civil society and/or businesses in South Asia.
Where did the idea for SAEF come from?
Ameya:
Despite India and Pakistan's shared challenges, there are few Harvard spaces or student groups where you can come together with people from across the India-Pakistan divide. Last year, a Mason Fellow at the Kennedy School, Vinay Nagaraju, had an idea to get Indian and Pakistani students together to discuss issues related to South Asia. Our first meeting was a group of 10 people eating dinner at his house. During the dinner, we shared why we feel passionately about coming together. Each story was so different. Some of us had had experiences as Indians traveling to Pakistan and others as Pakistanis traveling to India.
The Kennedy School at Harvard is a unique place because we have so many people from across the region and sectors. People are from the government, from civil society and from business, people who have already come from leadership positions and that will go back to exercise leadership in their own contexts. We created the forum for people to come together and actually engage on these issues.
Why do you feel passionate about South Asians coming together?
Muhammad Khudadad:
When I came to Harvard, it was a big surprise when I interacted with people from India and from Bangladesh. It was the first time that I have been outside of Pakistan for a long period. Here at Harvard, I was able to challenge some of my perceptions and biases about people from across the border. I began to question where all of these biases actually come from.
After questioning my biases, I wanted to do something about them, which is why I am personally interested in this organization. I think it is important for people to challenge the biases that further complicate some of the already complex challenges in the region.
Ameya:
As a teenager in high school in the South of India, I was involved with a student movement for peace in Kashmir. The more I started understanding the conflict in Kashmir, the more I started to see how linked the Kashmir conflict is to India's relationship with Pakistan.
Then, when I was 18, I travelled to Pakistan as part of a university debating team. We crossed the border on foot and reached Pakistan just in time to see the flag ceremony between the two countries. After growing up hearing about Pakistan as an unknown and dangerous place, it was the most incredible experience in my life to visit Pakistan, to meet the people and find out that we share so much in common. Shopkeepers would ask us, "Oh, are you from India?" and then give us some discounts!
Despite our shared history in culture and politics, I grew up thinking that we were so different. If we share so much, including poetry, music and cricket, it is possible to imagine both countries coming together politically to face some of the challenges that we share as well? Both counties have massive issues of poverty, education, and climate change. We also share opportunities that we can tap into to resolve some of the issues at the political level.
The India Pakistan relationship is one of the reasons that the South Asia region has not integrated more widely to face the challenges together. Despite the fact that SAEF began as initiative to bring Indias and Pakistanis together, we are now hoping to expand and adopt a regional lens.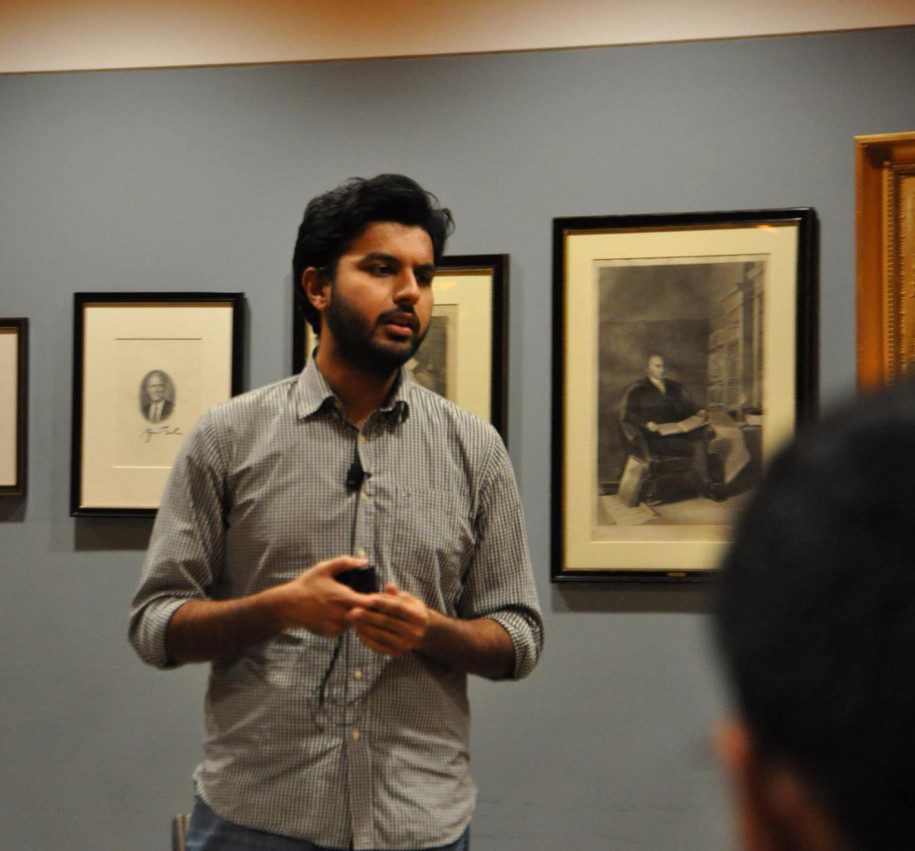 How is SAEF confronting biases?
Muhammad Khudadad:
The first step is just to engage the community at Harvard. Before we go out and start advocacy on biases, we first need to come together as a community to be able to confront and discuss what is happening in the region.
Ameya:
We need to put issues on the table and create an environment where genuine dialogue and debate can be facilitated and in a respectful way. That is the unique opportunity of being in an academic environment like Harvard, where the same discussions happening in India can be explosive and can lead to real violence. Courageous organizers on the ground in South Asia face risks of violence. The advantage we have here is to be able to have a discussion and debate about these issues in a safe and respectful setting.
Muhammad Khudadad :
This is long-term engagement, not something that we would be able to do in the next six months or year. We have people in the organization that are first years that will hopefully take it forward on the advocacy side, so that more and more understanding in the community will build. We ask people to confront their biases at SAEF events.
Most of the people who are this organization will end up going back to their countries. Our hope is that there will be a direct or indirect impact when our members share their opinions on the issues that confront South Asia, specifically India-Pakistan hostilities. South Asia is an important region of this world. It is our responsibility as students in Cambridge and as citizens of South Asia to discuss the issues that hold the region back.
Ameya:
After coming to the U.S., I have found that there are small pockets where South Asia is in focus; however, mostly it is absent. At the Kennedy School, you hear about how India is impoverished, but you do not hear about the politics of the region or the region's potential. South Asia will have a large portion of the world's young population in the next 20 or 30 years. There are serious issues for the world to consider. For people from outside the region, South Asia is going to be crucial to how they shape their own governments' policies going forward.
This interview has been edited for length and clarity.