Congratulations to Green Screen and Umbulizer, the winners of our 2018 Seed for Change Competition.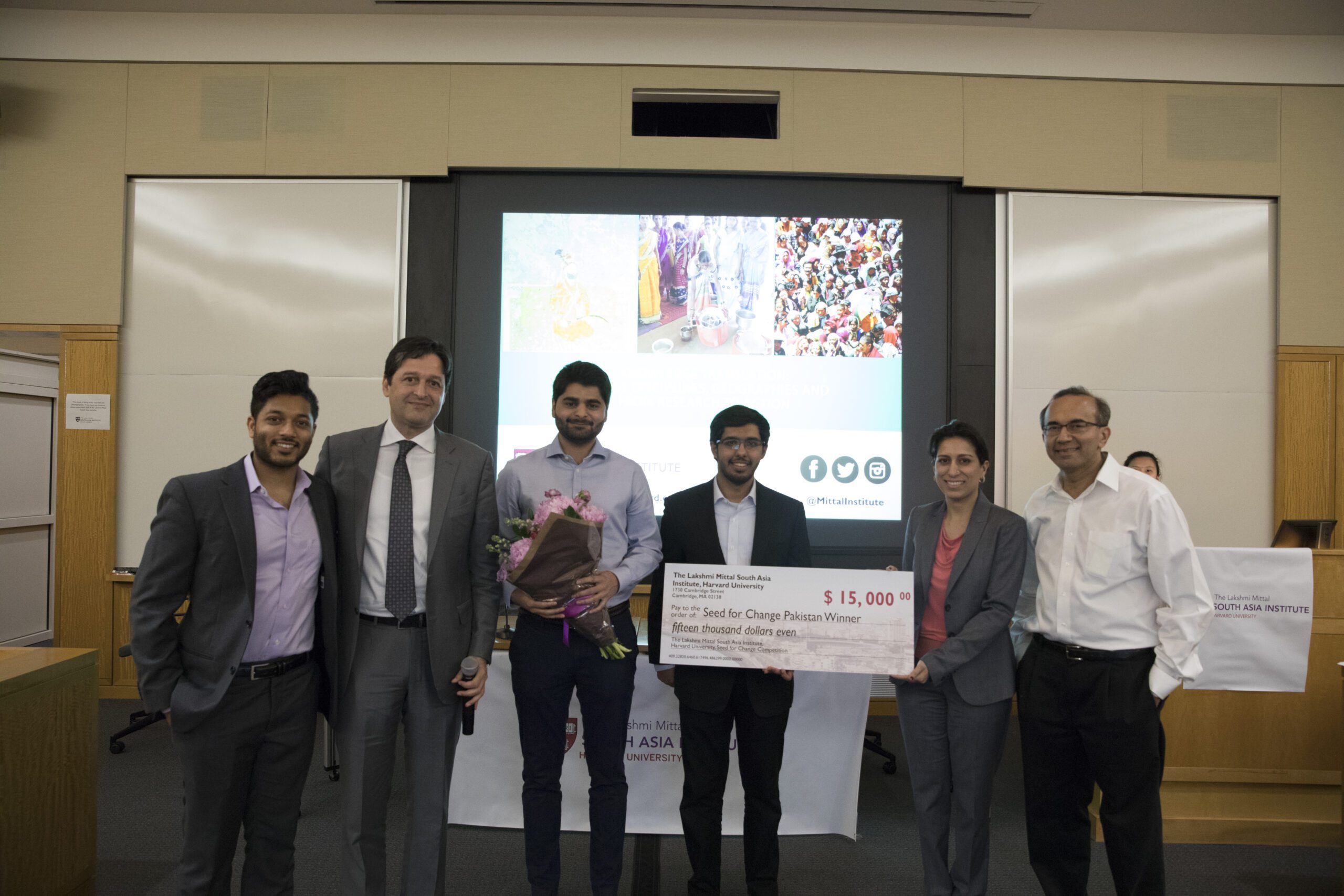 Umbulizer, the winner of Seed for Change Pakistan, will receive $15,000 to further develop a reliable, low-cost, and portable device that can provide continuous ventilation to patients in resource limited healthcare settings. Team members include Shaheer Ahmed Piracha, Umbulizer, Project Lead; Hamza Ali Khan, Harvard Business School, Master in Business Administration Candidate; and Sanchay Gupta, Harvard Medical School, MD Candidate.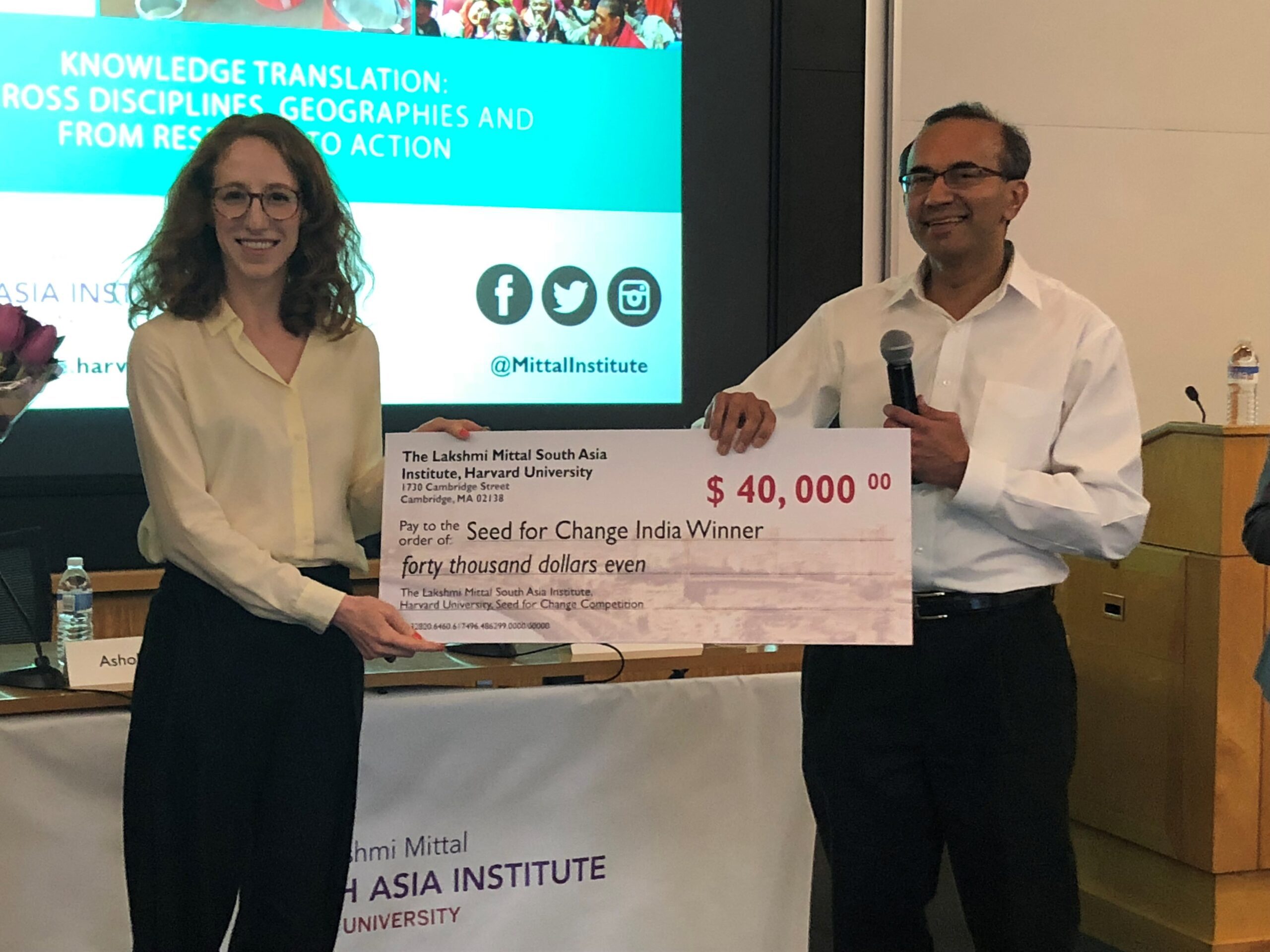 Green Screen, winner of Seed for Change India, will receive $40,000 to produce a zero-electricity, modular ventilation panel made from an agricultural waste byproduct and designed for the slums of New Delhi, India. Team members include Gina Ciancone, Harvard Graduate School of Design, Master in Urban Planning Candidate, Master in Architecture Candidate; Ramya Pinnamaneni, Harvard T.H. Chan School of Public Health, Master of Public Health Candidate; David Costanza, Rice University, Technology Fellow; and Dan Cusworth, Earth and Planetary Sciences Department.
Other finalists:
Pakistan
Saving 9: Saving 9's motto is 'You don't need to be a doctor to saves lives ', and the name of our organization comes from the idiom 'A stitch in time saves 9'. We strongly believe that anyone can learn basic first aid, and hence gain the ability to support a casualty sufficiently during an emergency until they can reach the hospital. It is our organization's mission to create a 'safety net' of first aid 'literate' citizens and robust emergency response systems. Our project is focused on creating an emergency response system in a rural village, Pind Begwal.
Team members: Usama Javed Mirza, Saving 9, Co-founder and Program Manager; Muhammad Ovais Siddiqui, Saving 9, Co-founder and Program Finance Head; Zainab Zaheer, Saving 9, Program Coordinator and PR Head; Raissa Chughtai, Harvard College Class of 2021; Saving 9, Program Coordinator and Economic Analyst
Xyal Water: Xyla Water is a water filter company that builds filters based on plant tissues. The purification ability of xylem tissues was discovered and tested by Professor Karnik at MIT. We formed a research collaboration with him to commercialize and make a product out of this filter.
Team members: Syed Waqar Ali Shah, Harvard Graduate School of Arts and Sciences, PhD Candidate in Mathematics; Iqra Nadeem, MIT, Master of Science Candidate in Technology and Policy Program ; Diane Delava, Academics for Development LLN, CEO; Ali Mannan Tirmizi, Lahore University of Management Sciences Class of 2018
India
Pre-Texts: Pre-Texts is an effective and efficient pedagogy that acknowledges local strengths that can help promote development in literacy, innovation, and citizenship. The Pre-Texts protocol can raise literacy in low-resource communities thanks to local arts and languages that serve to interpret English language curricular material.
Team members: Anshul Kumar, Harvard Graduate School of Arts and Sciences, PhD Candidate in Sociology; Jahnvi Singh, Pre-Texts Facilitator and Leaning Design Consultant; Polly Lauer, Research Coordinator for Pre-Texts
Parivartan: In India, rates of child diarrheal deaths continue to be alarmingly high despite overall improvements throughout the world. Treatment for often preventable cases of diarrheal illness is very costly for families in India and more efforts should be made to promote behaviors that prevent incidence of diarrhea in children. Hand washing with soap is a cost-effective means of preventing illnesses caused by bacterial contamination, as it decreases person-to-person transmission. However, India is one of the most water-challenged countries in the world. Project Parivartan aims to mitigate both the problems of water scarcity and absence of hand hygiene practices by introducing alcohol based hand sanitizer (ABHS) to 10 villages in the town of Palghar in Northern Maharashtra, a water-deprived tribal region of India. The use of ABHS as a substitute for hand washing provides a simple and cost-effective means of reducing the spread of diarrheal and respiratory diseases at schools in water scarce areas.
Team members: Alastair Fung, Harvard T.H. Chan School of Public Health, Master of Public Health Candidate in Global Health Candidate; Nithin Kondapuram, Harvard T.H. Chan School of Public Health, Master of Science Candidate in Epidemiology; Harvard Medical School, Research Assistant; Sujata Saunik, Harvard T.H. Chan School of Public Health, Takemi Fellow; Vivian Zhang, Harvard T.H. Chan School of Public Health, Master of Public Health Candidate