Kabi Raj Lama is a contemporary printmaker based in Kathmandu, who primarily works with lithography and the Japanese mokuhanga (woodcut) medium. His work examines themes of natural disasters, trauma, and healing through art. In this interview, we discuss how he first discovered printmaking, his personal encounters with natural disasters and what he has been up to at Harvard.
How did you first discover printmaking?
Originally, my plan was to do a Masters in painting in Japan. When I first arrived, I struggled to learn Japanese, which was a major obstacle to my studies since it is mandatory to pass a language exam to matriculate in the university. Somebody told me that if I wanted to enroll in the university I would need to choose a different subject, such as restoration.
Around this time, I visited some museums and I discovered Katsushika Hokusai's beautiful prints. After that, I became curious about how the masters manually made these prints — how all the lines and registrations are so precise. There is something so delicate about the Japanese method, the opaque colors look like watercolors. Fortunately, one of my professors told me that if I really wanted to study printmaking, he could enroll me but I would need to start with lithography. For the first six months, the process was very challenging. However, after getting the hang of it, lithography completely enraptured me.
What do you love about printmaking?
I love the process of making a print – seeing the result is always so exciting! While making the plate, I concentrate and enjoy every stage, from carving, etching, making layers of colors, to thinking about the registrations. I know that in the end, I am awaiting a result that is often beyond my expectations. When you get the print on the paper, it is very delicate – almost like magic. I cannot always express printmaking in words – but I feel its power in my body.
What are the themes of your work?
Mental health is a big issue in Nepal right now; many people are experiencing trauma not only from the earthquake disaster but also from sexual harassment, disease, and depression.
I have survived two major disasters in my life. The first one was the 2011 Tsunami, which was unexpected – I never even thought that I would go to Japan! I assumed that I would enroll at the university, get a job and my life would go on. After March 1, 2011, that illusion ended. My vision for my life and my motivations suddenly changed – and I began to make artwork about disasters. In 2015, a year after my return to Nepal, I experienced another disaster – the devastating Gorkha earthquake. The difference is when I was in Tokyo I did not see the tsunami. In Nepal, I felt the big earthquake and saw buildings crumble in front of me.
After experiencing these disasters, I focused my artwork on the trauma from these events. I use art as a form of self-therapy, I cannot imagine my life without art – I want to have a joyful life.
In my art, I document these scenarios and capture the history. For example, I depict the monuments and national heritage sites listed on UNESCO. My prints function as an archive of these important buildings and temples.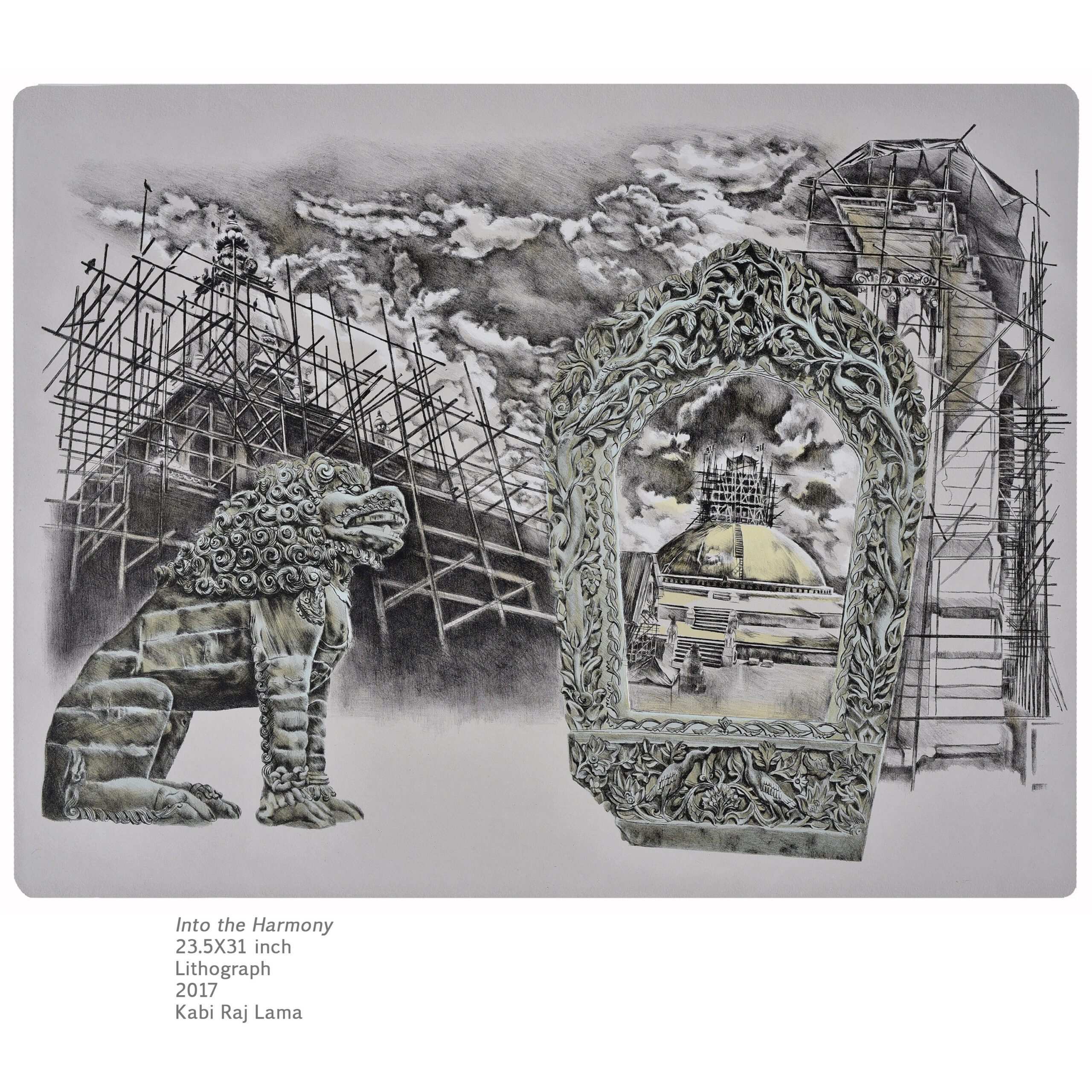 Tell me more about your collaboration with the neuroscientist.
The project began with a conversation I had with Sujay Neupane, a friend from Nepal who is doing a post-doc in neuroscience at MIT. On the anniversary of the Nepal earthquake, we were discussing how it has been seven years since the tsunami and three years since the earthquake hit Nepal. Immediately we decided that we should do a project about the earthquake together.
Our experimental project consists of me watching a video of the disasters while he captures the movement of my retinas. The machine will produce a graph of my eye movement. After watching the video, I will have both the graph and the memory of the image. Inspired by this process, my plan is to create semi-abstract work that merges representative work and expressive lines. This will be a new and experimental form and dimension of my work.
How have these countries reacted to these traumas in different ways?
In Japan, the Tsunami swept a whole city away. There were no buildings or roads. However, after a few months, there was a speedy renovation and reconstruction.
In Nepal, though it has been three years, the cities are broken and fragmented. There is no reconstruction. In Japan, though most of the buildings are personal residencies, the government can support the citizens and has rebuilt the city. In Nepal, there are valuable heritage sites from the 14th, 16th, and 17th century, however the reconstruction is going very slow. The public has a responsibility to be active in the reconstruction efforts. These ancient temples and sculpture are irreplaceable and should be restored.
What have you been up to at Harvard?
Harvard has provided me with an important platform to share my personal story and experience of disaster-related trauma. I have been able to share both my artwork and my process by presenting at Harvard, leading a Japanese Woodcut workshop at Harvard's Bow and Arrow Press, and presenting my work at Alfred University. I was fortunate to have been able to visit the Muskat Print Studio, Mixit Print Studio, and Boston University Print Studio.
Furthermore, the people I have met at Harvard have suggested exciting new ideas about incorporating scientific research into my practice.
This interview has been edited for length and clarity.
-Amy Johnson