In the latest India seminar series lecture as a part of Harvard Global Research Support Centre India, The Lakshmi Mittal and Family South Asia Institute, Harvard University partnered with Sangath and It's Okay to Talk for an event titled 'Unspoken Story'. The event was a conversation between Vikram Patel, The Pershing Square Professor of Global Health, Harvard Medical School and two young women on their personal journey and experiences with mental health. This event was supported by Welcome Trust and the American Centre, and is also in partnership with Department of Health & Human Services (DHHS), USA.
The two discussants – Ishita Mehra, artist and mental health advocate, and Ishita Chaudhry, Ashoka and INK fellow, and founder and managing trustee of the YP foundation, shared their personal stories, and the journey they took from understanding their own mental health needs to breaking stigmas and seeking help. They shared their experiences with bullying and body shaming as teenagers, the lack of resources at the institutional level and the importance of family support. The conversation further branched out to socio-emotional learning, the importance of talking about mental health and treating it with the same respect as physical health. One of the guests at the event, Dr. Preetha Rajaraman, HHS Health Attaché, – "U.S.- India Bilateral Partnership on Mental Health" also shared her perspective from the context of the opioid crisis in the U.S., among other mental health challenges.
Audience members asked questions about finding the right resources on the internet; politics and its role in mental health; ideas like using kindness campaigns instead of anti-bullying ones to promote cultures of empathy. The evening concluded with remarks by Dr. Shekhar Saxena, Director of the Department of Mental Health and Substance Abuse (MSD), World Health Organisation (WHO), who re-emphasized the importance of the mental health conversation in the public health domain. He also shared two WHO resources on depression and mental health (links can be found below).
Such discussions we hope will bring not only a broader understanding of depression and mental health – how one can diagnose it and how to seek help; but also start conversations around the role of societies and education, how we can support and equip our institutions and define a clear vision for a mental health across India, South Asia and the world.
Two resources shared at the event:
Let's Talk (WHO) – http://www.who.int/news-room/detail/30-03-2017–depression-let-s-talk-says-who-as-depression-tops-list-of-causes-of-ill-health
I had a black dog, his name was depression – https://www.youtube.com/watch?v=XiCrniLQGYc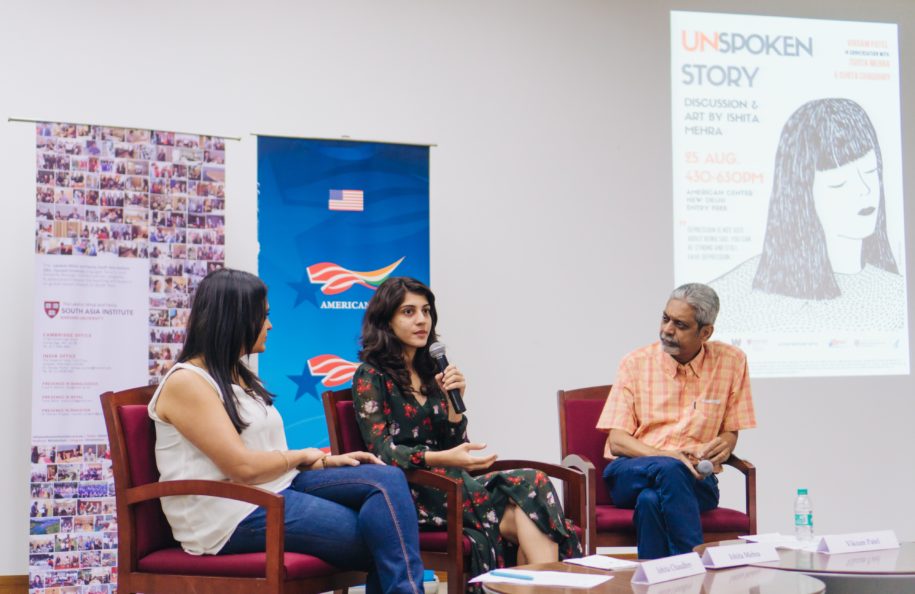 Vikram Patel (right) in conversation with Ishita Mehra (centre) and Ishita Chaudhry at the Unspoken Story event hosted in New Delhi. (Photograph credit: Mohit Kapil)