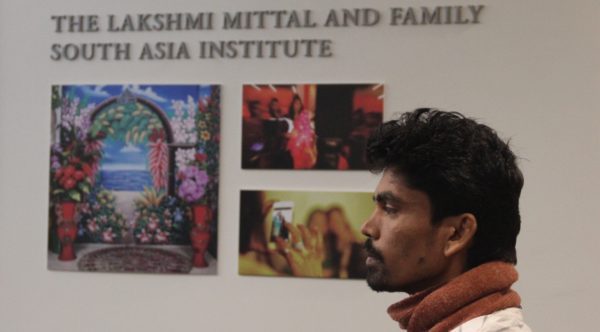 Across South Asia, there is often disapproval, to say the least, of romantic relationships between people from different backgrounds. And despite the long, rich and occasionally fraught history of Hindus, Muslims, Sikhs, Christians and others coexisting on the subcontinent, inter-faith relationships remain taboo in large swathes of the region.
Samsul Alam Helal is a photographer from Dhaka, Bangladesh, who aims to capture the challenges of such relationships in his home city. He has spent the fall of 2018 in Cambridge as a Visiting Artist Fellow at the Lakshmi Mittal and Family South Asia Institute. The program enables talented, accomplished artists from South Asia to elevate and share their work with the Harvard community.
Helal's work aims to tell the stories of people from neglected and minority backgrounds and explore, as he puts it, "their identity, dreams and longings". His work, he says, "represents a reality in an alternate space". His 'Runaway Lovers' stories feature couples in Bangladesh who have faced extraordinary difficulties, by any standards, in their pursuit of a life together.
At Harvard, as well as taking classes about sound and art, Helal has sought to further his understanding of complex socioreligious dynamics and their long global history, in order to develop his own artistic portrayals. He cites the Harvard Art Museum – and especially its Mughal-era miniatures – as a particular source of inspiration but he's also discovered plenty outside the university. "I found a place near Davis Square," he says. "A church that Muslims use for Friday prayers. It's so interesting to see interactions like this."
It's his first time in the US and as well as absorbing as much of Harvard as possible, it's highly unlikely that a photographer – or any artist – could pass up the opportunity to visit New York City, which compared to Boston is "a super-crowded city", he says. But he comes from Dhaka, which is one of the most densely populated places on earth, with the most notorious traffic jams in all of South Asia. How can New York feel crowded? "In Dhaka, I use my bicycle and I know all the short cuts," he smiles. "I know when the streets are quiet or busy, and I can judge where I need to go."