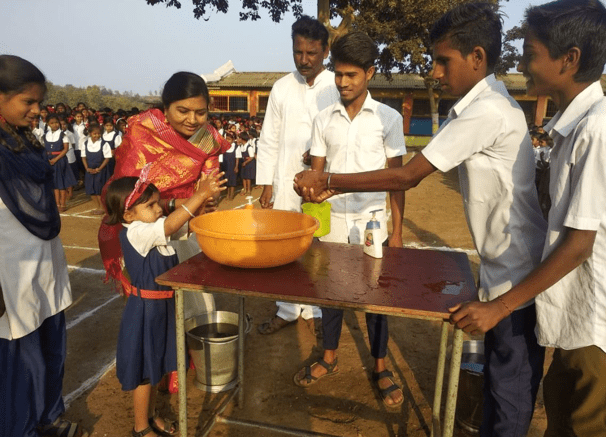 As part of the 2018 SEEDS Project, Sujata Saunik — 2018 Takemi Fellow and Mittal Institute Research Affiliate — and her team traveled to Palghar, a tribal district near Mumbai in Maharashtra, last September. There, they performed field visits in partnership with the Water, Sanitation, and Hygiene (WASH) Department of UNICEF Mumbai to learn more about the incidence of fatality and disease in India due to illnesses that could be prevented by hand-washing.
The team's overall vision is to bring the practice of hand-washing from schools to homes by introducing hand sanitizer to schoolchildren, an ideal alternative for areas that suffer from chronic water shortage. The field visits in September culminated in the official launch of Project Parivartan on January 26, 2019 — India's 70th Republic Day.
Introducing Hand Sanitizer to the Community
When Saunik's team arrived in Palghar, they discovered that school staff and students were generally unaware of hand sanitizer and the health benefits its use can provide. While the schools teach students the merits of hand-washing through activities and songs, the action is not always easily enforced or practiced when students go home at the end of the day.
Saunik's team has big ambitions and aims to introduce hand sanitizer as part of a package of personal hygiene already promoted in 10 tribal schools across Palghar. The team will install wall-mounted dispensers that contain locally made hand sanitizer at the entrance of each classroom.
To introduce a micro-finance opportunity to the community and provide even greater benefit, the team will recruit the students' mothers to produce and sell their own hand sanitizer. To support this endeavor, Project Parivartan will apply for Prime Minister Modi's Mudra Funding under the "Make in India Initiative." Once the funding is secured, they will access the National Rural Livelihood Mission to procure raw materials for the hand sanitizer.
The Work Continues
Saunik's team isn't ready to leave Palghar just yet. Instead, they'll continue to monitor the incidence of disease, hoping that their efforts become common practice in Palghar and will have a significant, positive impact on health and hygiene in the area.