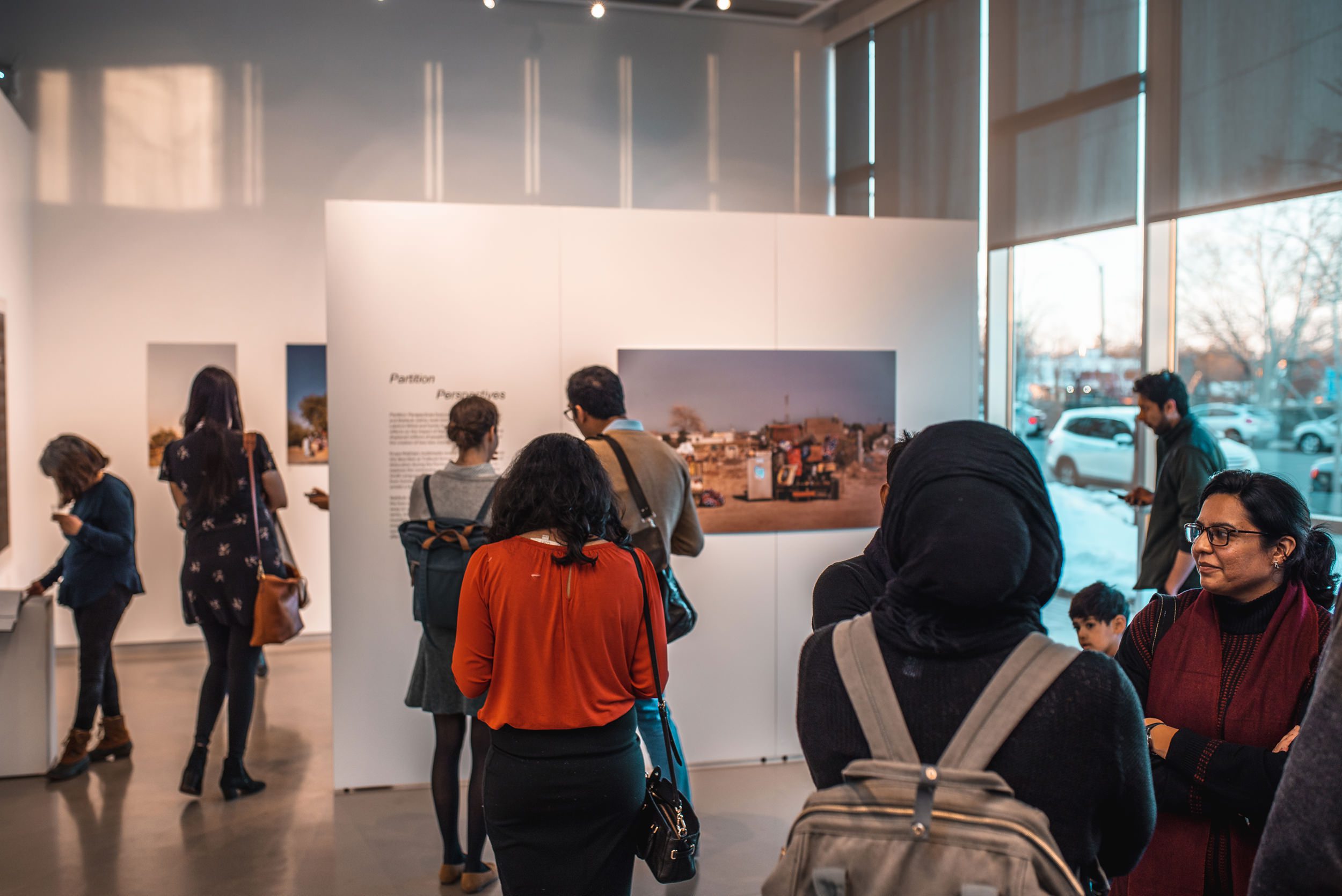 "In 1947, British India was divided into Pakistan and India, resulting in the largest forced migration in the history of migration. Certain records say there were about three million who migrated and were displaced, but studies done at Harvard show that the numbers were much higher — about 10–13 million people. Who lives to tell the story?" asks Meena Sonea Hewett, Executive Director of the Mittal Institute. "Art as a medium is a great way, because it allows for multiple perspectives to be shared about the Partition and the feelings associated with it."
In an exhibition entitled Partition Perspectives at the Crossings Gallery of the Harvard Ed Portal, Mahbub Jokhio and Krupa Makhija — the Mittal Institute's Spring 2019 Visiting Art Fellows and artists from Pakistan and India, respectively — reflect on the impact of the Partition through art, examining the deeply personal issues of culture, language, and identity in the region. They participated in a panel discussion moderated by Sonea Hewett, followed by an audience question-and-answer session.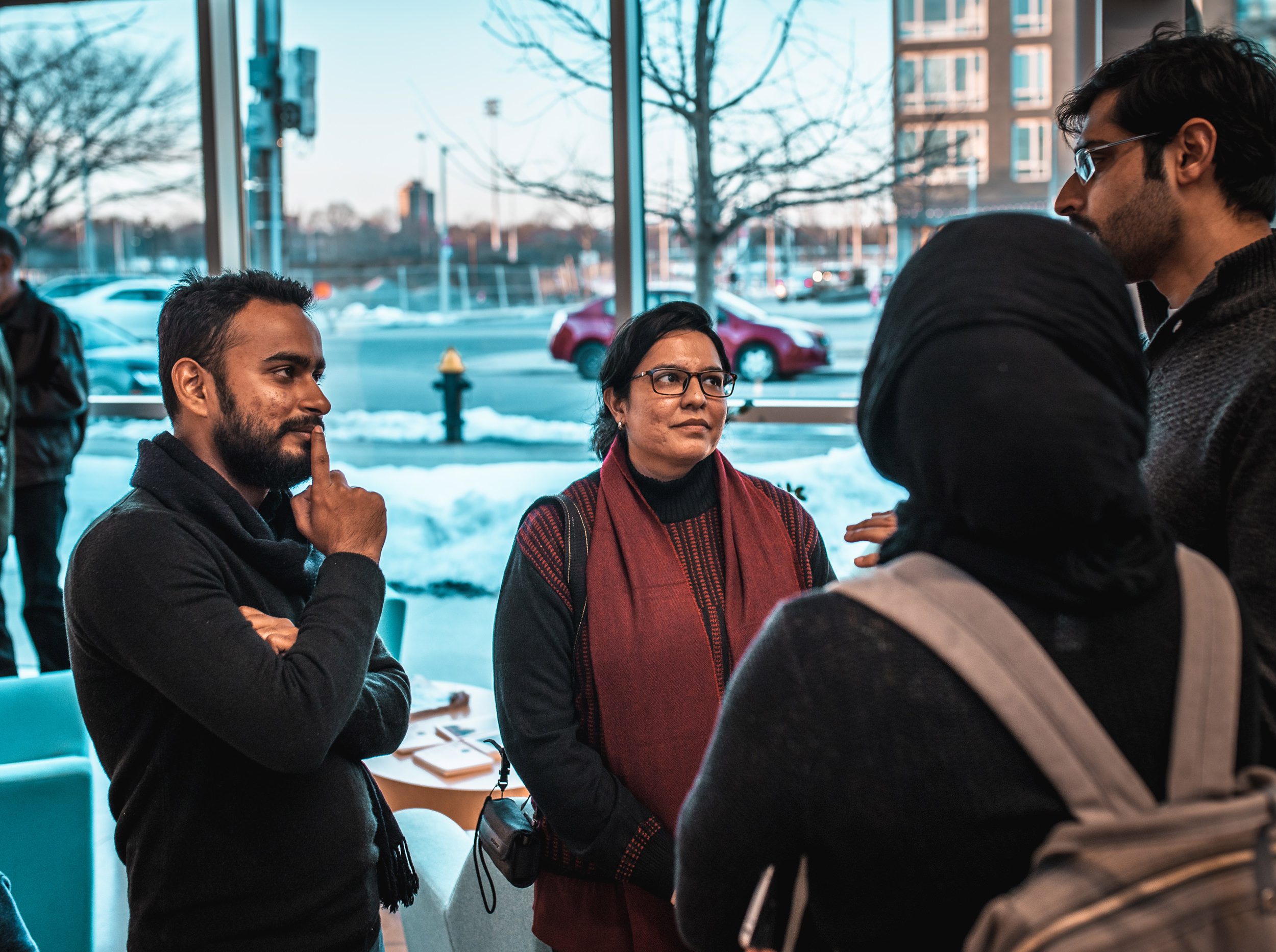 On Display
The art on display at the exhibit exemplified the significance behind the Partition, and the legacy of the historical event that carries on today in both India and Pakistan.
At the exhibit, you can see replica copies of two of Makhija's pieces on display: Sindh-Hind, a large installation that displays the Indian national anthem written in Sindhi script using iron and mirror — the mirrored portion of which is on display — and Witnesses, an interactive sound installation.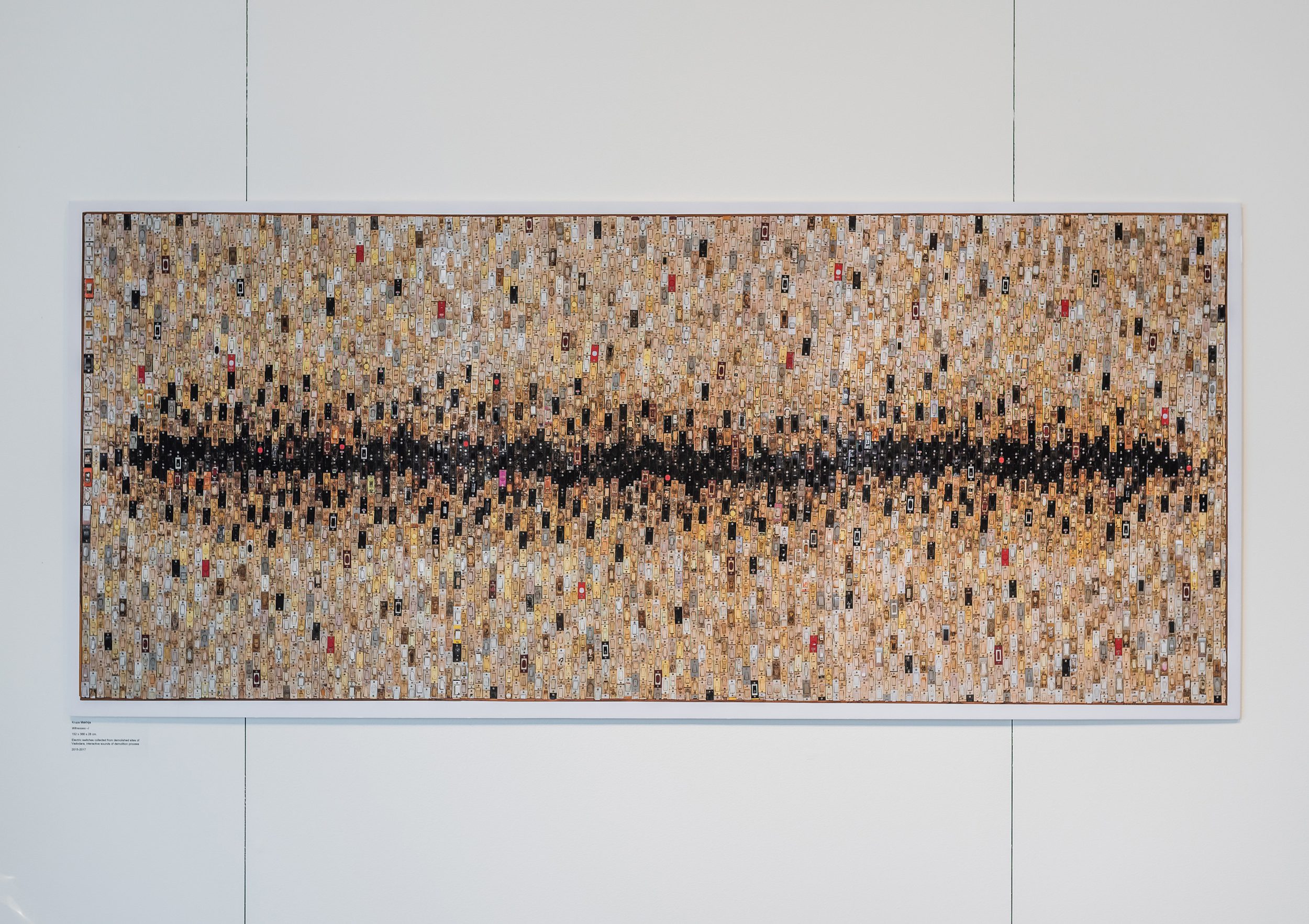 Makhija explains, "One of the works that I'm showing here is Witnesses. The city that I'm currently living in was demolishing areas in 2015–2017 as a part of a 'smart city' project, forcing people to migrate. I have collected some sounds and electric switches from the demolition site, and have created this interactive sound installation. By flipping a switch, one can actually hear the sounds of the demolition process. This process itself is an inquiry for me: How do people carry their culture and traditions from one place to another? I'm trying to understand the consequences of migration."
Jokhio's display contains photographs from his series, "As Time Passes in City of the Buried," profound and introspective images set in graveyards.
"The works that I'm showing here are a very small chunk of the whole practice. The work was actually not about Partition when I started it, but when I saw it through the lens of Partition, it made a new sense to me. The Partition dislocated so many people from both parts of the land — now present–day India and Pakistan — and the graveyard becomes a metaphor for that event," Jokhio explains.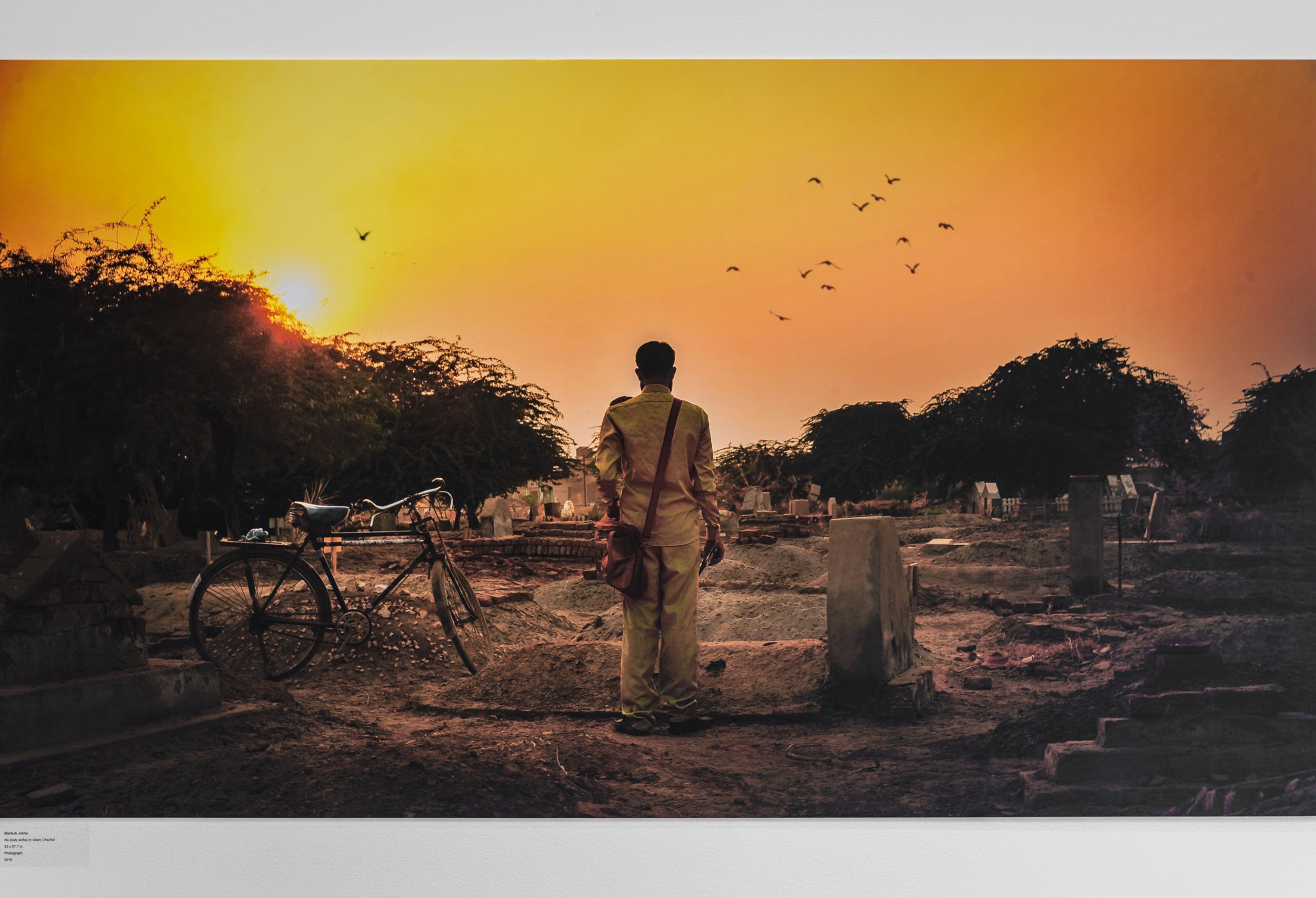 "When that event took place, thousands of men, women, and children were killed — there was so much violence. This series is an homage to those people who lost their lives in the event of Partition. These people are common people, carrying out mundane activities," Jokhio stated. He continues, "The whole series becomes very haunting when it reflects common people. During the Partition era, we only know of a few names — like Jinnah, Nehru, Gandhi — but it's really the common people who lost their lives, their children, their homes, land, everything. So, my whole series is an homage to the common people of the Indo-Pak area.
Coming to Terms with the Past
After an introduction by Sneha Shrestha, the Mittal Institute's Arts Program Manager and curator of the Partition Perspectives exhibit, the artists engaged in a conversation with Sonea Hewett and the audience about their work, discussing their experiences, what brought them to create the pieces displayed, and their perspectives on the Partition and post-Partition eras.
"This is a very emotional topic for many of us who have had families go through the Partition, and there are still so many experiences and images that are so vivid. Most of it is centered around the loss, whether it's loss of family, loss of property, loss of identity. A lot has been written on it, and a lot has been depicted through art and music — and I think all of that is a way of coming to terms with it," said Sonea Hewett. "Does your art draw you into the sorrow and pain that people had gone through, or does it help you come to terms with what happened because you can express it in these different forms?"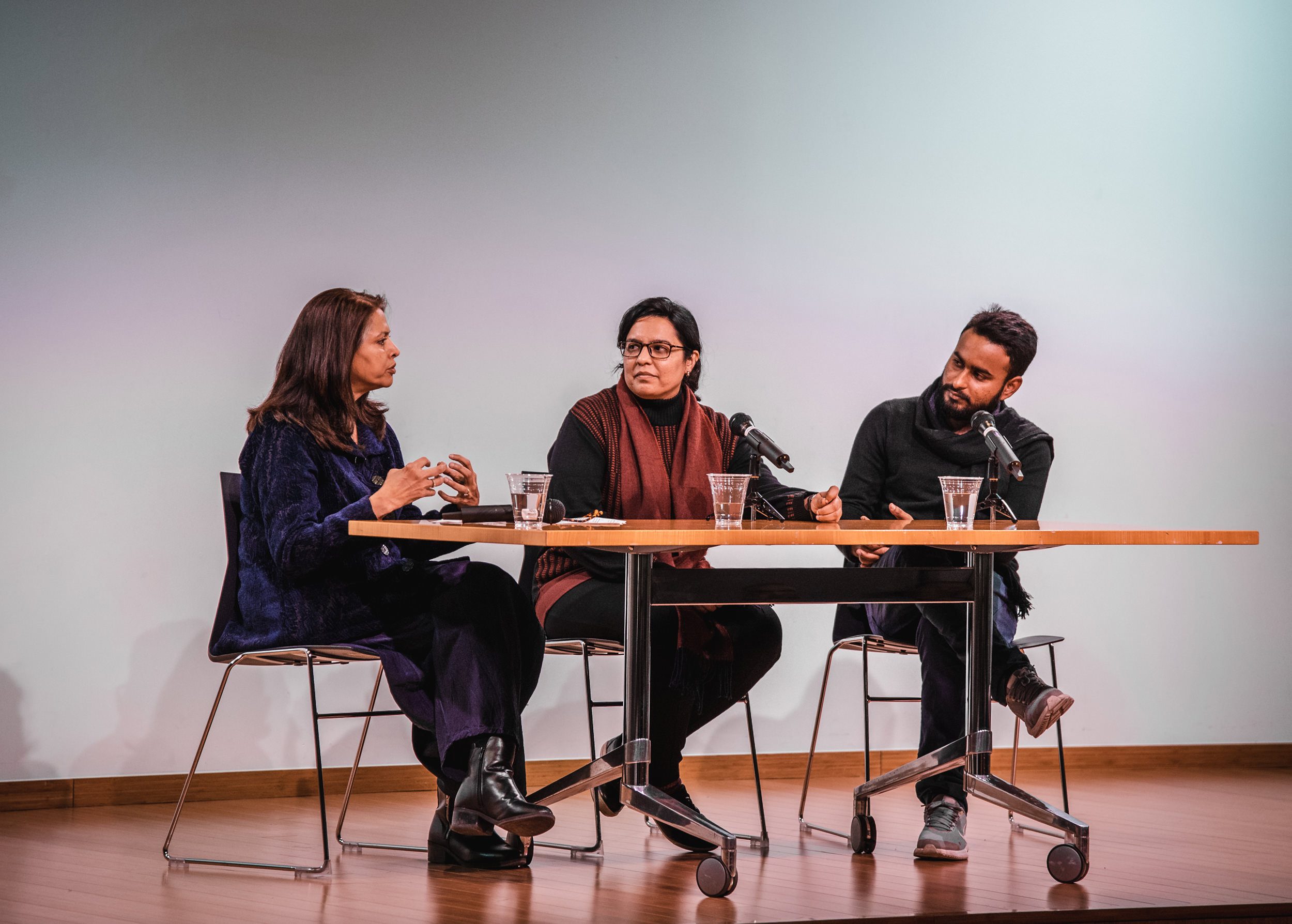 "Whenever you explore these kinds of subjects, you become that thing, and you get transported to that time and era. The thing in Pakistan is that we don't take Partition seriously. We have a name for it: independence. We take it more as a celebration of a new country — we take pride in it," Jokhio responded. "The sole problem with that is that we don't take the Partition as a very problematic event itself. So, my work is actually an inquiry on this very idea, that Partition is a very problematic event. It dislocated so many people, languages, and cultures."
Makhija added, "I have not personally experienced migration or Partition, I have only heard about it. So, my basic inquiries are about the consequences, the communities that had migrated at that time, and what the current generation is experiencing with the losses of culture and language. I'm describing my practice as Cultural Amnesia, identifying that missing part."
See the Artists' Work
Couldn't make it to the event? Don't worry — the Partition Perspectives exhibit will be on display through March 28, 2019 at the Harvard Ed Portal's Crossings Gallery.
Both Jokhio and Makhija will be displaying additional pieces at a reception on March 26, 2019 in the 4th floor lobby of CGIS South. Come meet the artists, learn more about their work, and see new pieces. Click here to learn more about the upcoming event.