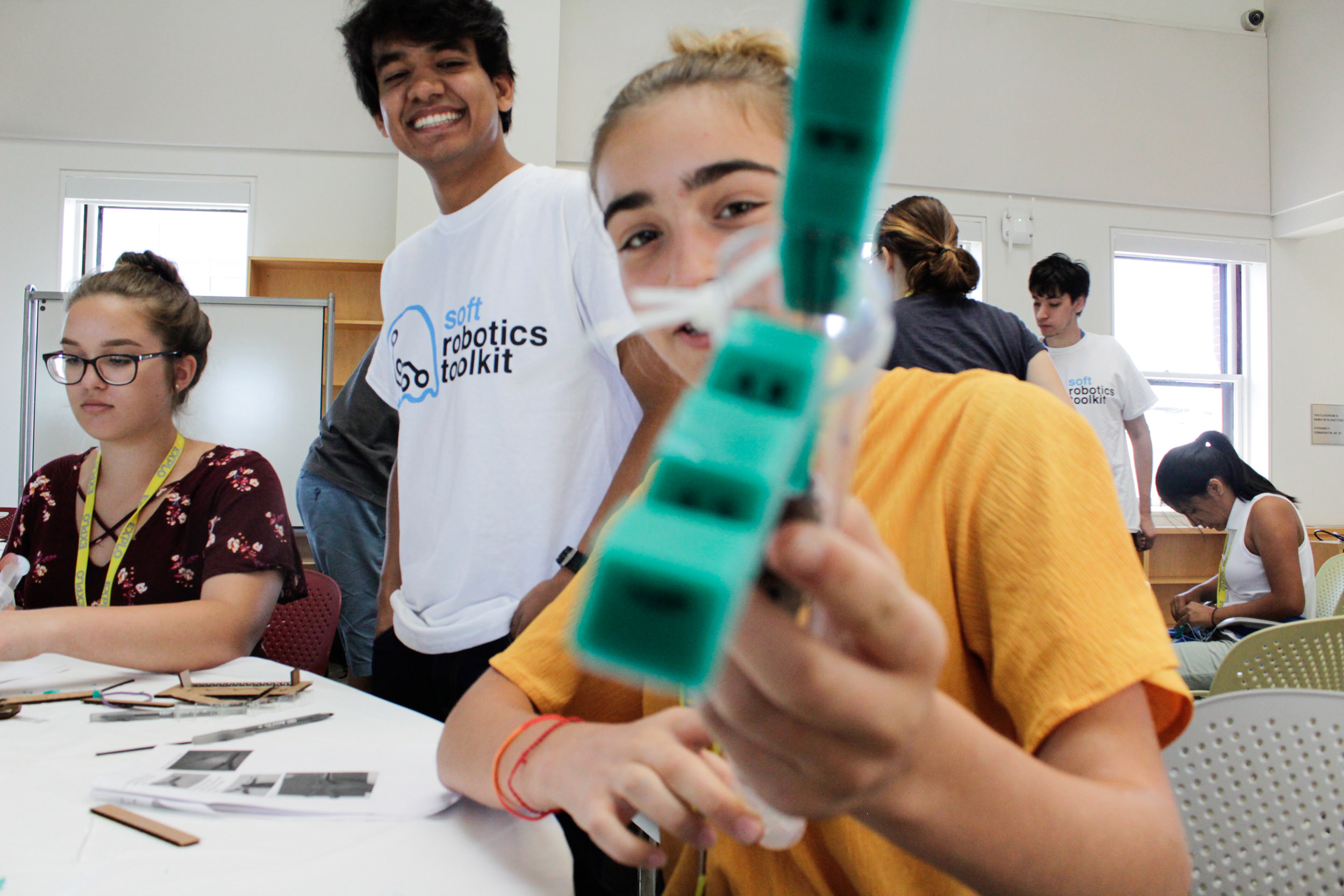 The Mittal Institute's Social Entrepreneurship in India program works to help India's populations in need through the creation and provision of social enterprises that can help alleviate unemployment, illiteracy, ill health, and poverty throughout the nation.
Currently, eight multidisciplinary projects, led by faculty from Harvard, MIT, and UC Berkeley and in partnership with the Tata Trusts, are underway with the purpose of galvanizing the current government, civil society, academic, and corporate efforts working to improve the economic standing of the Indian masses. The program seeks to harness the entrepreneurial spirit in India by combining academic expertise and rigor with local contextual knowledge, to test and scale solutions that can have societal impact.
The Soft Robotics Toolkit project is incorporated under one of those eight projects, conceptualized and spearheaded by Conor Walsh, Professor of Engineering and Applied Sciences at Harvard University, and Dónal Holland, Assistant Professor in Biomechanics at University College Dublin.
Introducing the Soft Robotics Toolkit
We recently sat down with Dmitry Popov and Ankur Goel, two members of Professor Conor Walsh's research team who are working on the Soft Robotics Toolkit. This project, currently in the research and development phase, has grown out of research conducted at Harvard University, University College Dublin, and Trinity College Dublin to become a comprehensive resource that will teach students how to design, fabricate, model, and test their own soft robotic devices — eventually making its way to Indian classrooms.
Each toolkit consists of multiple parts made out of low-cost materials, and when constructed, develop into different soft robotic devices. "The first kit we're developing is focused on the molding of a soft robotic gripper, assembling electronics to actuate it, and the basics of programming," Dmitry explained. The gripper, pictured below, can be used to pick up items — but its true purpose is to teach students how to build a soft robotic device and learn how its different parts work together to perform a function.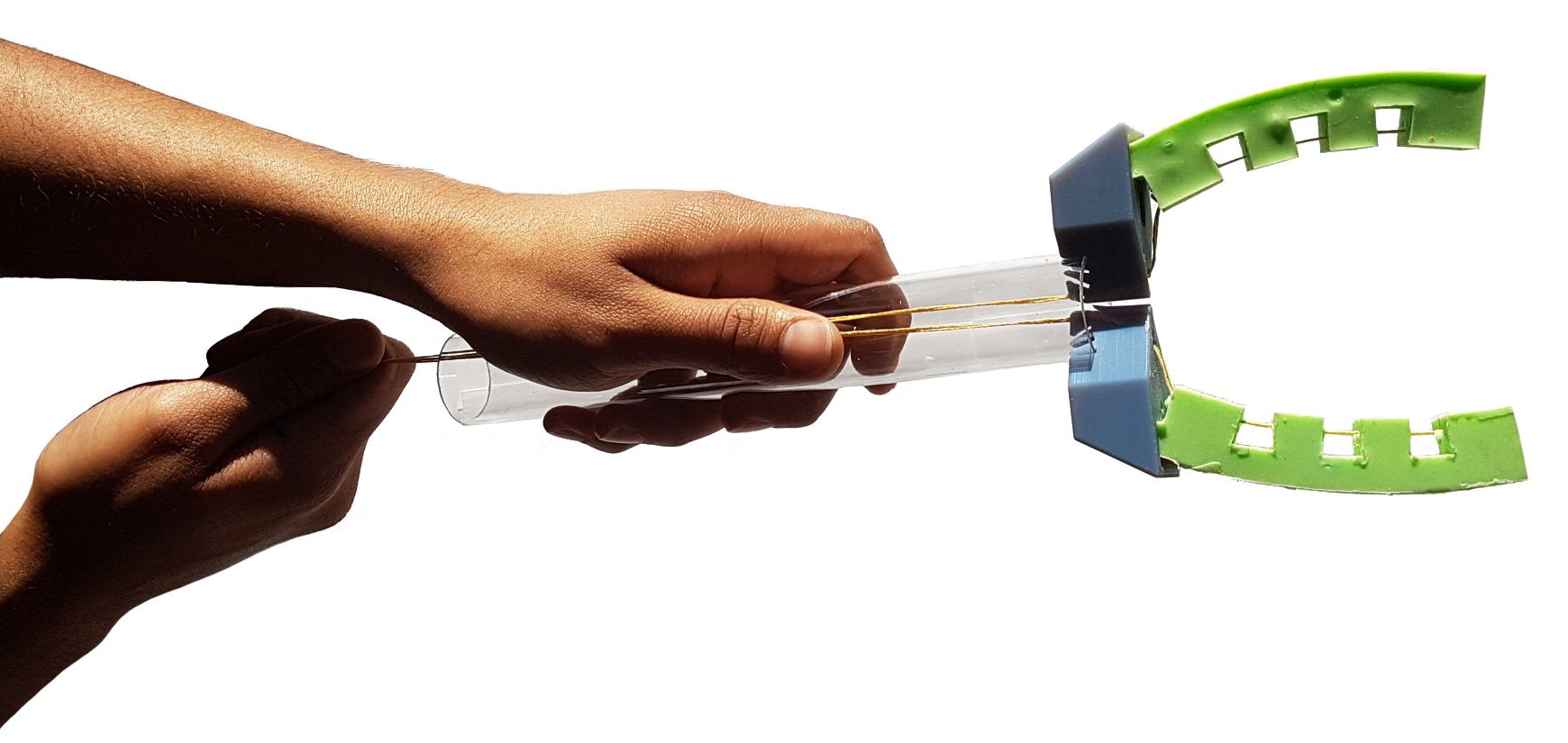 The kit has grown through workshops held with students and educators in both the United States and India, who have tested the clarity of the Toolkit's instructive materials and provided valuable feedback.
Below, Dmitry and Ankur discuss the Soft Robotics Toolkit, the work that the team has done so far, and consider the future of the development process and its potential impact on Indian classrooms.
Can you tell me a little bit about the Toolkit's origins and what its purpose is?
Dmitry Popov: The Soft Robotics Toolkit started around 2015. It originated with Dónal Holland and Conor Walsh, the two founders of the platform. The goal of the Toolkit is to find a way to educate kids in engineering and robotics, and to develop a way to provide better instruction on soft robotics for hands-on classes. After the first round of testing, Professors Holland and Walsh realized that the project could have a bigger impact and outreach.
What the Toolkit does is provide educational materials and instructions in soft robotics, but it also connects different research groups and students to learn about it — it has become a connecting platform. The platform has developed from year to year, and the latest development was the creation of a specific step-by-step guide that teaches the user how to assemble certain kits, providing information on sensors, actuators, and the complete robot. The guide would list the materials, so teachers could go online and check what materials they needed to buy and how much it would cost. So, really, it was a ready-to-go package.
But what we learned through testing is that there is still a barrier teachers face in obtaining the materials. So we started to think about how we could translate it into a more physical kit, where a teacher can open a box of these materials and hand it over to a group of kids, who can then assemble it and start learning things.
Why focus on soft robotics?
DP: The reason we focused on soft robotics was not only to teach kids engineering concepts, but to provide some sense of cutting edge technology — and soft robotics is a novel concept in the field of robotics in general.
How do the parts within the Toolkit work?
Ankur Goel: Each toolkit contains certain materials and an instruction booklet so students can follow a step-by-step guide and perform even certain manufacturing processes to make a useful soft robot of their own. With each student, we try to teach something specific in terms of actuation methods, sensing methods, and the materials and manufacturing processes. The assembly of each kit takes about one and a half hours, and students can go on with experimentations essentially forever.
One thing that we emphasize is a problems-based approach. Instead of just putting together a robot, you start off with certain questions and certain requirements in mind. Then, you try to address those problems through the design of the soft robot and you can actually customize it to answer those questions.
Our first toolkit is a soft robotic claw, which is basically a gripper that students make out of silicone rubber. Students receive certain pre-packaged materials. They assemble the molds for the gripper using 2-part silicones, mixing them together to cure their own fingers [of the grippers]. That way, they actually learn about the molding and casting process and how silicone rubbers work. Then, they assemble the gripper from its different parts and can add certain snap-ons to the grippers to make it work and pick something up.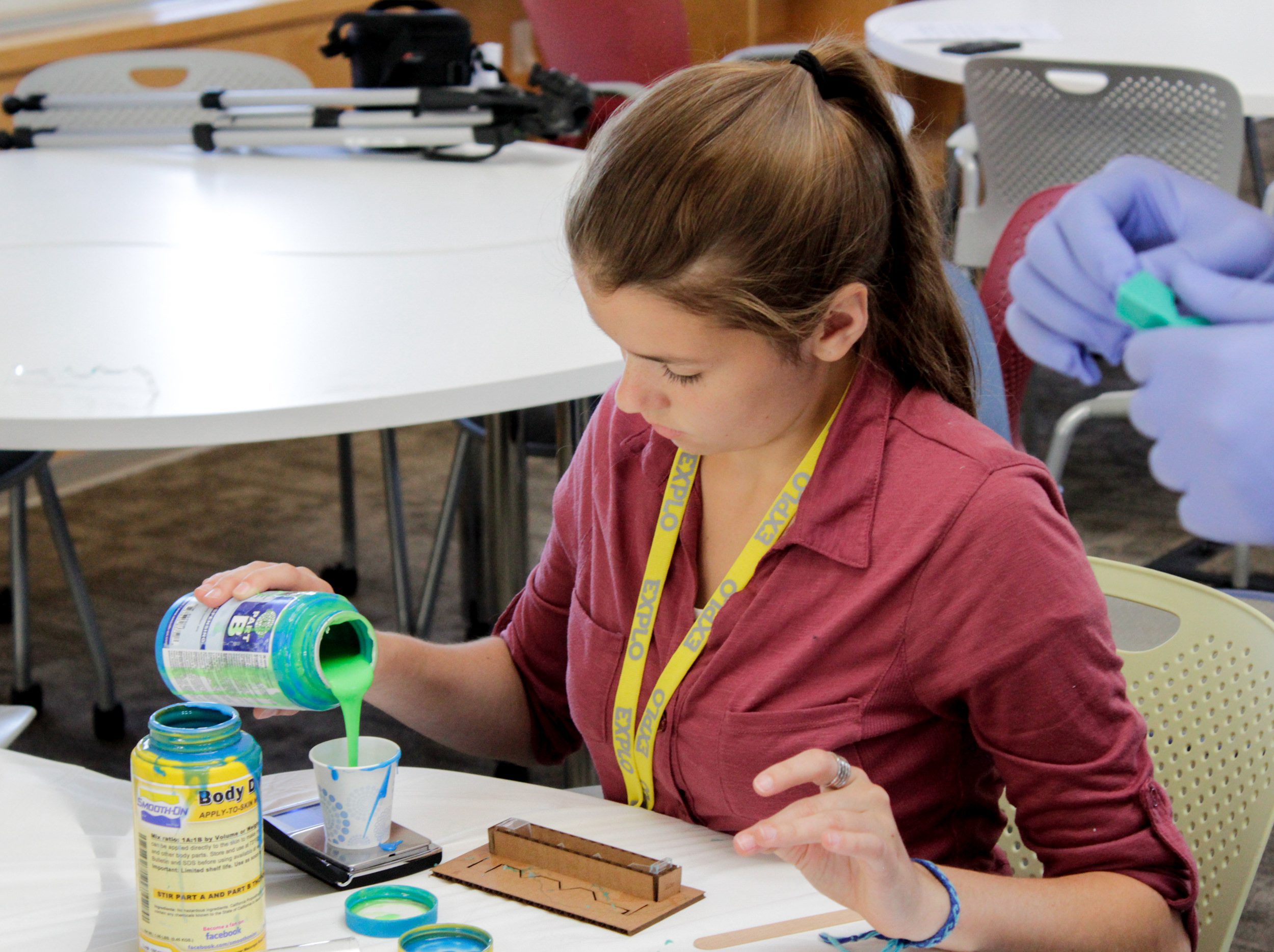 In your testing phases, what kind of reactions have you received from students and educators?
DP: We've run quite a number of workshops with students and teachers. We see the excitement on both sides. One workshop was conducted in MassRobotics facilities, where educators came to test the Toolkit. Educators noted that a benefit they saw in it was the amount of cognitive learning that's involved. When kids have a hands-on experience, it actually stays in their memory longer and they develop stronger skills, and these types of lessons make it easier to engage kids in classrooms.
AG: In one of the workshops we did in July, we got very strongly supported feedback. There were about 15 students and two educators in attendance, and all of them were able to make the gripper kit successfully. All of them were extremely excited and interested. Additionally, we've run some individual testing. Most of the time students come, assemble it, and play with it, and afterwards keep experimenting with the kit for more than an hour — you have to ask them to move on!
DP: It's hard to stop them — that's the good part.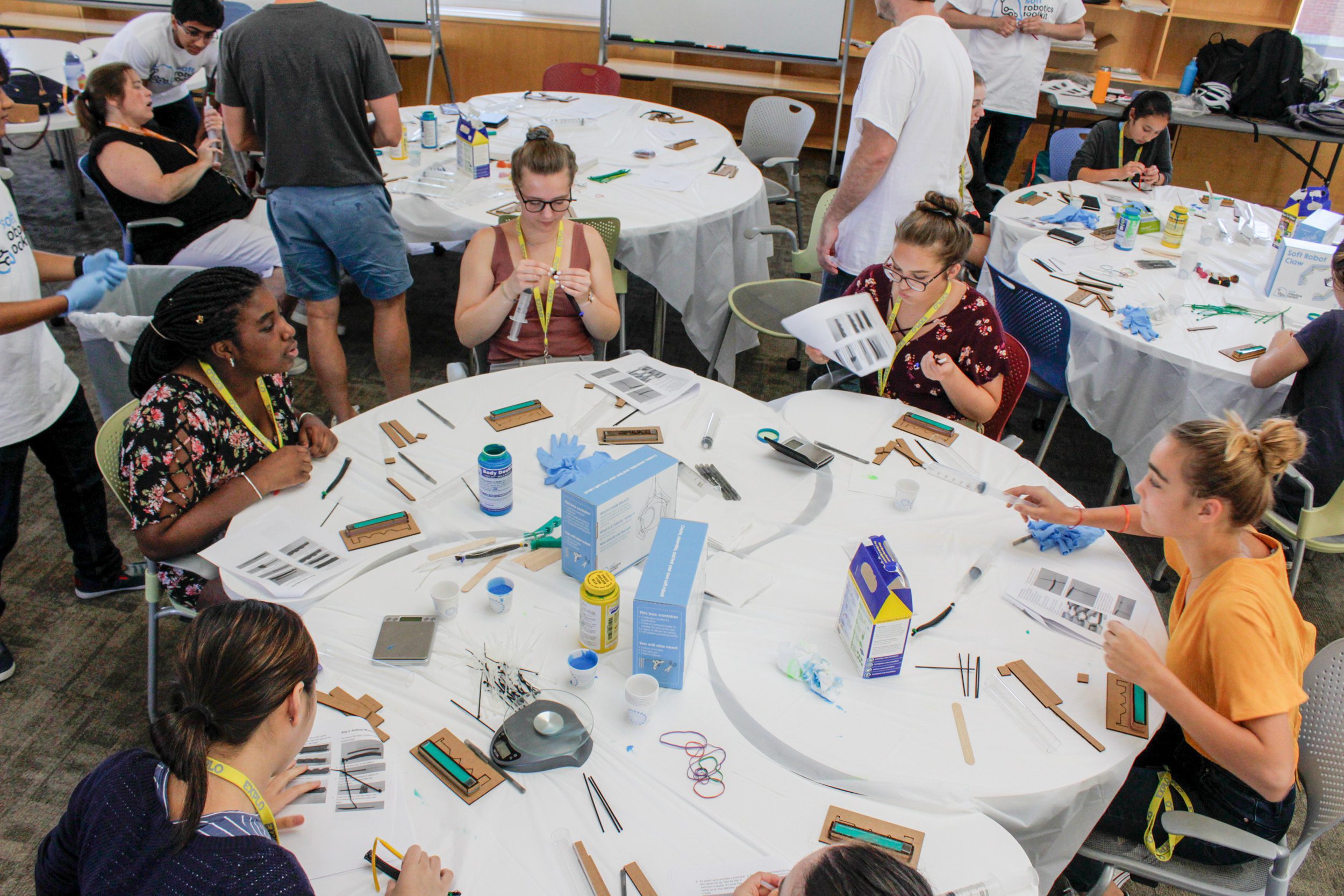 Are there plans to distribute these Toolkits to schools in India?
DP: The final goal of the Tata Project is to address needs in India, especially in the schools where there are not many materials dedicated to STEM education. So there, application for the Toolkit like this is pretty direct, because it uses very low-cost, simple materials and easy instructional guides, so we hope it will be easy for students and schools to access. Currently, we're in the research, development, and testing phase, but the final goal is to get it to the Indian market and into schools.
What is the potential impact of the Toolkit in India?
AG: Getting something hands-on in these classrooms is already a big thing. In Indian classrooms, there are problems like the lack of computers, internet, and similar resources, so something like this there would be phenomenal in terms of providing students the opportunity to interact with cutting-edge research. This would be the major impact, in addition to getting students interested in STEM education and getting fun experiences while being educated.
What are your plans for the future of this project?
AG: We want to have a complete robotics experience. We already have a soft robotics claw kit with electronics and actuation and are planning to add programming to it. In terms of bigger goals, we will plan workshops in India very soon, and based on the feedback we receive in these workshops, we'll make edits and run another workshop in the latter half of the year. Toward the end of this year, we plan to have several toolkits that introduce various concepts in soft robotics and inspire students to pursue STEM education.
To learn more about the Soft Robotics Toolkit project and the team working on it, visit their site here. If you are a teacher or educator interested in getting involved with the project, please email Mittalsai@fas.harvard.edu.