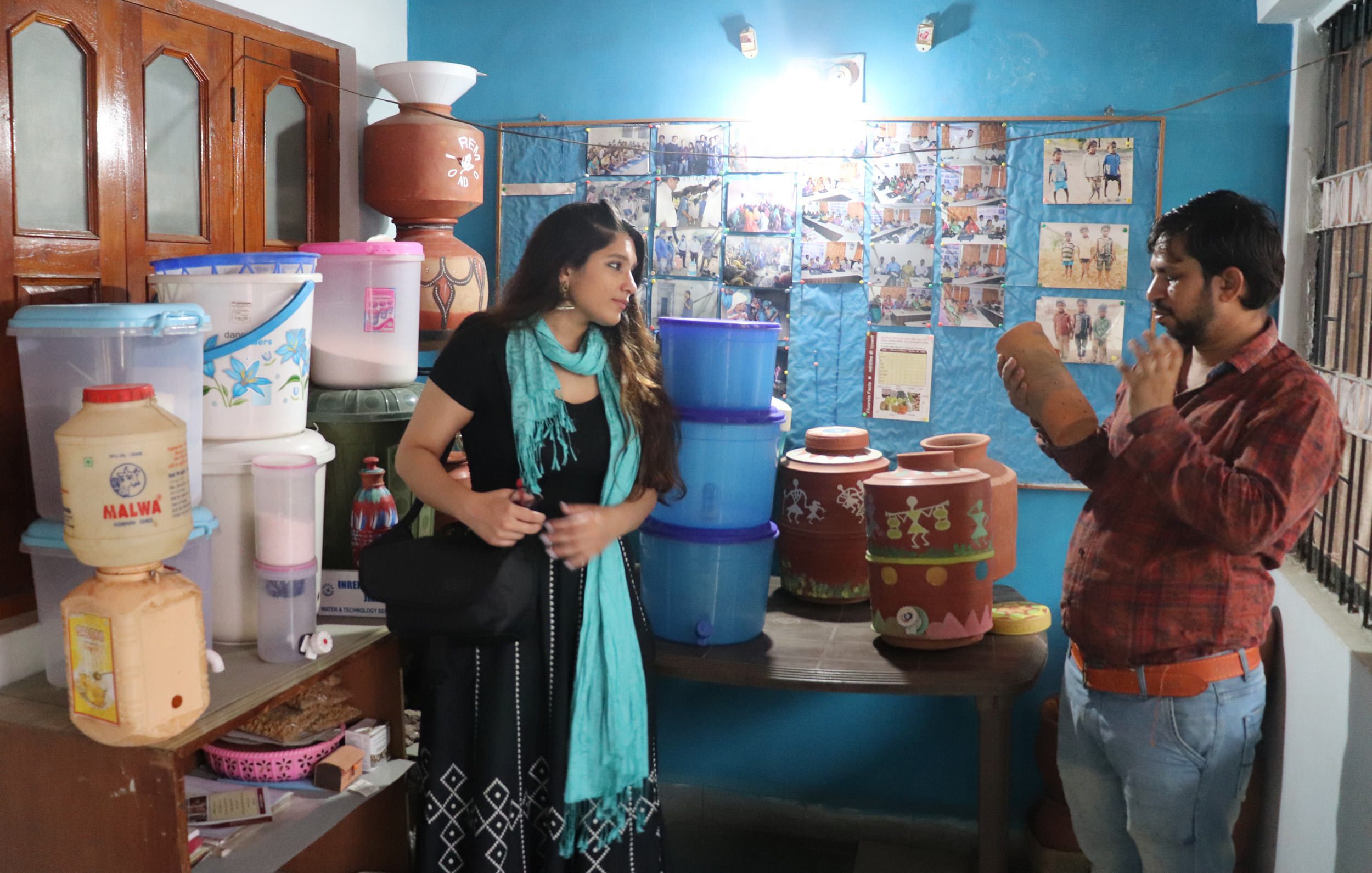 Until recently, Jhabua — a district in the western part of Madhya Pradesh — was largely a tribal area. But despite its recent development, village communities in the area still lack access to basic resources, such as education, proper nutrition, and clean drinking water. In these communities, excess fluoride in the water has caused skeletal and dental fluorosis, which, at their most severe, can result in stunted, abnormal growth, and damaged joints and bones.
Samyukta Singh, Program Coordinator for the Mittal Institute, travelled to Jhabua, Madhya Pradesh, for a field visit to the "Defluoridation of Water" project, led by Dr. Ashok Gadgil of UC Berkeley. The team behind the project works to identify scalable and affordable methods to remove fluoride from drinking water in fluoride-heavy rural areas in India. Dr. Gadgil's team has received funding from a research collaboration, "Multidisciplinary Approach to Innovative Social Enterprises," between Tata Trusts and the Mittal Institute. The project is currently partnered with INREM Foundation, which creates and disperses low-cost activated alumina water filters to villages in Madhya Pradesh. Currently, an alternative filter that uses the more economical and freely available bauxite is in development.
Testing the Waters
The purpose of the visit was to gain feedback from villagers who currently use the fluoride removal filters, and to visit and assess the needs of villages where filters will be piloted in the near future. Singh traveled with Shelby Witherby, a PhD student at UC Berkeley and Research Assistant on the project, to Fatepura, a village that has not yet been targeted by the team. When visiting a new village, the team must first explore whether there is a safe water source nearby before suggesting the use of a filter. As it takes time to change behavioral practices around consistent filter use, identifying an alternative safe water source can be a more realistic first option.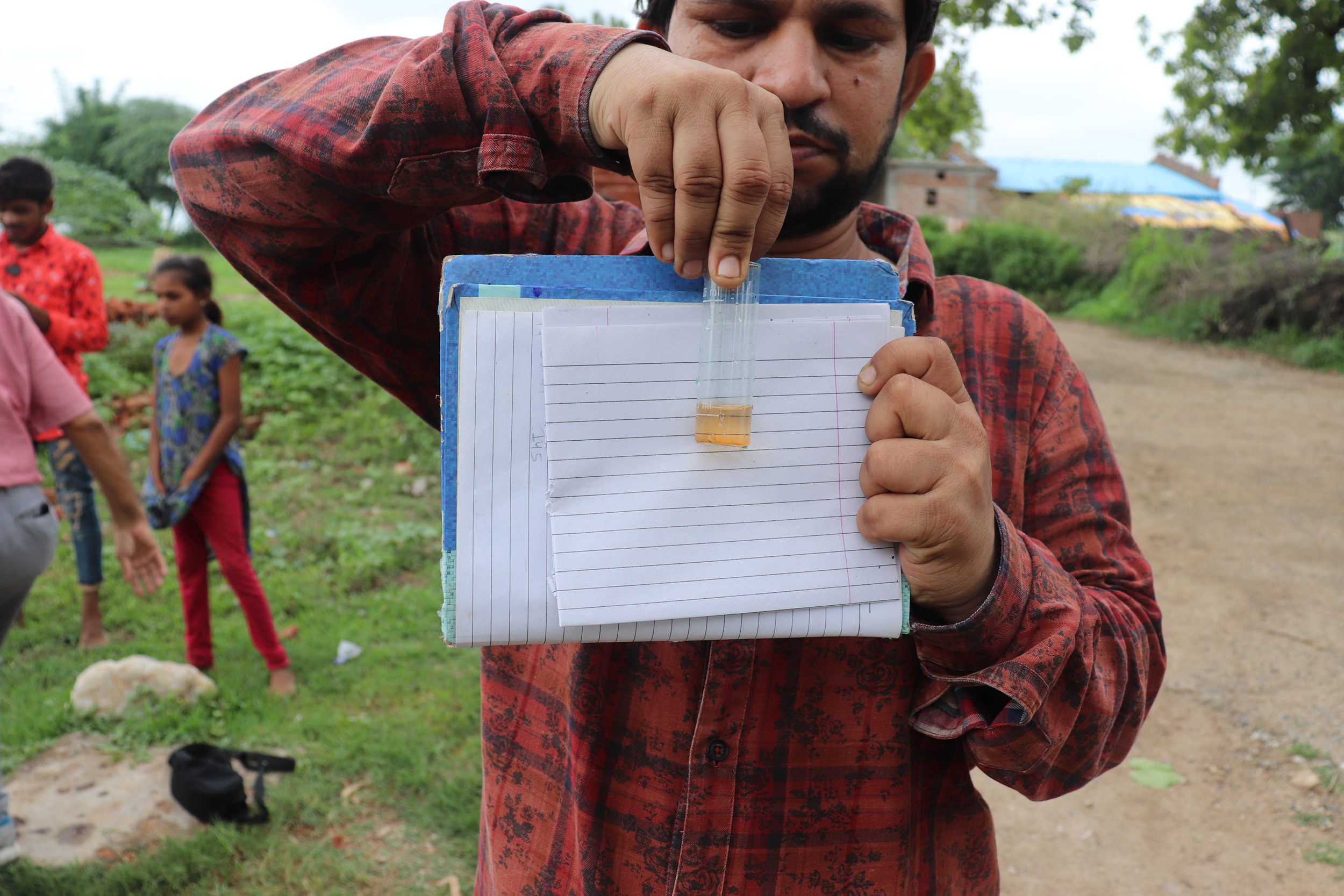 To begin, the INREM team visits wells and lakes around the village and tests the water using a test tube filled with a reactive agent. If it turns pink, the water has a high fluoride level, and if it turns yellow, it's safe. When a safe water source is found, the village community is informed and persuaded to shift a pump from their current source to the safer source — typically a well or freshwater lake — but even these sources must be treated for bacteria. If they are unable to find a safe source, the INREM team speaks with the village leaders and families about introducing filters to the water supply, and teaches community members how to incorporate the filters into their daily lives. A safe water source was not found in Fatepura, so the team spoke with community members to provide alternatives.
Planning for Success
The team then moved on to the villages of Nawapura, Miyati, and Udaipura, where filters have been in use for some years. After conducting home visits and speaking with families about their filter usage, they learned that most families consistently used the filters in their daily routines. Additionally, the team checked up on the progress of children who had been given treatment for fluorosis by INREM over the years, and discovered vast improvements in dental and bone health in every child.
On their last stop, the team conducted a meeting led by Dr. Rajnarayan Indu, Director of INREM, with the District Collector and representatives from health, education, and agricultural departments. Together, they developed a comprehensive district-wide plan on fluoride removal and fluorosis elimination. Moving forward, the project will continue to work with milling partners to develop the more economical bauxite-based filter, which will allow for a more expansive and sustainable reach to villages in the area.