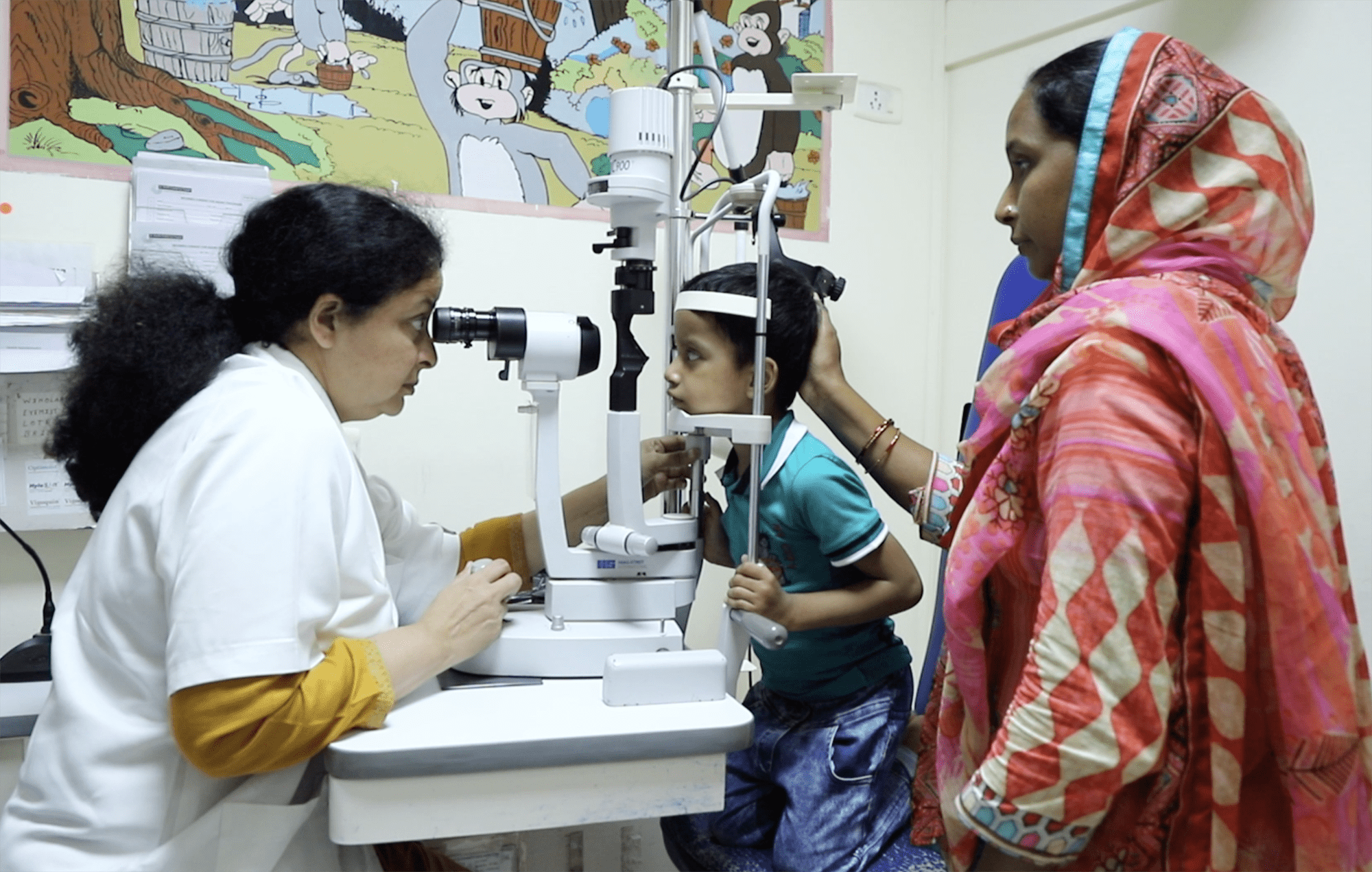 The latest inauguration ceremonies of two Prakash Vision Centers (PVCs) in Brahmpur and Pali blocks of Gorakhpur, Uttar Pradesh, were recently held in late October. These vision centers have been established under the project "Multidisciplinary Approach to Innovative Social Enterprises" with support from the Mittal Institute and Harvard Global Research Support Centre in India.
More than a hundred people from the neighboring villages attended the ceremony, which featured special guests Rinku Yadav, the Village Pradhan of Lalapur village in Brahmpur Block, and Brijil K. Mathew, Manager of Eye Care Services at Fatima Hospital in Gorakhpur. Fatima Hospital is a charitable hospital with a well-appointed ophthalmic division that has partnered with Project Prakash to provide medical treatment to patients referred from PVCs for specialized care.
Building Eye Care Services Across India
Since 2005, Project Prakash has been working at the very grassroots of India, connecting hundreds of villages to the most sophisticated eye care available and building awareness about treatable and preventable blindness. Led by Dr. Pawan Sinha, Project Prakash Charitable Trust provides eye treatment free-of-cost to curably blind children whose families cannot afford it or are not aware that the condition can be corrected. Along the way, the project has illuminated fundamental questions regarding brain plasticity and learning, creating a comprehensive picture of pediatric health across several sites in India.
The newly inaugurated Prakash Vision Centers are well-equipped with all the necessary modern ophthalmic equipment, including slit lamps, refraction units, and HD Eye Charts, and staffed with a qualified optometrist. Before their appointment, the optometrists undergo a one-month specialized training program at Dr. Shroff's Charity Eye Hospital in New Delhi. Both of the new PVCs have a designated space for optometric screening, plus a waiting area for patients and the attendants accompanying them. The PVCs are also equipped with computer systems to collect and maintain patients' data in a secure digital form. Below, Dr. Suma Ganesh of Dr. Shroff's Charity Eye Hospital and Project Prakash describes the impact of eye care on children, their families, and future research.
Saving Time — and Money
The locations of the PVCs were decided according to information previously collected by the Project Prakash team and the recommendations of several experts from the government health department and NGOs. Both the blocks, Brahmpur and Pali, lack significant eye care facilities.
There was a clear sense of excitement amongst those who gathered to attend the ceremony. Now that the PVCs have been set up in their villages, they can now avoid the ordeal and expense of traveling to the nearest city, Gorakhpur, for eye care. The travel — aside from the cost of consultancy fee and eyeglasses — took a heavy toll, necessitating almost an entire day. Now, local populations have the opportunity to get their eyes examined at their local PVC, where they also have access to quality eyeglasses at nominal costs.
What's Next for Project Prakash?
Moving forward, the project hopes to create a large network of PVCs across many rural communities. To do so, the Project Prakash team will need to identify avenues for financial sustainability; build their understanding of the nature and attitudes toward eye care needs in rural settings; develop a workable supply-chain model; and put in place a record-keeping and communications system so the progress and challenges at PVCs can be continuously monitored in New Delhi.
In keeping with the mission of Project Prakash, the eponymous vision centers will bring the gift of clear vision to large sections of India's population that do not have access to optometric products and services. Additionally, the vocational training offered through the PVCs will impart the skills needed by visually impaired individuals to earn a living. By acting as community-based referral centers, PVCs will allow for more regular and efficient identification of children who can be enrolled for treatment and study in Project Prakash.