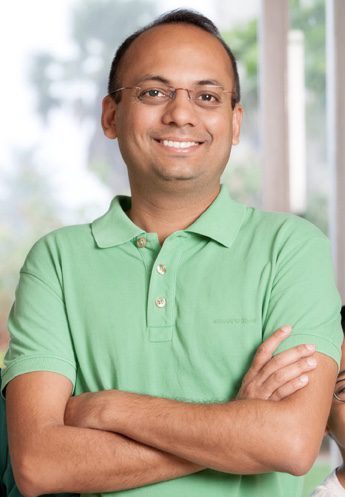 The Mittal Institute is pleased to announce its newest donor, Kushagra Nayan Bajaj, an Indian businessman and Chairman of the Bajaj Group, Chairman and Managing Director of Bajaj Hindusthan Limited, and Chairman of Bajaj Corp Limited. His support will create a new, upcoming visiting research fellowship at the Mittal Institute to deepen the teaching and research on significant cultural issues related to South Asia. We spoke with him to learn more about his background and his interest in the Mittal Institute.
Can you tell us about your background and professional experience?
I am 42, and was born and brought up in Mumbai, where I went to the Cathedral & John Connon School. I completed my undergraduate education at Carnegie Mellon University, and received my Master's from Northwestern University, both in the United States. I am married with three kids. At the age of 24, I joined the family business back home in India. For the last 18 years, I have been associated with the family business, basically looking into three primary businesses: power generation, consumer staples, and sugar manufacturing, which have a combined revenue of USD 2.5 billion.
What made you interested in the work of the Mittal Institute?
I heard about the Mittal Institute from senior members of the Harvard Administration and the wonderful work that they are doing in promoting ancient Indian art and culture through a formal and structured process, which is what is lacking in India, and that is what got me interested.
I think we have a lot of history in India in terms of art and culture, and we have many scholars who are knowledgeable — but they don't have the exposure, and we don't have a formal process to either revive things, to renovate things, or to market them and give the relevant people, institutions, or establishments their due credit in this world.
I think the Mittal Institute gives that small stepping stone to Indians connected with the art world in promoting themselves, increasing their knowledge, and promoting the activities that are happening in India.
Are there opportunities in your own education or experience that you wish you had, now that you've been out of school for several years and are running a successful business?
In hindsight, I think the opportunities were there when I was doing my education in the United States. I never grabbed those opportunities, and maybe a few courses in the field of art or ancient architecture related to India — or any part of the world, for that matter — may have enhanced my knowledge and created a more holistic person in me. But, honestly, I have no regrets. ☆
——————–
☆ All opinions expressed by our interview subjects are their own and do not reflect the views of the Mittal Institute and its staff.