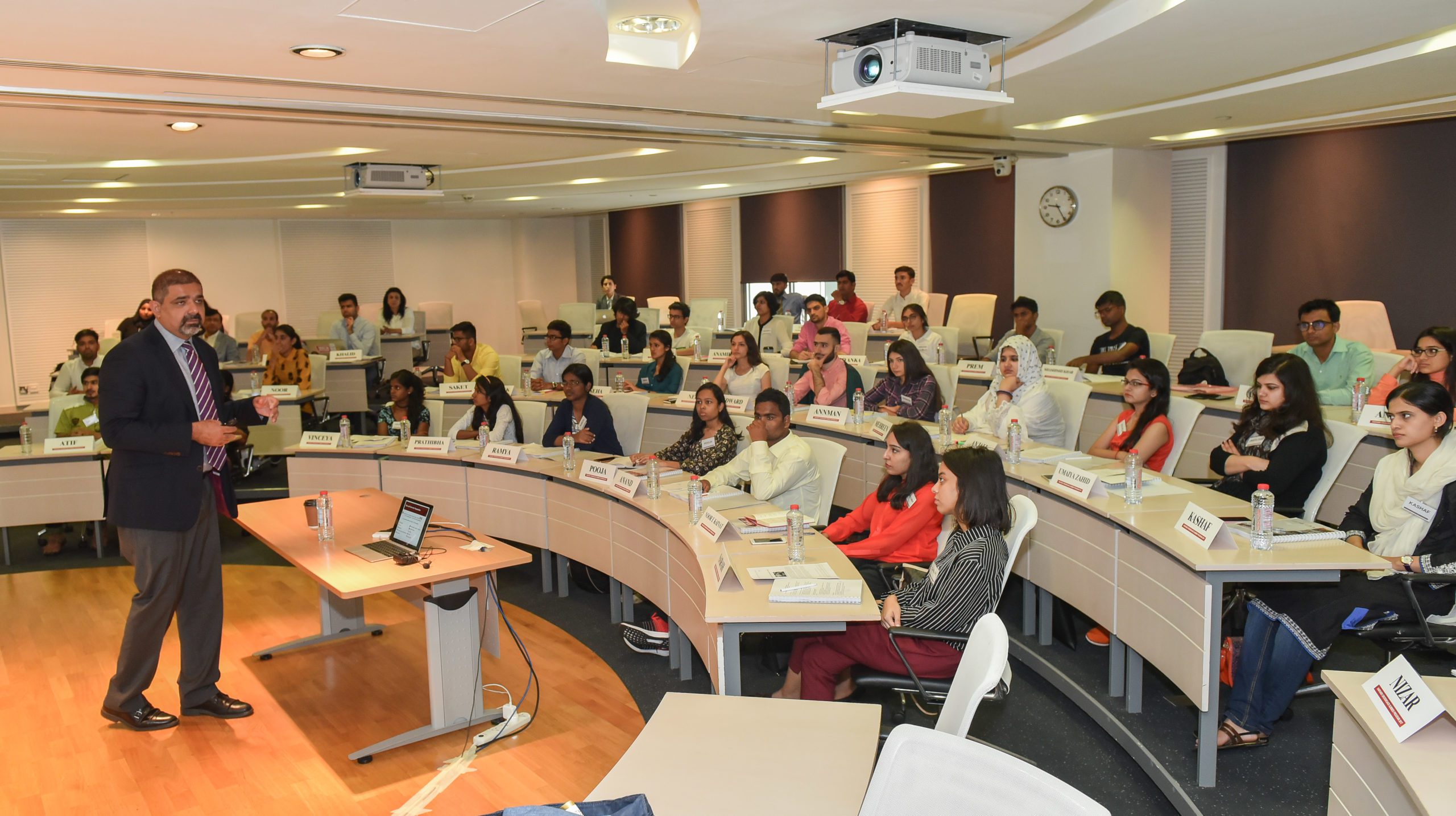 The Crossroads Emerging Leaders Program began in 2017, a joint effort between the Harvard Business School Club of the GCC, HBS Professors Tarun Khanna and Karim Lakhani, and the Mittal Institute. The program provides a fully funded career development opportunity for students around the world who face difficult financial and social circumstances and are the first member of their family to attend university.
The goals of the program are to create a diverse pipeline of future graduate students at leading universities, and to cultivate future leaders from across an array of socio-economic, racial, and cultural backgrounds. For 80 finalists, the program will culminate in a fully funded weeklong trip to Dubai, where leading Harvard faculty will teach an extensive and multi-disciplinary curriculum of case studies and discussion groups, and will hold discussions on potential career paths and provide mentorship to the students.
Across the entire length of the program, the faculty involved include: Asim Khwaja (HKS); Sheila Jasanoff (HKS); Rahul Mehrotra (GSD); Jinah Kim (FAS); Francesca Dominici (HDSI); Muhammad Zaman (BU Bioengineering); JP Onnela (HSPH); Michael Szonyi (FAS); Amitabh Chandra (HBS); Hanspeter Pfister (SEAS); Maya Jasanoff (FAS); and Conor Walsh (SEAS).
Thousands of Candidates Apply from Nearly 100 Countries
This year, the Crossroads Emerging Leaders Program received 6,093 total applications from 97 countries spanning the Middle East, Africa, Central Asia, Latin America, South Asia, and US students at Historically Black Colleges and Universities (HBCU). Of the candidates, 4,263 were selected to move onto the next round, which consisted of a fully funded selection of interdisciplinary courses offered online on HarvardX through Crossroads' partnership with edX.
Within the HarvardX component, eligible students had the opportunity to complete one or more of five fascinating courses curated for Crossroads candidates: Entrepreneurship in Emerging Economies, Launching Breakthrough Technologies, Probability from the Ground Up, Strengthening Community Health Workers Programs, and Digital Humanities. This phase of the program concluded on October 30, 2019. "These courses were a great opportunity to increase my knowledge and reflect on what I was learning. I can now think outside the box and reflect critically," said one of the students who participated.
Of those who completed the HarvardX component, 2,087 students moved onto the Aspiring Minds round, a three-part test that measures creative thinking and problem-solving skills. Once testing was complete, 200 semifinalists were selected. After another round, 80 finalists will qualify for the Dubai program, which will take place from March 30 to April 4, 2020.
"I believe the skills I have gained through Crossroads' HarvardX courses will be resourceful to my community and country at large," said one of the students.
Next Up: A New Virtual Seminar Series
All candidates who participated in the HarvardX courses qualify for a virtual interdisciplinary seminar series given by Harvard faculty via a virtual program on Zoom. The session topics will span several disciplines, curated to each student's professional and academic aspirations. The seminar series will run from January 30 to March 13, 2020, available to approximately 2,000 qualifying candidates. The Crossroads team is bringing together 13 faculty from across the fields of arts, history, economics, policy, and entrepreneurship to teach the series. Some examples of the courses that will be offered include an introduction to Python, a seminar on the history of color, and a course on education policy around the world.
Looking back at the process so far, one student said, "Crossroads has given me an opportunity to learn and apply my knowledge as a student of Environmental Science. It has shown me the rich interconnectedness between different academic fields. For example, poor environmental health can cause illness among communities that health workers help fight."
Congratulations to the 200 semifinalists! We look forward to bringing together students in Dubai from across the globe — from Chittagong to Basra and Dakar to Curitiba. Look out for more details on the Crossroads Virtual Program in early spring of 2020.